Water main break sent 15 million gallons of water rushing through downtown Philly
A pedestrian at Walnut and Juniper streets steps over a pile of debris left behind by a massive water main break in Center City. (Emma Lee/WHYY)

The intersection at 10th and Walnut streets is flooded after a water main break. (Trenae Nuri/WHYY)

A pedestrian sprints through the flooded intersection at 11th and Walnut streets after a water main break in Center City. (Trenae Nuri/WHYY)

A woman took off her shoes and rolled up her pants to cross 11th street after a water main break flooded several Center City streets. (Trenae NUri/WHYY)

Police block traffic on Walnut Street left flooded and strewn with debris after a water main break. (Emma Lee/WHYY)

Steam pours from vents on Sansom Street near the site of a water main break that flooded Center City streets. (Emma Lee/WHYY)

Water department employees stand at the site of the water main break at Sansom and Juniper streets. (Emma Lee/WHYY)

Silt and debris fill Center City streets around the site of a massive water main break. (Emma Lee/WHYY)

A pedestrian crosses the street at 11th and Walnut streets after a water main break left Center City streets covered with water and debris. (Emma Lee/WHYY)
Updated: 12:17 p.m.
—
A 48-inch water main broke around 4 a.m. Tuesday, sending millions of gallons of water rushing through downtown Philadelphia.
A number of Center City streets have been closed, and there are reports of power outages.
The street flooding has forced SEPTA to detour of a number of bus routes ahead of the morning commute, including routes 9, 12, 21, 23, 42, 45. PACTO said service has not been disrupted by the water main break.
During a press conference Tuesday morning, John DiGuilio of the Philadelphia Water Department said 15 million gallons of water gushed from the break at Juniper and Sansom streets, while crews figured out a way to seal it off and provide pressure to the buildings in the area.
Water Commissioner Debra McCarty said they have some delicate repair work to do to completely unearth the 4-foot main and repair it.
"This is a complicated intersection with many utilities," McCarty said. "The biggies are Verizon, Veolia steam, PECO, PGW and we are going to draw up a plan that shows all the utilities so we can dig without creating any more damage."
There was no immediate word on the cause of the break, which occurred in a water main that was installed in the 1920s. But officials say the extreme heat that has scorched the region in recent days may have played a role, with customers using more water than usual.
The area immediately around the break will be closed indefinitely, but officials said they hope not to impact too many streets especially during the holiday weekend.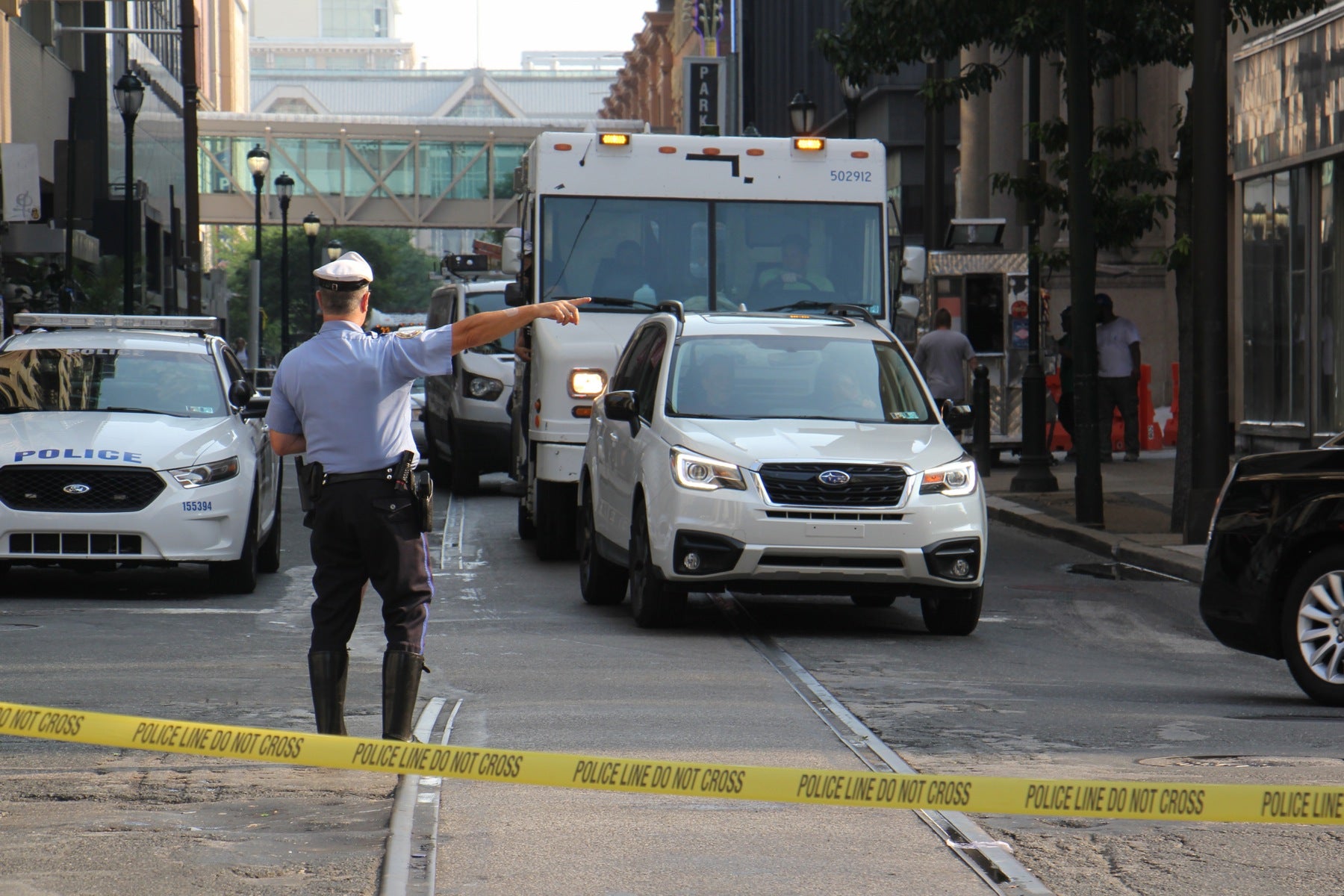 The Water Department said they will work closely with building owners in the area of the water main break. DiGuilio said the department's goal is to speak to every business that may have been impacted. He said they plan on staging a tent from 11 a.m. to 2 p.m. on Tuesday at 13th and Sansom streets for customers in the area who have questions.
DiGuilio said the department went to nearby businesses after the break to help pump out basements and are working with contractors on starting repairs as soon as possible.
As of about 7:40 a.m., water department crews had worked to turn off valves across the city, including the site of the break. "Customers in Center City and South Philadelphia should begin to see water pressure restored," the department tweeted. "Please avoid the area from Locust to Chestnut and Broad to 12th."
Much of the water, which had been ankle deep, has receded, leaving behind large puddles and several inches of silt and mud along the streets.
Water main break creates a muddy mess including people jumping around through mud and water pic.twitter.com/yK5rjyMLeN

— Tom MacDonald–WHYY (@TMacDonaldWHYY) July 3, 2018
Alexandra Jacobs and Kevin McDonald live on 13th and Christian streets and were brushing their teeth before starting their morning run when they noticed their water pressure was low.
"But we didn't know about the water main break until we started walking up," Jacobs said as she stood at 11th and Locust streets. "Our second conversation was what if we can't shower after this? So now we're thinking of maybe getting coffee and going home."
Tawanda Preston was walking on 11th and Walnut streets and trying to figure out how she would get through the mess of water, silt, and mud.
"I'm trying to get to the gym and I'm like I don't know where to go," Preston said. "I just got off the bus and I was trying to go that way, but I see there's water, so I'm going to try to go up Broad Street and see if I can catch something. It's crazy."
—
WHYY reporters Trenae Nuri and Tom MacDonald, and the Associated Press contributed reporting.