Toms River officials say it'll cost around $1.7 million to repair beaches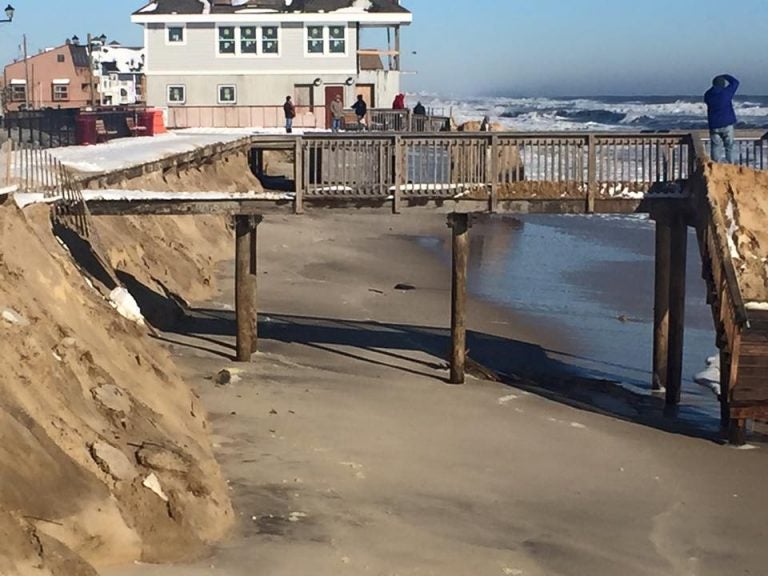 Toms River officials say that the township will spend around $1.7 million to purchase replacement sand after the latest coastal wallop ate away at the beaches.
The sand purchase is necessary for Ortley Beach and the northern coastal portions of the municipality.
The latest coastal wallop claimed nearly all of the protective "sand mounds" recently added to the oceanfront in Ortley Beach.
Earlier last week, crews added two mounds separated by a valley in a temporary effort to hold back the three high tide cycles the National Weather Service had predicted for the weekend storm.
After getting battered by significant waves and a surging sea last Saturday, the sand mounds kept the ocean from breaching inland, although the protective measure is 98% gone, according to the Toms River Office of Emergency Management.
Township officials will be seeking state money to help defray the latest sand purchase cost.
In October, Township Administrator Paul Shives said the municipality spent $800,000 on its temporary sand mounds prior to Hurricane Joaquin.
That included employee overtime and payment for about 300 truckloads of sand that were placed on the beach to hold back the surging tides.
The township tapped a $1 million line of credit from the New Jersey Department of Environmental Protection to pay for the sand.
Council members and residents have called on the state and the Army Corps of Engineers to move quickly toward obtaining easements necessary for a beach replenishment project.
Township officials previously said the cost and effort could have been avoided had the easements from beachfront property owners been in place, according to the Riverside Signal report.
Multiple easements remained unsigned in Toms River.
In October, Councilwoman Maria Maruca said it would be "nerve-racking" to live through winter with no dunes. Officials held a dune grass planting in November in an effort to create permanent protection from the ocean.