Three Republicans battle for Bucks County seat in Congress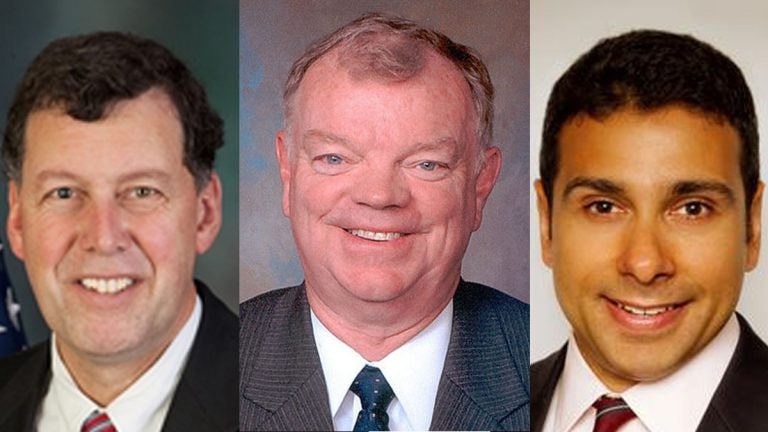 Republicans, start your engines.
Three candidates are in the hunt for the Republican nomination for the Bucks County congressional seat being vacated by U.S. Rep. Mike Fitzpatrick.
It's one of the few genuine swing districts in the country, and as I reported a few weeks back, two formidable Democrats will battle in the April 26 primary. There's an old saw that Republicans settle their differences at the country club and avoid primary battles, but that's not the case this year, with this race. So here's your Republican field:
Scott Petri
State Rep. Scott Petri of Richboro has spent six terms in Harrisburg.
Among his legislative accomplishments is a law broadening the definition of child abuse so more offenders can be charged.
He says a priority in Washington will be restraining out-of-control spending. He favors a balanced budget requirement and a more limited government.
"The federal government has to go back to the role it is designed to accomplish, which is primarily national defense, common currency, free exchange," Petri said in an interview.
Petri enters the race with plenty of support from Republican elected officials and party leaders.
Andrew Warren
Andy Warren is a seasoned veteran of Bucks County politics. He served 15 years as a county commissioner, first elected in 1979.
Warren, 71, said because he's not seeking a long career in Congress, he'll apply common sense and do the right thing. He likes to say he speaks, "locker room" language, meaning, "You ask me a question, I'm going to give you an answer. You may not always like it or agree with it, but you'll understand it, and I think that's what's necessary and needed."
Warren favors energy independence and infrastructure investment, and said he'll never vote for a bill he hasn't read or doesn't understand.
Realizing that he's running without a lot of traditional political support, he said he expects to "get killed" in the fundraising race — he says Petri has far more access to political donors.
But Warren figures there are plenty of voters around who remember his service fondly, and he hopes to win others over with a simple commitment to common sense government.
Dean Malik
Dean Malik is a Doylestown attorney who ran briefly for the seat in 2010, but withdrew before the primary.
Malik says he favors term limits, redistricting reform and a rewrite of campaign finance rules, which he says favors incumbents. He describes himself as unapologetically pro-life and pro-Second Amendment. He says he can win because voters are ready for something different in Washington.
"I'm somebody who served my country. I started off, I enlisted in the Marine Corps, I became an officer, I served in war," Malik said in an interview. "I was an assistant district attorney in Bucks County, I was a prosecutor. And I'm not a career politician."
Malik, the son of a Pakistani immigrant father and a Jewish mother, said he believes the U.S. shouldn't rush to open its doors to Syrian immigrants.
"It's very difficult to determine who these people actually are," Malik said. "Many are combatants, men of military age who are one side or the other of the conflict."