Tall ships, including a replica of Gen. Lafayette's, coming to the Delaware next summer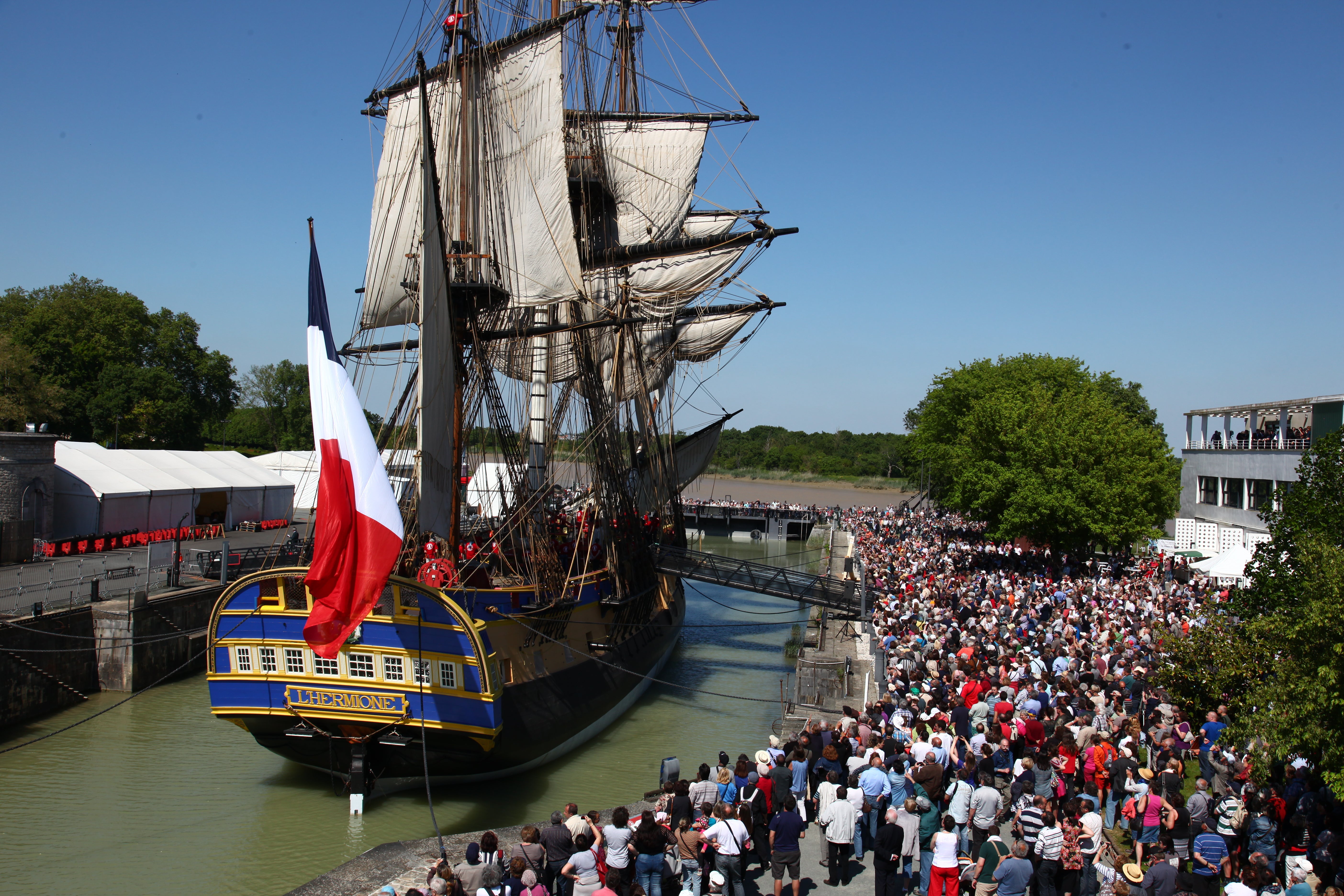 Huge sailing ships will head into Philadelphia and Camden next summer for the first tall ship festival held here since 2000, and L'Hermione, a replica of the ship that brought General Lafayette to the aide of the fledgling United States during the revolutionary war, will likely be among them.
Philadelphia's Delaware River Waterfront Corporation and Independence Seaport Museum, and Camden's Adventure Aquarium and Coopers Ferry Partnership, have joined forces to produce the tall ship festival, scheduled for June 24-28, 2015.
The reason for holding the first Delaware River tall ship festival in 2015 is to take advantage of L'Hermione's scheduled voyage to the United States to trace LaFayette's journey, Jodie Milkman, DRWC Vice President for Communications and Programming, said.
"How exciting that this is the first Tall Ship festival in Philadelphia in 15 years!" said Judi Kilachand of Friends of Hermione-LaFayette in America. Kilachand said that her organization will host educational events surrounding the Hermione's arrival.
Learn more about the replica ship and the history of the original here.
The DRWC board Friday voted to spend $150,000 on the festival – an amount that will be matched by each of the other partners – to enter into a contract with Tall Ships America, the non-profit that manages the tall ships' travels.
"This is a great example of regional cooperation between Camden and Philadelphia," said DRWC President Tom Corcoran, who knows Camden very well – he led Coopers Ferry before taking the helm at DRWC.
Milkman and Vice President for Operations and Development Joe Forkin said tall ship festivals attract tens of thousands of people, and so they are optimistic the partners will at least get their money back.
Attendees will be able to watch the ships come in and walk around them at no cost, Milkman said, and it's also likely that at least some ships will offer free tours. Boarding some ships may cost something, she said. The partners will be seeking corporate sponsorships for the event, and charges could vary based on the results of that effort.
There will be festival-type food and events available as well, Milkman said.
Board Member William Hankowsky, who is president and CEO of Liberty Property Trust, suggested DRWC reach out to Navy Yard shipbuilder Aker. He also asked about how strong or diluted the draw of the ships might be. Forkin said part of the negotiations with Tall Ships America entails exclusivity – the hope is to at least keep tall ships out of Baltimore and New York harbors during Philadelphia's festival.
Milkman said the agreed-upon expenditure won't just cover administrative fees with the non-profit, but the cost of power and other provisions the crews of the visiting ships will need.
But summer 2014 isn't over yet.
Bassmaster
Fisherfolk will compete to catch the big one during the Aug. 7-10 Bassmaster Elite tournament. This, said programming committee chairwoman Diane Dalto Woosnam, is a very big deal. "It's sort of the angling equivalent of NASCAR," said Woosnam, who is chair of the Pennsylvania Council on the Arts.
Competitors will fish up and down the river and bring their catches to be weighed in at The Great Plaza at Penn's Landing. ESPN will televise, and board members were psyched about the national exposure.
Spruce Street Harbor Park
Board members were gleeful about the new Spruce Street Harbor Park. Woosnam noted it won a Best of Philly award from Philadelphia Magazine, as Race Street Pier did before it.
Vice Chairman Jay Goldstein, founder of Valley Green Bank, said there were thousands of people there when he stopped by on a recent weeknight.
Goldstein noted the parking lot was far from full, but the bike racks were packed. He asked how people are getting to the park.
Board member Gary Jastrzab, who is executive director of the city planning commission, was curious about the split between city and suburban park visitors.
Milkman said DRWC interns have been surveying visitors to get information, and Visit Philly is going to do a demographic survey to help address these questions, too. Current indications are that people are coming from around the region, but during the week, most are city residents. It's become a popular destination for residents of Society Hill, who can easily walk there, she said.
The park has generated tremendous buzz, Milkman said, noting that DRWC's website has had 400,000 page views associated with SSHP information since May. "I think it's starting to change the conversation on how people look at the waterfront," she said. "It sets the stage for everything we've been talking about, how great civic spaces can place-make and help us achieve our goals."
Woosnam said Spruce Street Harbor's success has raised the bar for its cold-weather counterpart, Winterfest. That space around the Blue Cross River Rink proved popular last year, she said, but it will have to be even better now.
Spruce Street Harbor and the FY2014 budget.
The capital outlay for SSHP was the main contributor to DRWC closing out fiscal year 2014 with a $28,000 deficit. Board members were not concerned about it. DRWC Director of Finance Rinku Modi said Spruce Street Harbor's revenue stream will make up those costs, and that the deficit was mostly because the park was built and opened near the end of the fiscal year. Woosnam noted that many items purchased for the new park will be used in Winterfest, and then come back to Spruce Street next year.
The board unanimously approved an $8.5 million budget for FY 2015 – a $1 million increase over last year's budget. See the details.
Pier 53
DRWC Planner/Project Manager Lizzie Woods reported that the boardwalk at the under-construction Pier 53 park is nearly complete, and that artist Jody Pinto's land buoy sculpture has been installed. "It is going to be an effective tool in marking (the park) as an identifiable place," she said. The buoy is tipped with a solar-powered light that glows blue. The park opening is scheduled for Aug. 15.
Pier 68
DRWC is in the process of collecting needed permits for the Pier 68 park, with its fishing spot, big lawn, picnic grove and wetlands. The design/build team led by Studio Bryan Hanes is expected to start construction this fall, and a late spring/early summer 2015 opening is expected.
The Land Buoy sculpture by Jody Pinto is installed at Pier 53. DRWC photo

Under construction Pier 53 gets its Land Buoy sculpture, by artist Jody Pinto. DRWC Photo