Salute the Leader! Rules and regs for the MAGA military parade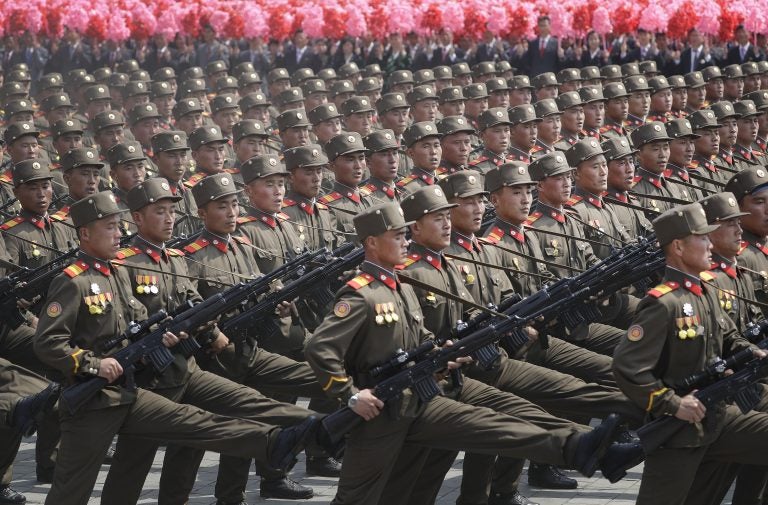 So, Dear Leader wants a grand military parade on Pennsylvania Avenue, just like he promised a year ago. How splendid! If Kim Jong-un, Augusto Pinochet, Der Fuhrer, and Joseph Stalin could flash their hardware, why not us? Who says we're supposed to be any better? You got a problem with that?
In fact, we've exclusively obtained the official list of parade tips for the multitudes who are very strongly encouraged to turn out for what is already by far the biggest most beautiful crowd in the history of homo sapiens. For instance:
— Standing up for America for eight hours is arduous patriotic duty, so be sure to wear comfortable footwear. The MAGA Patriot Comintern strongly suggests that parade attendees show their devotion to the troops by purchasing 10-inch-tall paratrooper combat boots, which typically retail for $140 but will be excitingly on sale at the Trump hotel on Pennsylvania Avenue for the low price of $135 if buyers agree to book a two-night stay.
— Parade attendees shall wear MAGA armbands only on the left arm. The right arm shall be used to toss flowers upon the Kushner Family Float, which will circle the route three times. Great flowers, the best flowers — most notably Camomile, the national flower of Russia — can be purchased in advance at the online Trump 2020 Store.
— All attending parents must bring their patriotic children, who will very strongly love the reenactment of the Bowling Green Massacre, when Iraqi refugee terrorists were slaughtered by U.S. weaponry and the rockets' red glare. This beautiful display of American grit will be exclusively staged on the Kellyanne Conway Alternative Fact Float.
— Parade attendees are strongly encouraged to gasp in unison during the Air Force flyovers. Coin boxes will be conveniently located along the parade route so that patriots who've saved money from the Leader's tax cut can donate it to weapons research and development.
— Parade attendees are cautioned to watch their footing, because Abrams tanks might do damage to the Washington asphalt, which, if it happens, would be Obama's fault.
— We applaud the mass purchase of ICBM hats, sold exclusively at the Trump 2020 Store (batteries not included). But due to the fact that their extreme height would prevent little patriots from seeing and saluting the Leader, these hats shall be confiscated. They will be returned to all rightful owners who pledge donations to the Leader's next two presidential campaigns.
— To reward our most athletic patriots, climbing light poles will be strongly encouraged. To stoke participation, the poles will be greased with heaping portions of McDonalds special sauce — the same delicious recipe enjoyed nightly by the Leader! Anyone interested in yelling "MAGA!" at a missile launcher truck, with a mouthful of pickle relish and paprika, can purchase beautiful climbing instructions from Paul Ryan's political action committee.
— All parade attendees are strongly encouraged to applaud the Leader's military might and the Leader's presence. A failure to clap, or a display of insufficient enthusiasm, may be viewed by some as unAmerican. Somebody would say, "treasonous." Yeah, why not. Can we call that treason? Why not. You got a problem with that?