Review: Inside the minds of 'The Three Christs of Manhattan'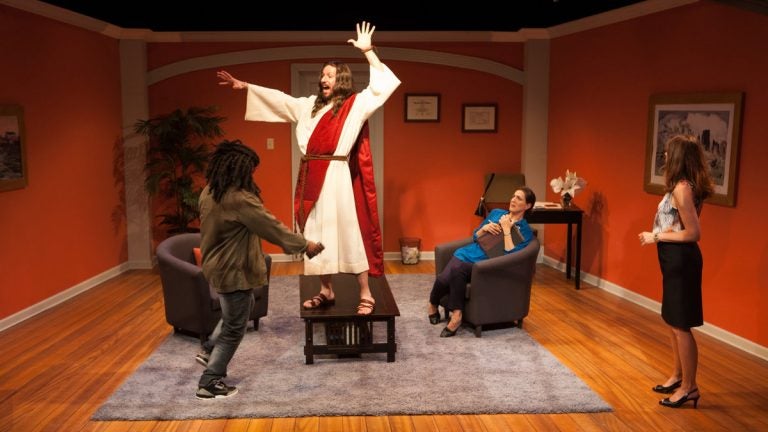 In Seth Rozin's witty war of values — a new play called "The Three Christs of Manhattan" — the question isn't what would Jesus do? The question is a trifecta: What would three Jesuses do? That's how many Jesus Christs walk into the office of a psychiatrist on her first day of private practice, three in a row. And the question becomes, just who's psyche is being explored here.
Is it the mind of Jesus 1, 2 or 3 – or is it the shrink's? "The Three Christs of Manhattan" offers mind games and more, and it's asmuch about the way audience members define the Messiah as it is about the characters in the play – you can't help but agree or disagree with the differing ideas all three Christs espouse.
Much of this world premiere – the end of a season of world premieres at InterAct Theatre Company (and its last show before moving out of the the Adrienne, its home for 18 years) – is very funny. But underneath the good time Rozin, InterAct's producing artistic director, has written a play that addresses the social-justice issues that the stage company lives for.
Jesus #1 (Dan Hodge), in biblical garb and looking very much like any number of art-masterpiece Christs, spreads love and healing. He was sent by a friend, who insists the guy has issues.
Jesus #2 (Akeem Davis) is black, urban and has anger issues – or at least he says that's why his girlfriend sent him. He stands for justice and the little person's fight against corporations, imperialists and everything else that composes The Man. (Well, not THE MAN – that would be his dad.)
Jesus #3 (Judith Lightfoot Clarke) is tall, well-heeled and forthright in her business clothing. Her path to heaven is success and prosperity, although she needs some help in restraining her zeal, which is why her father (who art in Heaven, she tells us in so many ways) has sent her to have her head examined.
What's a poor novice psychiatrist (Leah Walton) to do? She has her own problems – she's neurotic and on the phone with her own therapist (the voice of Tom Helmer) at a moment's stress. She's also Jewish, which counts with the Jesuses, but a Jew who doesn't believe God exists — prime meat for her patients' soul-saving.
Rozin co-directs his play with InterAct artistic associate Kittson O'Neill, on Colin McIlvaine's handsome pyschiatrist-office set. (No one sprawls on a couch here; Comfy chairs are the style.) The cast is excellent and the 85-minute show moves nicely until its last chunk, when arguments from different Jesuses begin to bog it down and threaten to turn it into a polemic.
I wondered, during those few minutes, whether Rozin knew just where he was going when he worked on that part of the script. Wherever that is – and I won't tell – he gets there, none too soon. It's worth the wait. After all, didn't Jesus talk about complete and perfect patience? Or maybe it was one of these three.
_"The Three Christs of Manhattan," produced by InterAct Theatre Company, runs through June 21 at the Adrienne, on Sansom Street between 20th and 21st Streets. 215-568-8079 or www.interacttheatre.org.