Recovery mission: Frankford activists seek to regulate recovery homes
It was early afternoon on Feb. 28, 2009 when Frankford resident Marjorie Rivera got an unexpected scene. She was getting ready to celebrate her wedding anniversary with her husband when they noticed a moving van outside of their two-story home. That chilly February day would be the first time Rivera would learn that the house next door was being turned into a recovery home for men.
As a mother of two daughters and aunt of many nieces, Rivera panicked as the thought of living right next to a recovery home settled into her brain.
"I'm thinking, 'Oh wow, I got problems. These are all men. Recovery home? Well that's for drugs. And don't courts usually send people to them? What if these guys did something?' I don't want that next door to me," she said.
Looking for guidance and help, Rivera looked to the Frankford Civic Association. This organization, which represents Frankford, meets monthly to discuss the issues pertaining to the neighborhood. There, Rivera would find that the topic of recovery houses had been an active issue for more than a year, with concerns coming up at every meeting.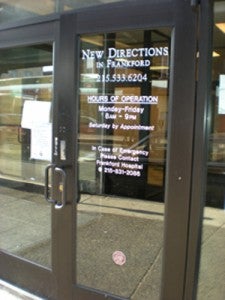 Currently, Frankford has more than 50 facilities for recovering drug addicts, and the city of Philadelphia does not have any regulation regarding opening these homes. The only thing required is a property and a business broker's license.
Jorge A. Santana, chief of staff to Representative Tony Payton, Jr., said every single recovery house that is a problem has a license for boarding.
"There's no licensing for recovery houses unless you have some sort of contract with the city, and the reality is there's only about 21 recovery houses that are funded by Philadelphia. It's like only 5 percent of these recovery houses that are around are actually recovery houses," he said.
Tim Wisniewski, a resident of Frankford and board member of the Frankford Civic Association and Frankford Special Services District, explained the issue further.
"Our thing is that the people opening up these recovery houses could be anybody, all with very different standards. Just because there's a recovery house doesn't necessarily mean the occupants are not on drugs—often they are, and in many cases they are the prime targets of drug dealers," he said.
The house next door to Rivera seems to be a prime example of this—she recalls many instances where she has seen occupants of the recovery home next door stumbling in their walk and muttering, appearing to be under the influence of something. In addition, fights are constantly breaking out, some involving furniture being thrown. She even has evidence on her camera phone of a drug transaction taking place in the backyard, which she obtained through her second story window.
Hoping that it was worth something, Rivera sent her video to Councilwoman Maria D. Quiñones Sanchez of the seventh district, but not much came out of it.
"She sent me a reply saying 'How unfortunate.' That's not what I wanted to hear," Rivera said.
Jason Dawkins, an aide to Councilwoman Maria D. Quiñones Sanche, said building inspectors from the city's Department of Licenses and Inspections have been sent to the house, as well as others, to investigate, but the council is still trying to figure out how best to approach the situation.
"The problem is that there is no definitive, regulation, or process that needs to happen because they're not classifying themselves as nothing more than a rental property. It's a loophole that they figured out and its one of the biggest challenges," Dawkins said.
But not every recovery house or treatment facility in Frankford is corrupt. Berentha Duval is a program director at Parkside Recovery in Frankford, a treatment center dedicated to helping those suffering from substance abuse. She does not associate herself with recovery homes, and according to her residents, should not be quick to lump everybody the same way.
"The people who are using these recovery homes as a front are not a part of the treatment community. They are preying on people in a vulnerable stage because they have found that it generates money. Having worked in the treatment community for over two decades, I could absolutely assure you that there are people who are doing really good work," she said.
Duval went on to say that recovery and rehabilitation facilities are necessary because the alternative would be an escalation of violence for people who are not getting the proper treatment. Each month, she attends the Frankford Civic Association meetings because she wants residents to know she is not there to be a burden to the neighborhood, but rather to make it a safer place.
"If you're doing the right thing there's no reason why you can't show up. I'm doing the right thing so I can speak for myself," she said.
In the end, it seems as though the issue of recovery homes is not one that will be solved anytime soon. Tim Wisniewski and other members of the Frankford Civic Association would like to see all recovery homes and rehabilitation centers added to the list of regulated uses within the current zoning code.
"That way, when one wants to open up, the civic association could know about it and either advocate it or advocate against it, " Wisniewski said.
But as Dawkins said, the council must first have a clear definition of what a recovery house entails, a question they have not yet been able to answer.
"We just need a definition of recovery house so when someone applies for this type of zoning, we can push him in the direction of resources and training and things of that nature so we can have a success story instead of a complaint," he said.
-By Christeen Vilbrun
For the next few months, NEast Philly will welcome two new contributors to the site – Christeen Vilbrun and Sean Supplee. Christeen and Sean are students in Philadelphia Neighborhoods, Temple University's senior journalism capstone class, and they've been assigned to explore the Northeast. From now until the end of the year, Christeen and Sean will be hitting the streets of the Northeast to find stories. Their work will be a great addition to NEast Philly, as they explore our corner of the city from an outsider's perspective. This is the second of many stories and videos from Christeen and Sean. You can also see this story at Philadelphia Neighborhoods.