Record warmth possible Sunday; White Christmas unlikely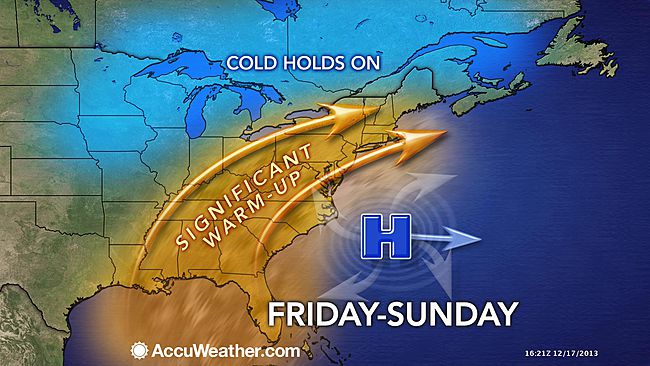 A significant warm-up is on the way, possibly breaking records on Sunday. Then dry, seasonably cold weather is expected to begin next week, stymieing chances for a White Christmas.
Although sunny today, temperatures will still be five to ten degrees below normal, according to the National Weather Service. Most will see highs in the 30s.
The warm-up begins Thursday, with temperatures climbing back to the 40s in the north and 50s in the south under mostly sunny skies. We'll experience warmer temperatures each day, peaking somewhere in the 60s on Sunday. Current guidance suggests that minimum and maximum temperatures will be 20 to 25 degrees above normal on Sunday, according to the National Weather Service.
You may be considering breaking out the beach chairs, but intermittent rain showers are expected through the weekend, beginning later in the day on Friday. Snow melt and rain might cause flooding.
Preliminarily, Christmas appears seasonably cold and dry, the National Weather Service advises.