Philly judge says he doesn't have authority to reassign Meek Mill's case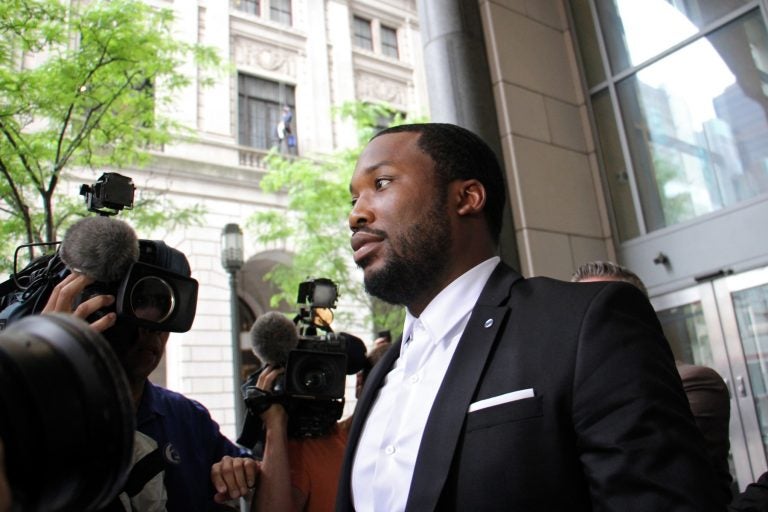 The judge who has overseen Philadelphia rapper Meek Mill's case for more than a decade will remain on the case following a failed bid by Mill's legal team Wednesday to have her booted.
Mill, whose legal name is Robert Williams, looked visibly frustrated as the effort to move his case to a different judge was shot down. He did not speak in court, and he did not address reporters after the hearing.
In April, the Pennsylvania Supreme Court intervened in Mill's case and released the 31-year-old from prison, but the state's top judges would not reassign the case to another trial judge, as Mill's lawyers had sought.
Common Pleas Judge Genece Brinkley has presided over Mill's case since his 2007 arrest on drug and gun charges. In recent months, the rapper and the longtime judge have publicly feuded to the point where Brinkley has hired a lawyer to defend her against accusations of abusing her power in Mill's case — as well as more far-flung claims about her dealings as a landlord and her  involvement in more than a dozen civil lawsuits.
On Wednesday in court, Mill lawyer Brian McMonagle reminded President Judge Leon Tucker that, despite the Philadelphia district attorney's office admitting that prosecutors no longer trust the credibility of the officer who originally arrested Mill and support a new trial, Brinkley will not grant one.
It is a decision McMonagle described as "a miscarriage of justice."
"She is incapable of presiding over this case," McMonagle said of Brinkley. "You have the ability as the president judge to reassign the case."
Yet Tucker balked at that suggestion, saying only the Pennsylvania Supreme Court has the ability to move a case to a different judge.
"I can't pull rank over any judge because they were elected just as I was," Tucker said. "I wear the same robe that she does."
In the April ruling from the high court ordering that Mill be released but also keeping Brinkley on the case, the justices wrote, "the presiding jurist may opt to remove herself," citing a rule that would allow her to step down when such a move is "in the interest of justice."
That line, McMonagle said, is significant.
"I've been doing this for three decades and never saw that one before," he  said.
Brinkley sentenced Mill to 2 to 4 years behind bars followed multiple violations of probation triggered by, among other issues, failing to report his travel schedule to the court and his arrest after a scuffle in the St. Louis airport.
Proponents of criminal justice reform have held up Mill's legal saga as a way of igniting a larger conversation about the 44,000 Philadelphia residents now on probation. More than one-third of those locked up in local jails were sent there over probation and parole violations.
Over the course of Mill's probation, which has extended for his entire adult life, the rapper's advocates have said that Brinkley has at times abused her role as a judge. Once, she visited a soup kitchen to verify that Mill was feeding homeless people there. And, in a private meeting, the judge allegedly asked Mill to record a version of Boyz II Men's "On Bended Knee" and supposedly asked that she receive a shoutout on the song, requests Mill says he declined.
The latest reason why Brinkley should remove herself from the case, according to Mill's lawyers, is a civil lawsuit the judge filed last month over a 2016 automobile accident she was involved in while on vacation on the Caribbean island of St. Martin.
As a result of the collision, Brinkley wrote in the federal lawsuit, she sustained serious head trauma.
"She has in the past and may in the future continue to suffer from agonizing aches, pains and mental anguish. She has in the past been and may in the future be disabled from performing her usual duties, occupations and avocations," Brinkley wrote in the suit.
Joe Tacopina, another lawyer for Mill, seized on that part of the complaint after the court hearing.
"Her occupation is a judge, as far as I know," Tacopina said. "And she's called into question her ability to sit in this case, or any case quite frankly."
From the view of Mill's legal team, not only is Brinkley not willing to step down from the case or grant Mill a new trial, the judge is also not referring his appeal to another judge, which is typically the custom.
"Let's not treat this defendant differently," McMonagle told the judge.
Lawyers from the Philadelphia district attorney's office did not take a position in court on the request for a new judge.
Mill's appeal for a new trial will be in front of Brinkley on June 18.
WHYY is your source for fact-based, in-depth journalism and information. As a nonprofit organization, we rely on financial support from readers like you. Please give today.