Philly Fringe reviews: 'The Accountant' and 'Lay Me Down Softly'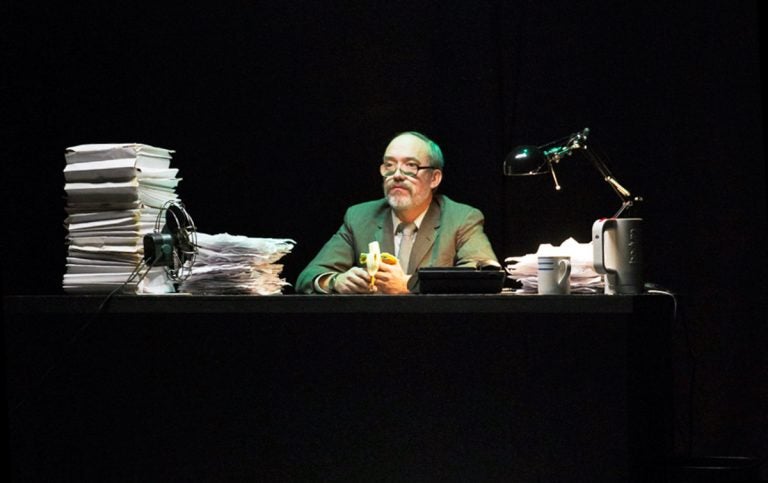 The Accountant
Fascinating and frustrating in equal parts, "The Accountant" – a hot Philly Fringe ticket through its nearly sold-out Sunday run – seems especially resonant for people who've ever worked in an office. The locally-based theater artist Trey Lyford, who created it with the performers and takes the title role, says he got the idea for the show when he was delivering mail as a temp and noticed an elderly clerk enveloped by tall stacks of paperwork in a dim office. "It felt like he was some kind of gatekeeper to a world that time forgot," Lyford says in the Fringe material.
The much-respected Lyford, who's helped to create pieces with Philadelphia's Pig Iron company and many others outside the region, uses that vision to create this work about the banalities, tedium and general culture of office life. His accountant, fitted out in a bland suit and a passive demeanor, is an extreme example of an employee you hate (messy desk that extends to the surrounding floor, gets almost nothing done, strives to be overlooked). But he's also a victim of all the hassles you survive in workaday life (no easy answer to a simple question from a firm that puts him on a lengthy hold, stymied by a tightly sealed junk-food bag at a snack break, fighting at times to stay awake).
Lyford is also inspired by Samuel Beckett's one-man "Krapp's Last Tape," right down to the banana that gave Beckett's character agita, and by that play's premise that life is a fleeting thing. Here, the notion appears abstractly in a dreamy scene with a young girl (played by his real-life daughter Coralie), who turns his white papers into a sort of winter wonderland. The piece depends on such visual bits, with almost all the talking done by Ben Bass, as a boss whose reprimands turn into the sort of blather you may process whenever a supervisor dresses you down.
"The Accountant" is sometimes funny and insightful, but it's interspersed with lengthy strands of indulgent slow action that squander an audience's good will. The background sound is a mixture of recorded noises and music played live by the show's composer, Cole Kamen-Green; his trumpet's sounds, along with the way he electronically maneuvers them, give "The Accountant" an attractive unearthly buzz.
_
"The Accountant," curated by FringeArts, runs through Sunday at the theater on the top floor of Christ Church Neighborhood House, 20 N. American St., to the side of Christ Church at Second and Market Streets. 
Lay Me Down Softly
The Irish Heritage Theatre production of "Lay Me Down Softly" is about "the topsy-turvy world of amateur boxing" in Ireland, according to its marketing material, but the play itself is not nearly topsy-turvyish enough. It's fiercely talky and telegraphs nearly all its punches, and an uneven production from director Peggy Mecham doesn't help.
Mecham, who's directed other plays for the stage company, is the leader of Once More Theatre, the resident company at Plays & Players, which has partnered with Irish Heritage Theatre to present "Lay Me Down Softly" as part of the Fringe festival. Her cast could use a decent dialect coach for the drama by Irish actor-playwright Billy Roche, which premiered in Dublin a decade ago; as it is, the actors' accents range from almost nil to almost not English. The night I saw the show, it seemed sluggish when it should have been more energetic, right up to a curtain call so slowly realized it seemed like an afterthought.
The production has its moments, particularly the dreamlike fights inside a boxing ring on an appropriately dingy set by Jaired Kimberly, and during the times when characters become physically menacing. The play is about a traveling carnival in rural Ireland in 1962, the volatile man who runs it (played by Ethan Lipkin), his long-estranged daughter (Katie Stahl) who comes to visit and falls for a worker (Lee Stover), and the others who work the boxing attraction (Dan McGlaughlin, the excellent Brian Anthony Wilson and Irish Heritage Theater's artistic director Kirsten Quinn, outstanding in the cast).
Much of the dialogue gets lost in the varying accents – especially the overdone ones – and I got the sense that the production needed more rehearsal. But then the play could use a little jab here and there, too.
_
"Lay Me Down Softly," produced by Irish Heritage Theatre and Plays & Players, runs through Sept. 15 at Plays & Players, Delancey Place between 17th and 18th Streets.
The Philly Fringe Festival runs through Sept. 23. For more information: fringearts.com.