Pa.'s death penalty opposition gets a bipartisan push
Although Democratic Gov. Tom Wolf has a moratorium on capital punishment, the commonwealth hasn't gotten close to a ban.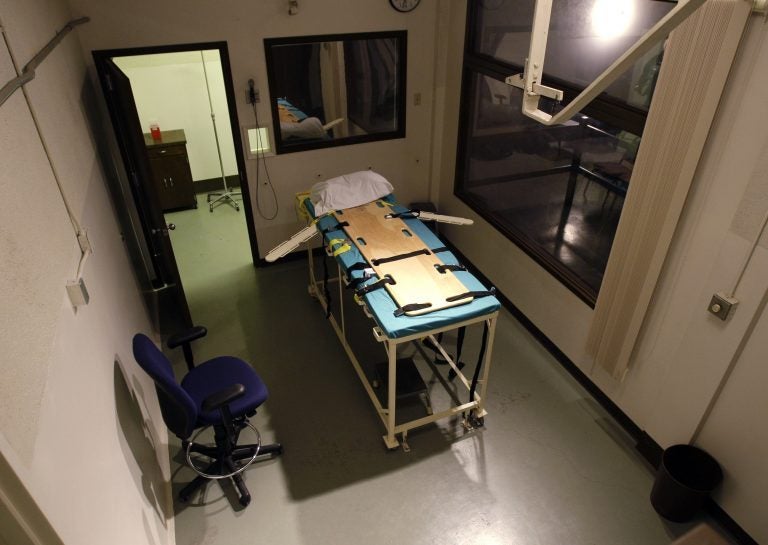 An odd-couple pair of House lawmakers are teaming up on a bill that would get rid of the death penalty in Pennsylvania.
Capital punishment has long been an issue fraught with political — and partisan — tension in the commonwealth. But Chris Rabb — a progressive Democrat — and Frank Ryan — a conservative Republican — said Tuesday, they think there's increasing bipartisan consensus on the issue.
Twenty states have already gotten rid of the death penalty.
But although Pennsylvania has executed only three people since the penalty was federally reaffirmed in 1976 — most recently in 1999 — and Democratic Gov. Tom Wolf has a moratorium on the punishment, the commonwealth hasn't gotten close to a ban.
Chris Rabb, of Philadelphia, said he opposes the death penalty for many reasons.
"There's no study that shows that a death penalty is a deterrent," he argued. "There's no study that shows the death penalty is without flaw."
But he said if nothing else, he thinks lawmakers of all stripes can agree it's expensive.
He cited a 2013 study of death penalties in Maryland that estimated almost $2 million more is spent on death penalty cases than ones that don't involve capital punishment.
"What could we better use $100, $200, $250 million for?" he asked. "A lot of stuff."
Rabb's co-sponsor, Lebanon County's Frank Ryan, noted that if the death penalty is going to be allowed, he thinks the current lengthy, expensive appeal process is a basic requirement.
But he also doesn't think it's enough.
Like Rabb, the Republican Ryan opposes the death penalty from a few angles. For one, he's pro-life. And he thinks the criminal justice system is fundamentally broken.
"I actually think the entire judicial system is horribly skewed against people of minor economic means, both white and black," he said.
Historically, Republicans have been particularly cautious about rolling back the death penalty.
But Ryan said he's expecting members of his caucus will get on board.
"I've gotten no blowback from any of my Republican colleagues," he said. "I had one say, 'Oh my God, Frank, you're soft on crime,' and then he said, 'By the way, good bill. I'll co-sponsor it.'"
The proposal is still circulating for co-sponsors.
In a press conference announcing it on Tuesday, Rabb invited two former death row inmates to speak in favor of it.
One of the men, James Dennis, spent more than 25 years on death row after being convicted of killing a 17-year-old woman. As a condition of his release, he had to plead no contest to the murder.
He maintains his innocence.
"I was 21 years old," Dennis said of his 1991 arrest. "I was a singer-songwriter. I didn't have any significant criminal history at all."
In 2013, US District Judge Anita Brody heard Dennis's appeal and ordered Pennsylvania to drop his charges or retry the case, writing that the state had committed a "grave miscarriage of justice."
The other onetime death row resident, Kirk Bloodsworth, was arrested in Maryland in 1984 and charged with the rape and murder of a nine-year-old girl.
He maintained his innocence but was convicted and served almost nine years in prison, two of which were spent on death row.
He was freed in 1993 based on DNA evidence and fully exonerated in 2004. He has spent the last two advocating against the death penalty and ultimately helped get the punishment abolished in his home state. He is now a Pennsylvania resident.
"Innocence is real," he said at the press conference. "If it can happen to an honorably discharged Marine without any criminal history or criminal record, it can happen to anybody in America, even in the state of Pennsylvania."
According to the Death Penalty Information Center, Pennsylvania currently has 158 people on death row.
WHYY is your source for fact-based, in-depth journalism and information. As a nonprofit organization, we rely on financial support from readers like you. Please give today.