Pa. citizens 'slay the gerrymander' in congressional mapping competition
Draw the Lines PA is a civic group that plans to host a biannual competition where people can make their own congressional district maps.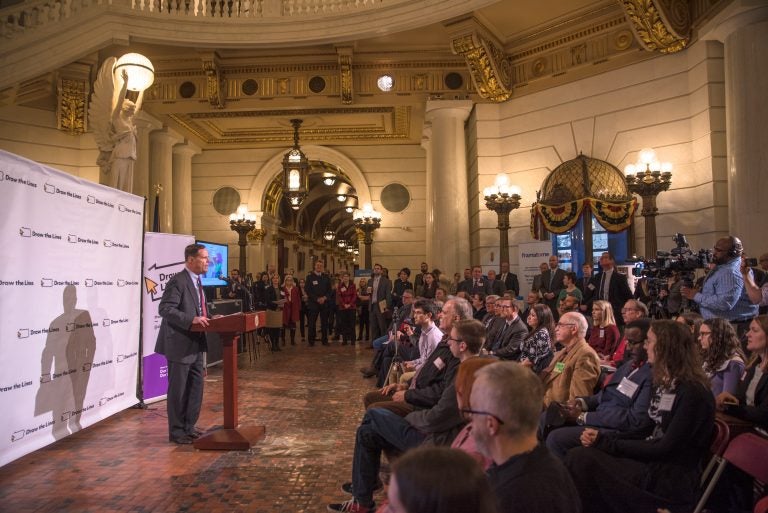 Jacob Kaminski, a 21-year-old senior at Penn State University, knew little about gerrymandering before this fall.
But when he learned about the partisan manipulation that shaped Pennsylvania's old congressional map — with counties and boroughs split to serve political interests — it made him feel that something had to be done.
Kaminski turned that urgency into action. As part of a geography class, he recently won a prize for his efforts to draw a fairer map through a competition organized by Draw the Lines PA, a statewide civic group organized by the Philadelphia-based Committee of Seventy.
"It took a long time. Gerrymandering is easier than doing it the right way, making sure that you're valuing people," said Kaminski. "One assignment that I thought would take an hour or two took ten hours,"
As Pennsylvania looks again to redraw its congressional map after the 2020 census, Draw the Lines PA hopes people across the state will become educated about the redistricting process in order to "slay the gerrymander."
They plan to hold free bi-annual mapping competitions until the state legislature completes the next redistricting cycle in 2021. The first round drew 318 entries from across the state, and winners were announced last week in Harrisburg.
"We want to get people excited over this process. At first glance, it's a wonky issue. Not a lot of people know what redistricting is," said Justin Villere, the group's chief of staff. "We thought that making it a competition would allow people to take a further look at what this process is and feel like they can have a say."
The group first hosts regional competitions that are judged by prominent names such as former governor Mark Schweiker. People can submit maps in youth, higher education or adult divisions.
These events come in the wake of years where redistricting and gerrymandering regularly made headlines in Pennsylvania.
Last January, the Pennsylvania Supreme Court determined that the congressional map drawn for the state in 2011 was an unconstitutional partisan gerrymander meant to favor Republicans.
The court ultimately implemented its own remedial map drawn by a Stanford University law professor. That new map was used in the 2018 midterms and helped Democrats pull even with Republicans in what's now a 9-9 split in the delegation the state sends to the House of Representatives.
In the prior three cycles, the 2011 map consistently saw Republicans gaining a 13-5 advantage in the delegation despite there being more registered Democrats in the state.
Draw the Lines PA was inspired by an instance where an ordinary citizen stepped up, drew her own map, and made a change in Pennsylvania.
In 2011, Amanda Holt was a 29-year-old piano teacher from Lehigh County with an interest but no professional experience in government. Holt was concerned that the state legislative map proposed by the Legislative Redistricting Committee unconstitutionally split municipalities and counties.
So she drew her own.
In a case that reached the Pennsylvania Supreme Court, Holt's map was a key factor in proving the map proposed by the LRC was unconstitutional. The court ordered a new map to be drawn.
"The concept of one person demonstrating the power of one person's voice. If we can put a factor of a hundred behind that, a thousand, ten thousand then what can be accomplished with Pennsylvanians who are encouraging their legislatures to hear the people's voice?" asked Villere.
Most commercial mapping software is either too basic or advanced to be useful to students, organizers say. To make district mapping more accessible to everybody, Draw the Lines PA provides a free, easy-to-use map maker on their website called DistrictBuilder.
"There really wasn't something out there where students could get hands-on experience drawing boundaries. It's a natural fit for my class," said Christopher Fowler, the assistant professor with Penn State who led the school's winning submission. "In the past, I taught, but students weren't engaged in the same way."
The contest's top picks were based on several redistricting factors, including population equality, contiguity, compactness, competitiveness, and federal stipulations disallowing the fracturing of minority communities.
Judges praised the Penn State submission, seen above, for prioritizing competitiveness, which students said was guided by a survey the team had conducted. The class won $4,500 for being selected as state champions in the higher education division.
DTL has already launched its next round of competition with a May 20 deadline.
Moving forward, it will ask people to design a map with 17 districts, as experts predict Pennsylvania will be forced to sacrifice one congressional seat after the next census.
—
Correction: A previous version of this article indicated that the competition drew 1,500 submissions.
WHYY is your source for fact-based, in-depth journalism and information. As a nonprofit organization, we rely on financial support from readers like you. Please give today.