Mixed-use apartment complex proposed for historic Old City building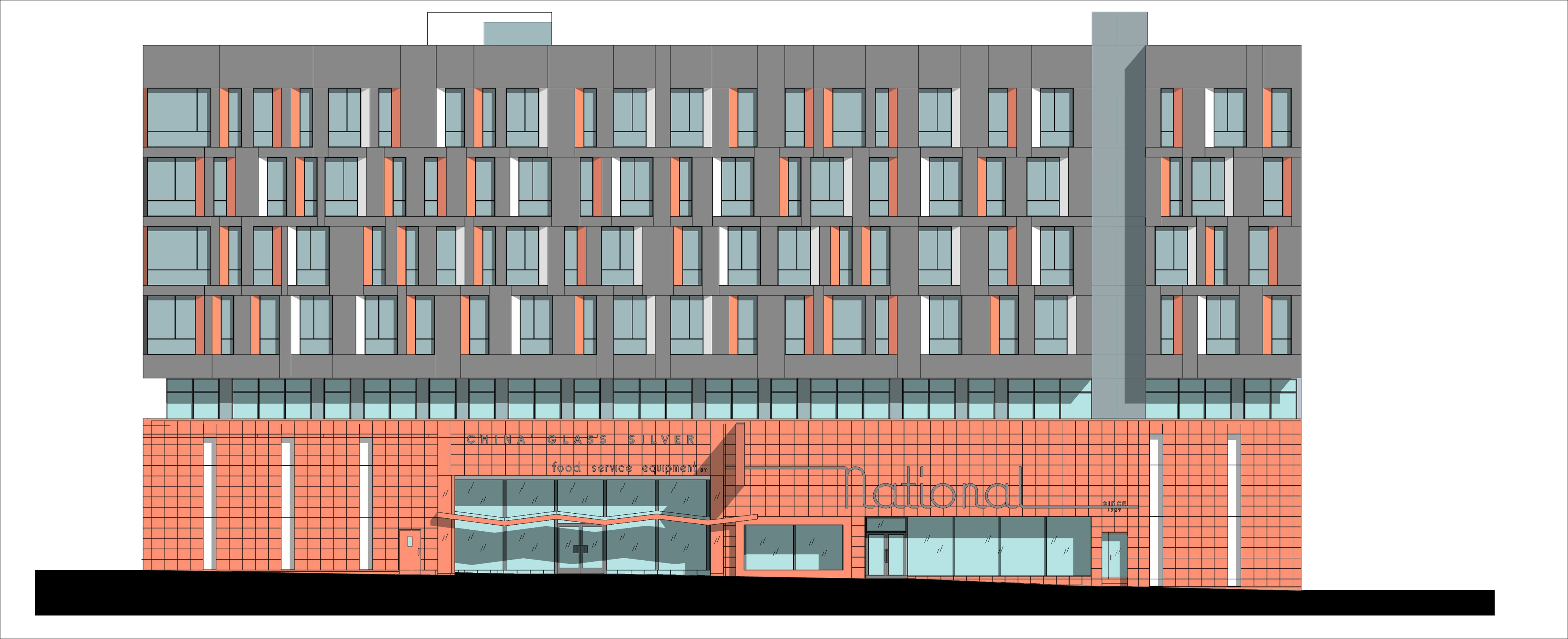 A group of developers doing business as National Patriot LLC are hoping to redevelop a historic Old City building into a mixed-use apartment complex.
The building, formerly National Products, was certified historic in 2002 because of its distinct facade made of orange tiles. It is located on 2nd Street between Arch Street and the tiny, tourist-attracting Elfreth's Alley.
Last week, the developers received approval for the project, which will entail tearing down and rebuilding the tile wall, from the Historical Commission.
But National Patriot isn't the first group to try to redevelop the building. According to minutes from a meeting last month of the Historical Commission's architecture committee, the current proposal was preceded by a nearly identical one in 2011, along with various other proposals in 2003, 2004, and 2007. The Historical Commission has approved a number of conceptual proposals for redeveloping the site; so far, none have been undertaken.
National Patriot purchased the building in 2012 for nearly $6.5 million. It plans to demolish a series of smaller buildings that sit behind the facade and build a six-story building in their place. There will be a bi-level parking facility accessible on Arch Street and retail uses along the ground floor on 2nd Street.
There was also a proposal to build condominiums at the site in 2012.
Joe Schiavo, an Old City resident and former member of the Old City Civic Association, said that he thinks the use and scale of the building are appropriate for the neighborhood. But he said the current design, from architects Barton Partners, is "less sophisticated" than the previous condo proposal.
"I am concerned that this may simply look like an inexpensive project, which is a shame because we both know that this is going to cost a lot of money to build …" Schiavo said.
Anne Fadullon, a Dale Corporation developer who is working on the project as a consultant, said that the project will include around 180 apartments. Previous proposals had failed for various reasons related to the housing market, she said. The current proposal fits with the building volume and Floor Area Ratio of a previous proposal approved by the zoning board, but it's unclear whether the project can proceed by right because it now contains more units than the zoning board had approved.
See the Historical Commission's review of the project below.
Arch St. elevation, National Products

Exterior perspective Arch St., National Products

Exterior perspective, 2nd St., National Products

North elevation, National Products

109 N. 2nd St. present day