Lawncrest community figures get city citations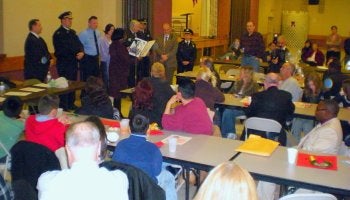 Two popular city employees who work heavily with the Lawncrest community received citations from the City of Philadelphia Tuesday night at the Lawncrest Community Association meeting.
Kathy Wersinger, administrative assistant and de facto neighborhood liaison for Councilwoman Marian B. Tasco, and Police Officer Mark Mroz, the affable community relations officer for the 2nd District, both were honored last night inside the St. William's School on Rising Sun Avenue. At-large Councilmen Jack Kelly and Bill Greenlee were also on hand.
"Tonight we're honoring two people who help make Lawncrest great," said Association President Bill Dolbow.
Dolbow first introduced Tasco, who has served the ninth council district for a decade, spoke at length of Wersinger's "connection" to Lawncrest: leading neighborhood events, fallen-police officers fundraisers and other charities.
"Every time I look around she is doing something for someone in this community," Tasco said of Wersinger, who has worked for Tasco for three years. Below, watch Tasco's speech and her, Kelly and Greenlee read the city citation for Wersinger.
Nearly 200 people — more than double last month — including residents, police officers and legislative aides, attended the meeting, which featured heaping piles of sandwiches, other goodies and soft Christmas music to serve as the group's holiday party.
After native Lawncrest resident Wersinger said she was "speechless," received flowers and hugs from friends and a WaWa gift basket, arranged by Kelly's office, she joined in applauding Officer Mroz, who was applauded for his tireless community efforts in multiple neighborhoods. Called a "catch-all complaint department" by his captain, Mroz's city citation noted his being named officer of the year in 2007 and 2008 and recalled when, in July 2007, he saved the life of a 23-month-old infant with 10 minutes of CPR.
Below Mroz, who was suffering from strep throat, gives a quick acceptance speech before receiving a partial standing ovation from the crowd.
The meeting, which started 20 minutes late because of food and merriment, ended not long after 8 p.m.
Also at the meeting: Thirty new officers were added to the 2nd district… At next month's meeting, held Jan. 19, 2010, a zoning applicant hoping to open a daycare at the intersection of Rising Sun and Godfrey avenues will be heard. No other new zoning was introduced.