L&I intends to revoke permit for AAA garage in Pennsport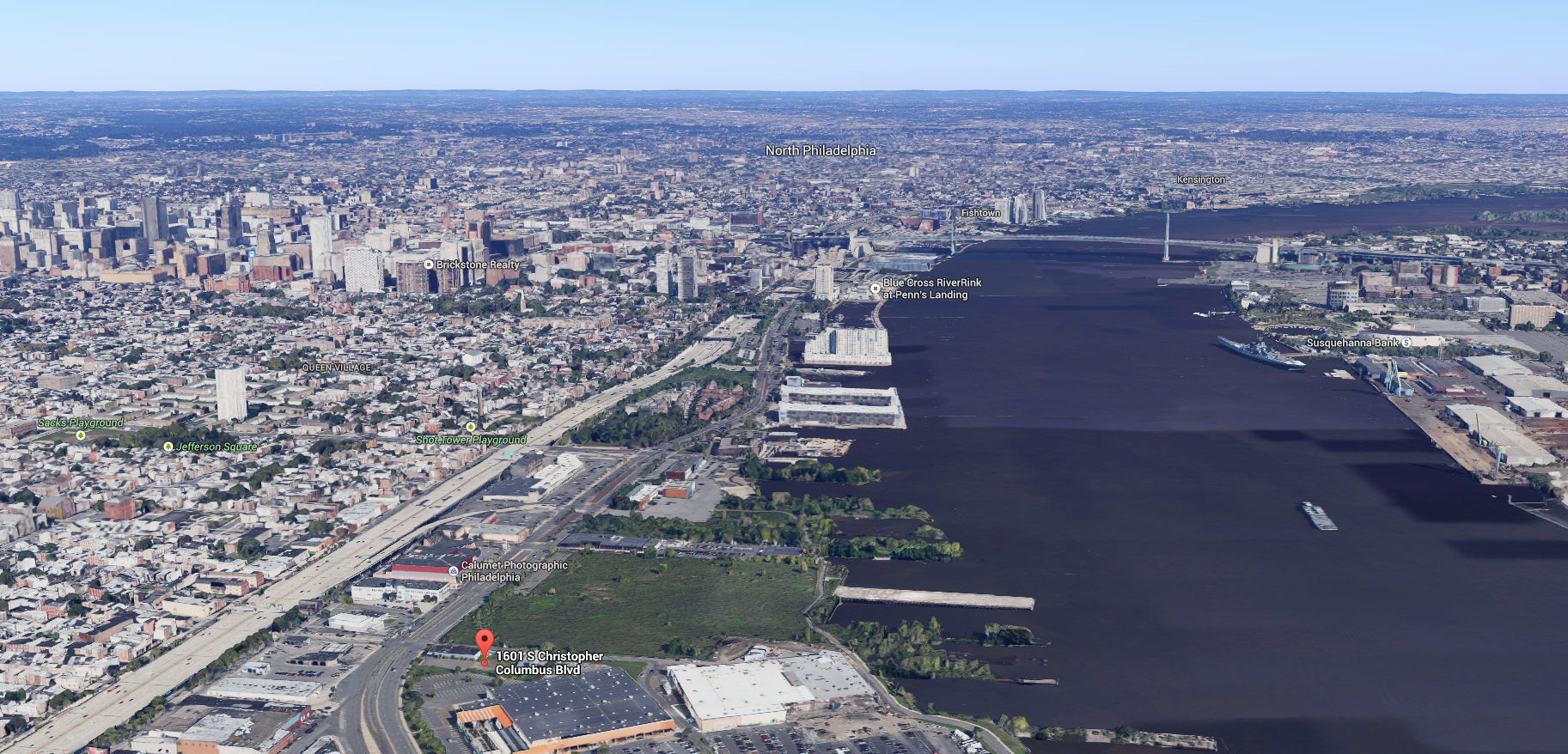 Philadelphia's Department of Licenses & Inspections intends to revoke the the over-the-counter zoning and building permits it issued allowing AAA to open a car repair shop at 1601 S. Columbus Blvd.
The zoning permit, and therefore the affiliated building permit, was issued "without compliance with the Philadelphia Zoning Code," Deputy L&I Commissioner Michael E. Fink states in a Feb. 28 letter to Andrew M. Defonzo, director of engineering at DL Howell Civil Engineering and Land Planning, which applied for the permit on AAA's behalf.
That's just what Pennsport leaders and waterfront advocates have been telling L&I since they learned of the project.
The AAA permits for "new construction for the service and light repair of automobiles, retail sales of travel services and insurance and business offices" were issued Jan. 2 of this year.
By then, the Central Delaware Overlay, which prohibits the automotive repair use on land throughout the Central Delaware Waterfront, had been in effect for about seven months.
Previously, L&I said the permits were granted because the application had been made on on June 4, 2013 – one day before City Council's Rules Committee voted to recommend the overlay's passage to full council, putting it into effect.
But, as Pennsport Civic Association and the Central Delaware Advocacy Group have pointed out to L&I in conversations and letters since learning about the AAA proposal and permit history, an interim overlay was in place on June 4. And L&I didn't apply that one, either.
Fink's letter shows that L&I has come around to seeing things the advocates' way. The interim overlay "required that Plans of Development be reviewed and approved by the Philadelphia City Planning Commission (PCPC) prior to issuance of a zoning permit, and thereafter for conformity with the approved Plan of Development. A Plan of development was not submitted with this application, and therefore such review was not requested or approved," Fink wrote.
Within 10 days, Fink wrote, AAA must either submit a Plan of Development to the PCPC for a formal review, as the code required when the permit application was filed; submit a new permit application and plans for review under the current zoning code or contact him to appeal the decision to revoke.
"It's a good, positive step," said Pennsport Civic President Jim Moylan. "I don't believe it's over, but this is something we have been arguing from the beginning – the law already exists, and it should have been applied initially."
Moylan notes that Pennsport takes no issue with the developer. "It's not Triple A's fault they were given the permits improperly," he said. Pennsport is development-friendly, and would be willing to talk to AAA about building the proposed facility somewhere else in the neighborhood, he said. He doesn't sound angry with L&I, either, now that they've taken this action. "People make mistakes," he said. He wishes L&I had listened to the community sooner. And he thinks this situation proves that Pennsport pays attention.
"We're glad the City did the right thing here, and we thank the Department of Licenses and Inspections, and the Planning Commission, for making it happen," said CDAG President Matt Ruben. "The applicant had every right to submit their permit application, but it has to be reviewed according to the process dictated by the law. We look forward to participating in that process, and supporting our member organization Pennsport Civic Association in any way we can."
CDAG is made up of representatives from riverfront communities and other organizations, including Pennsport.
AAA representatives who can speak about this issue weren't available on Saturday.
If AAA decides to file a Plan of Development, the Philadelphia City Planning Commission would review the plan, apply the rules of the interim overlay and the goals guidelines of the Master Plan for the Central Delaware to make a decision on whether the project should move forward. The Central Delaware Overlay in place now is based on those same goals – it puts them into zoning code – but the PCPC was given discretion under the old system. And it did grant approval to projects taller than those the Master Plan called for – projects that now would need a zoning variance to proceed.
Speaking of zoning variances, AAA would need some if it applied for new permits under the current overlay. Or it would need to convince a city council member to write a bill allowing the project to go forward. Tradition says it would be City Councilman Mark Squilla, in whose district the site sits. Squilla not only introduced the overlay legislation, he assisted Pennsport in bringing this situation to L&I's attention.
What's the procedure if AAA appeals the L&I decision to revoke? Moylan doesn't know. Neither does PlanPhilly – but we'll try to find out Monday, if the city is open despite the forecast.
For now, Moylan says, Pennsport isn't going to withdraw its appeal of the AAA permits, which is slated for an April 2 hearing before the L&I Review Board – a quasi-judicial board that operates similarly to the Zoning Board of Adjustment.
The Pennsport appeal was filed because when the civic group initially asked L&I to revoke the permits, L&I told Pennsport it couldn't be done that way – an appeal was necessary.
Moylan said he's still wondering now what he wondered then – if a permit was awarded erroneously, why can't it just be withdrawn?
Whatever happens, he said, Pennsport's position will remain that the South Columbus parcel, near Reed Street and Home Depot, is no place for an auto service and repair.
"At this point, have to hold our breath for 10 days."
Below: Read the notice to revoke from L&I. Watch video in which the Central Delaware Advocacy Group discusses this case and two other proposed auto-related uses along the Central Delaware waterfront. Read previous coverage of this issue.
WHYY is your source for fact-based, in-depth journalism and information. As a nonprofit organization, we rely on financial support from readers like you. Please give today.