Once or twice a month, John and Loida McKeever visit the gravesite. At first, it wasn't easy to find. Take a left at the entrance to Laurel Hill Cemetery, then another left, down a hill, by a tree, cemetery employees told the couple.
"They said teddy bears, you'll see teddy bears," said Loida.
On their second attempt, the McKeevers found it: a dying patch of grass, a molting pile of stuffed animals, their fur matted from the elements. There is no headstone.
So earlier this year, the McKeevers installed a modest memorial: a small statue of an angel, with a sign around its neck. "In memory of the babies that were lost at 3801 Lancaster Avenue," it read.
This is the burial site of the so-called "Gosnell babies," the cremated remains of 47 fetuses and infants found in Kermit Gosnell's West Philadelphia abortion clinic.
The doctor, who had been operating on Lancaster Avenue since the 1970s, was sentenced to life in prison in 2013. He was convicted of first-degree murder for cutting the spinal cords of multiple babies born alive during botched or illegal abortion procedures, and with manslaughter for the death of a woman in his care.
After the trial, the Philadelphia Medical Examiner's Office buried the remains in Laurel Hill, with the rest of the city's unclaimed remains. The grave of Gosnell's victims is unmarked, like the graves of all unclaimed dead.
To the anti-abortion McKeevers, who live in Abington and work in nursing, this is unacceptable. But their requests to erect a gravestone have been denied by Laurel Hill and the Medical Examiner's Office. Their angel statue is still there, but the placard, with its reference to Gosnell, has been removed.
"Forgotten in life, forgotten in death," said John.
So the McKeevers, and others in the anti-abortion movement, are trying to make sure people remember. This weekend, on September 14, they will gather at Laurel Hill as part of the 7th annual "National Day of Remembrance for Aborted Children." Father Frank Pavone, the leader of the national group Priests for Life, will give a blessing.
The McKeevers say it's a spiritual event without political implications. "You want people to see it, but at the same time it could become a big huge propaganda circus, and we don't want that," said John. "It doesn't have to be huge, doesn't have to be over the top, but just so people know it's here."
But any mention of abortion is unavoidably political. And six years after Gosnell's conviction, a thorny question remains: how to memorialize the victims of his crimes, both at the gravesite and especially at his now-abandoned clinic at 38th Street and Lancaster Avenue?
Do neighbors want to keep being reminded what happened here?
The building — actually five buildings stitched together — sits on a prominent corner of a busy commercial corridor, Powelton Village's main street.
Neighbors are divided. Anti-abortion groups and individuals want to turn the clinic into a crisis pregnancy center or housing for pregnant mothers. Some neighbors believe the victims should be honored and remembered, but don't want the site put to political uses. Others want the history erased altogether.
"Move on," said Phyllis Carter, who has lived nearby for 41 years and owns the A Part of Me consignment store across the street. "You don't want a whole bunch of folks coming taking pictures because it's the old Gosnell office."
City officials have listed the clinic for sheriff's sale four times since Gosnell's arrest — there are $56,000 in back taxes on the property. But the property has never actually gone up for auction.  Mike Dunn, a spokesperson for the city, said the properties are routinely listed as part of the normal foreclosure process. The city postponed the sales "as we engaged in internal discussions on the best course of action for these properties."
The clinic is now listed for sheriff's sale again on October 16.  It's unclear if that auction will take place.
"It's been a lot of trauma that took place in that building, and think it's time for this area to go through some kind of healing and some kind of positive change," said De'Wayne Drummond, president of the Mantua Civic Association, which borders Powelton Village.
"And it can start with that parcel going into the right hands of ownership."
'It's hard to look at for a lot of girls'
It's been nine years since Gosnell's clinic was raided, eight since he was arrested, but he still owns the building. The imprisoned doctor's name remains affixed to a sign just inside the front door. Unopened mail and crumbling ceiling tile fill the entranceway; dead houseplants mold in the windows. Look up, at the northwest corner of 38th Street and Lancaster Avenue, and there are still decals on every one of the upstairs windows: blocky renderings of a woman and a man, swinging a child between them.
By the time police raided the property in 2010, it was already a nightmare. Inspectors reported blood splattered over surfaces. Cats roamed the clinic and their feces was on the floor. Infant body parts were in refrigerators, cabinets, and the garbage disposal of the break room sink.
The media dubbed it Gosnell's "House of Horrors." Gail Floyd walks past it every day.
"Every day, for seven years I've passed this house, this building, this clinic," she said, out for a walk with her two young daughters.
"I don't know what I want to see happen to it. I just know it's hard to look at for a lot of girls in the neighborhood," Floyd said. Several of her friends went to Gosnell's clinic, and still have lingering health problems.
But as much as she doesn't like to see the building with Gosnell's name and the decals, Floyd doesn't want the history erased. Whatever the future of the property, she wants some recognition of what happened there.
"Not a store, not housing. No, you don't want to live here, you don't want to sleep here. That's an eerie feeling, sleeping somewhere you know there were dead babies, babies that were killed in there — not aborted, killed. And he hurt the women," she said. "I think more so it's time to be remorseful."
At the same time, she doesn't want the site to make a political statement. She's for abortion rights. Women went to Gosnell, Floyd said, because they didn't have other options.
"I'm not against women doing what they want with their bodies. I'm just against someone who takes advantage of that," she said.
In 2017, a pregnancy counseling center opened up on this block, right next door to Gosnell's property.  The facility is run by AlphaCare, a religiously affiliated organization that does not refer women for abortions and instead, seeks to convince them that parenting or adoption are better alternatives when faced with an unwanted pregnancy.
The AMA Journal of Ethics has argued that these clinics' religious priorities may lead them to provide misinformation to patients. "Women do not receive comprehensive, accurate, evidence-based clinical information about all available options," according to the journal.
Locating crisis pregnancy centers close to or inside of former abortion clinics is a nationwide strategy. According to The Washington Post's The Lily, this trend has accelerated since 2010, after a wave of restrictive abortion legislation swept the states, forcing clinics to close. There are "flipped" clinics in Maryland, Virginia, Florida. A Texas Planned Parenthood is now the headquarters of the Catholic antiabortion group 40 Days for Life. A former clinic in Baton Rouge, Louisiana, is now called the American Holocaust Memorial.
AlphaCare's relocation next to the former Gosnell clinic fits the mold. And the organization has expressed interest in purchasing 3801 Lancaster Avenue itself. "Gosnell's property is still mired in legal issues and not yet for sale. Nevertheless, the redemption has begun," AlphaCare wrote in a December 2017 email reported by Pregnancy Help News, an anti-abortion website.
AlphaCare expressed interest in purchasing the building at a civic association meeting that same year, according to the Philadelphia Inquirer.
The nonprofit group declined to comment for this article, but the McKeevers said the group planned to bid on the property when it was last slated for sheriff's sale in April. They think the nonprofit's leaders still want to buy it.
The McKeevers support AlphaCare. They started a GoFundMe and a petition, hoping to raise funds to purchase the building, but only got $50, from one of Loida's coworkers. They want to see the property become housing and support for mothers who have recently given birth.
"It's easy to say, 'don't get an abortion, good luck'," said John. "But unless you eliminate the need for abortion, it's still going to happen, it's just going to happen in more dangerous places, and you're going to push people into places like Gosnell's clinic."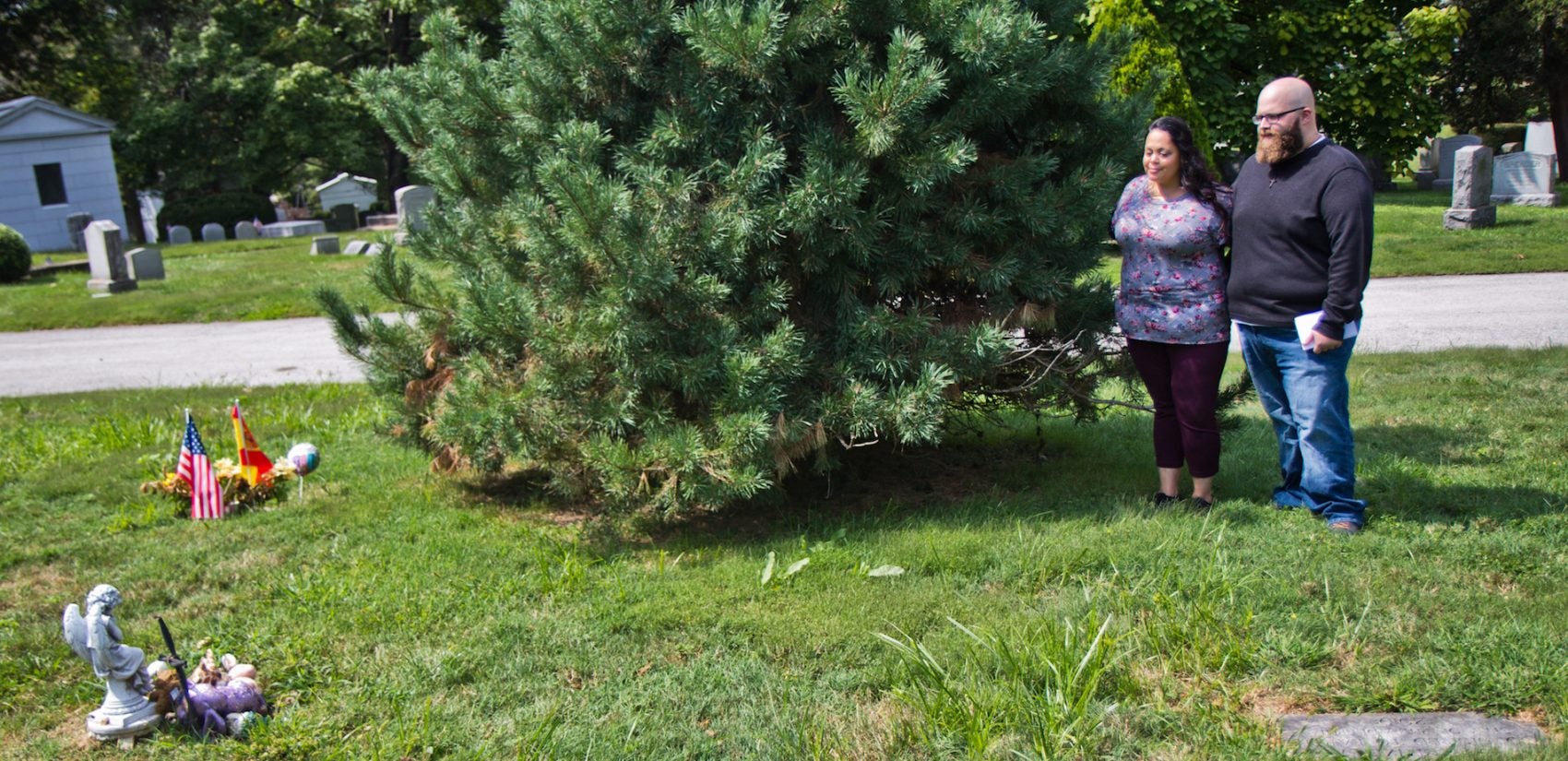 Memorializing the past or moving into the future?
Purchasing the clinic is and isn't a political statement for the McKeevers.
"Because what else can we put there? We can't forget what happened here. I don't think those babies — or the lady that died there — should be forgotten," said Loida.
"It could be a Starbucks tomorrow, which I think is what the city wants, a distant memory," said John. "Like, that happened here, but now it's a beautiful shoe store."
Phyllis Carter, who owns the consignment store at 3834 Lancaster Avenue, would prefer a shoe store.
She remembers when Gosnell's clinic was open. She knew women who went to him for gynecological services back when he was considered a good doctor. Now, she'd like the property become just another shop or restaurant on Lancaster Avenue. Carter wants something that will encourage the corridor to become more like Manayunk's Main Street.
"Something that will draw people from other neighborhoods," said Carter.
The Powelton Village Civic Association also favors a less controversial use.
"That's what people see when they drive into our neighborhood or drive by on Lancaster Avenue, so we'd like the neighborhood to be friendly to as many people as possible. I think we'd like to leave the legacy of that building behind, and move forward into the future," said president Steve Sebelski.
"We have no position on who should own or operate the building, and we would certainly not favor any use that is likely to draw protests or unfavorable attention to our neighborhood."
Drummond said it's in a great, strategic location. And he points out that the former clinic is located in Mantua's Promise Zone.
"The promise to me was transformation for a fair future," he said. "And without us healing this traumatic moment and that traumatic experience with that parcel, that promise can be broken."
Dunn said the city is discussing its options for the property. "The postponements were the result of those discussions continuing," he wrote. Dunn would not comment on what possible uses for the site may be, or whether AlphaCare has spoken to the city about purchasing it.
"Another postponement is possible," Dunn said, referring to the scheduled Oct. 16 sale. "But I'm not going to characterize the likelihood of that."
Laurel Hill, Medical Examiner, say there will be no gravesite memorial
When the last sheriff's sale stalled in April, the McKeevers turned their attention to the gravesite in Laurel Hill.
"Look around there's a zillion headstones here, everyone has a memorial. They don't," said John, walking down the hill towards the unmarked grave. "We don't want the word Gosnell on there. We don't want to make it a anti-abortion political thing, like "this is what happens with abortion"—no. It's about 47 remains of babies, and that's it."
A spokesperson for the city's medical examiner said the graves will remain unmarked.
"The request was denied because this is a City plot and is treated the same as every other plot that the City owns, which are similarly unmarked by the City," the Medical Examiner's Office said in a statement this week.
The McKeevers asked if they could purchase the plot next to the remains, and erect a headstone there. Again, Laurel Hill said no.
"When one purchases a lot, it is for a burial. And they told us they were not burying anyone there," said Nancy Goldenberg, president and CEO of Laurel Hill cemetery. "We are not in the business of selling people land. We are in the business of selling burial plots."
The McKeevers say that explanation doesn't hold water. There are at least two graves in Laurel Hill without human remains: prop headstones for Adrian and Paulie of the Rocky movie franchise. Goldenberg said she had no response to that criticism, but added, "They are not real people."
One woman in the McKeevers' anti-abortion circle suggested they could acquire fetal remains and buy the plot to bury them. John shudders to think of it.
"I don't doubt you could but, wow. Let's just have a headstone," he said. "That's what we're here for, no more remains."
So on Saturday, in place of a permanent marker, the McKeevers and fellow anti-abortion advocates will gather at the damp pile of teddy bears in Laurel Hill cemetery. Father Pavone will give a scripture reading and blessing, and he will read aloud a list of names that he assigned to the "Gosnell babies."
John will also give a speech. He's still working on it, but he knows what he wants to say.
"This is not the Kermit Gosnell memorial. These are the victims, they are not defined by him."
WHYY is your source for fact-based, in-depth journalism and information. As a nonprofit organization, we rely on financial support from readers like you. Please give today.