It's still early, but poll finds Wolf has edge in Pa. gubernatorial race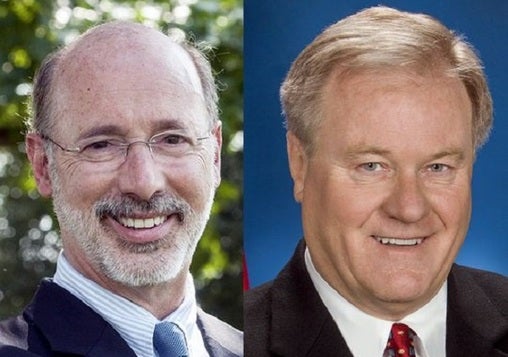 Five months ahead of Pennsylvania's gubernatorial election, a new survey from Franklin and Marshall College shows Democratic Gov. Tom Wolf with a considerable lead over Republican challenger Scott Wagner.
F&M pollster Terry Madonna said in order to gauge a governor's likely re-election success, he often pits them against former incumbents.
At an equivalent point in his first term, former Democratic Gov. Ed Rendell, who won re-election, was about even with Wolf.
Tom Corbett, a Republican who didn't get a second term, polled well below.
Asked how they'd vote if the election were today, 48 percent of respondents picked Wolf — a 19-point margin over Wagner.
That gap could close as Wagner's name recognition rises, Madonna said. And a lot can change in five months.
In surveys of overall engagement, 62 percent of Democrats said they're "very interested" in the election, as opposed to 50 percent of Republicans.
"Conceivably, they could have an advantage in turnout," Madonna said of Democrats. "But it's hard to say because Republicans do have a way of turning out."
Madonna said his personal biggest takeaway from the poll didn't have to do with the governor's race at all, but with Pennsylvanians' overall dissatisfaction regarding state government.
"You got campaign financing, you got reform of the state Legislature, including reducing the size, you have redistricting, state and local government funding," he said. "Two-thirds or more of Pennsylvania registered voters want change."
However, almost half of the voters polled think the state is "headed in the right direction" overall.
Madonna noted, that's much stronger than the numbers in the last few decades.