It's Fringe Festival time — and here's the theater I want to see (among the 140-odd productions)
Listen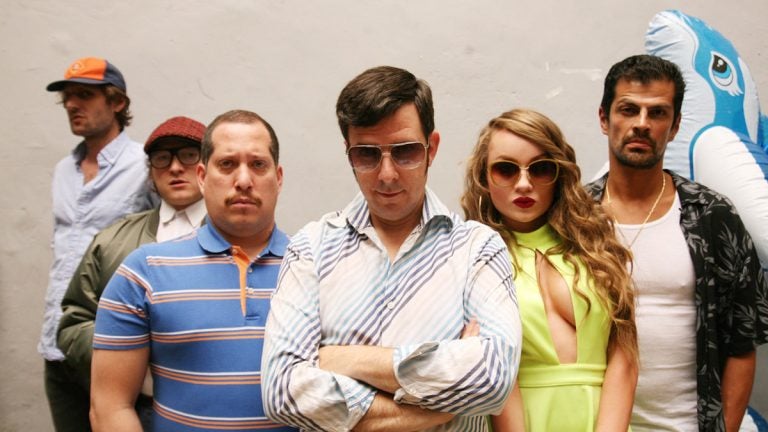 A fellow named Brian Feldman will come to your kitchen, wash your dishes — and then recite any monologue of your choosing in a one-on-one event called "Dishwasher." Or maybe you like ping-pong balls – you can see a thousand of them, with five performers, their pots and pans, and their 45-minute dance called "Boing!" Or how about a recreation of a night at home, watching TV – but with television content you didn't know existed? Says its promotional banter: ""The TV Show!" will make you laugh, and cry, and feel OK again."
Plus, there's an old fire-truck where people do glasswork, and a studio full of sculptural renderings about the Pope, and… and it must be Fringe Festival time again. The festival of about 140 shows, featuring some curated, most not, officially begins Sept. 3, but a few presenters begin even earlier. It runs through Sept. 19.
What you get is sometimes cutting-edge, sometimes dull-bladed, and often a surprise. Athough ticket prices continue to rise, it's not a lot of money for the risk – shows begin at $10 and some are free. And this year, you can experience the Fringe Festival in front of your computer or smart TV for free. It's the first time that FringeArts, the operator of the festival, is offering a "digital Fringe" with 16 video pieces you can click onto whenever you like.
The live shows – theater, dance and some art – will unfold through Center City and in other neighborhoods around town, with a late-night focus at the FringeArts building, a renovated fire-department pump house at 140 N. Columbus Blvd. at the foot of Race Street, which the organization opened at the last Fringe. The building has enabled FringeArts to present shows throughout the year, but the festival is peak performance time. This year, FringeArts has closely curated its late-night offerings, each night after the shows are over, with popular DJs and live music both in its theater and at its restaurant, La Peg, and lots of chilling at its sizable outdoor plaza.
The festival will end this year the way it opened last year, with the region's leading drag act, Martha Graham Cracker. (She's the alter-ego of longtime Pig Iron Theatre artist Dito van Reigersberg.) Ms. Cracker, who's been performing at Joe's Pub in the Public Theatre in New York along with her regular Philadelphia stints, will be backed by her band in a show that begins at 9 p.m. Sept. 19 at FringeArts.
Which shows to see? It's always a crap-shoot, which is a big part of the fun. Pick what sounds promising to you. A dozen shows this year are called "FringeArts curated" because the organization is either bringing them here or paying for their creation and performances. The other 129 are called "neighborhood Fringe," and are self-invited – whoever leads them is producing the work and paying a moderate fee to join the festival. FringeArts, in turn, handles the marketing of all the shows in its schedule booklet and on line at www.fringearts.com, plus all ticket sales.
The whole thing has a free-for-all feel, which is what makes it liberating for audiences, and probably for the artists, too. I can't vouch for any of the theater entries I'm about to pick – these are some of the shows I want to see. But about a decade-and-a-half of Fringing has given me a feel for risk-taking and for what may work. Click on the title of any show to go directly to the FringeArts site for that show, for more information.
ANDY: A POPERA. "A mash-up of opera and cabaret" is what its creators call it but just as odd, this show is a mash-up of two very different arts organizations. The city's major opera company, Opera Philadelphia, and a group of professional theater artists called The Bearded Ladies Cabaret – they pop up with performances, often in unusual places – have teamed for a piece about Andy Warhol. What happens, asks "Andy: A Popera," when a man becomes as brand? Note that the show includes explicit language and nudity (well, it's about Warhol and his work) and that you might be filmed when you attend, in footage you might see during the performance. And watch out for singing soup cans.
UNDERGROUND RAILROAD GAME. This show goes from a middle-school lecture to the pre-Civil War era as it deals – apparently, in an often-funny way – with race and the way we've talked about it through much of the nation's history. Jenn Kidwell, Scott Sheppard and Lightning Rod Special present the show, whose concept comes from a game Sheppard's fifth-grade teachers created in central Pennsylvania, in which the entire school was divided into soldiers for the Union or the Confederacy. Sheppard says the show is "potentially horrifying, potentially hilarious" in its revelations.
THE CAPTIVE. Philadelphia Artists' Collective is one of many Philadelphia professional stages beginning its season in the Fringe, as it has before – this time with a 1926 play by Arthur Hornblow Jr. adapted from a French play that caused quite a stir because it involved people trapped in a love story far ahead of its time. If you want a peak at the original in French, it's "La Prisonnière" by Edouard Bourdet, and "The Captive," was heralded by critics at the time as a solid English adaptation. It's a drawing-room show, set here in a drawing room, at the historic Physick House on South Fourth Street.
A DOLL'S HOUSE. Not exactly what Henrik Ibsen may have had in mind in his original, but what Jo Strømgren, the Norwegian playwright/director/choreographer, takes away from the play. He blends Philadelphia and New York actors to develop the story of what's really going on in Nora's house, where claustrophobia is a part of every room. And he explores the world outside the house as well. Several of the actors went to Norway to create the work with him. "A Doll's House" is one of three works from Strømgren among this year's curated Fringe shows.
THE SHOPLIFTERS. Morris Panych's play about a woman who's a career shoplifter with a social conscience features a cast that includes Johnnie Hobbs Jr., who will be given a Lifetime Achievement Award for his work at this year's Barrymore Awards for local theater in November. The play's reputation for hilarity precedes it – people buzzed about it last year when Arena Stage in Washington, D.C., gave it a world premiere. It's the Fringe season-opener from 1812 Productions, the city's stage company devoted to comedy.
ZOMBIES … WITH GUNS. The highly irreverent (and articulate) local group Tribe of Fools, which has had several dark-horse hits in the Fringe, comes up with a show about, well, just what the title says. Philadelphians have fought off a zombie attack, but maybe not altogether in what looks to be the typical mix of songs, dances and mayhem in the group's original productions – this time with a post-apocalyptic beat. And with a special guest Zombie every night, a list including Democratic mayoral Jim Kenney.
AFTER THE REHEARSAL/PERSONA. Two Ingmar Bergman scripts – "Persona" and a TV film called "After the Rehearsal" – are reimagined by Dutch director Ivo van Hove and set designer Jan Versweyveld for the company Toneelgroep Amsterdam. The two shows – performed together – begin with similar themes: In "Persona," an actress becomes mute and confuses her real-life and stage roles, and in "After the Rehearsal, a director's life and career are the same. Because part of "Persona" plays out at a lake, FringeArts has constructed a 10,000-gallon pool of water at the show's venue, the 23d Street Armory.
EXIT THE KING. Last year, the city's Idiopathic Ridiculopathy Consortium began its season at the Fringe with a buoyant rendition of Eugene Ionesco's classic, "Rhinoceros," and this year it's his equally absurdist play about the fool of a 400-year old ruler whose kingdom is increasingly in disarray. If the company is true to form, the production will bring out the fun of the play without sacrificing its deeper meaning.
THE GIRLS' GUIDE TO NEIGHBORLY CONDUCT. A new neighbor moves into the rowhouse next door, and six housemates vie for attention … with trapeze duets, among other circus moves. This show from Tangle Movement Arts mixes dance, theater and circus acts to consider how to behave in such a situation – suspended rope, gymnast rings and all.
ALIAS ELLIS MACKENZIE. Bring on the telenovela, the Latino take on a soap opera. Longtime Fringe creator and actor Thaddeus Phillips does just that, and he brings theater to his experience of performing in a telenovela in Columbia, a show based on the activities of a real American drug-runner, CIA agents, Columbian drug lords and others. Phillips and a host of Columbian actors from the real show go through the absurdities of trying to capture something real on the deadlines imposed by TV production. To do so, they've created a TV studio at the Prince Theater.
DAMNED DIRTY APES! These would be the major primates from three movies: "King Kong," "Planet of the Apes" and "Tarzan the Ape Man." The jungle where they romp is FDR Park in South Philly. And the rompers responsible are The Renegade Company, the Philadelphia theater group that made dynamic use of a Center City church last Fringe to present a hunchback who could easily have been at Notre Dame.
THE EXTRA PEOPLE. This curated Fringe show may have the ultimate Fringy promotional lines: "Put on some headphones. Enter the theater. Have your perception of reality break down." British theater artist Ant Hampton created this show, which takes 15 audience members at a time. He instructs them to perform – and when they're done, another 15-member audience becomes the performers for the next audience, and so on.
IT'S SO LEARNING. Billed as "a highly interactive and chaotically dangerous look at the almost primal experience of learning and growing up in the classroom," this show from locally-based Berserker Residents is a look at America's school system. Apparently, we are the students. The Berserkers, with their absurd take on such topics as giant squids and the New Jersey Devil, have a history of hot tickets at the Fringe.
THE LID. Pat Finnerty wrote the music for, and stars in, this world premiere about a man with a boring life and the lid he finds in a meadow. What's underneath it? That's what the show, from the local company BRAT Productions, will reveal. It's composed of 14 songs with melodies in the style of classic British rock.
KILL WILL. Just about any Shakespeare play with fight scenes is … just about any Shakespeare play. So Philadelphia Shakespeare Theatre has put together a collection of them, from more than a dozen of the Bard's works, complete with fight choreography, weaponry and … um, yes … text, too.
LOVE'S LABOUR'S LOST. And speaking of The Man, his romantic comedy is being done by another local group, Revolution Shakespeare. The story of four guys who swear off women so they can study, and the women who swear they can entice them from that commitment, runs during and after the Fringe in Hawthorne Park in South Philadelphia.