Gubernatorial candidates' roots draw attention to York, Pennsylvania
Listen
4:42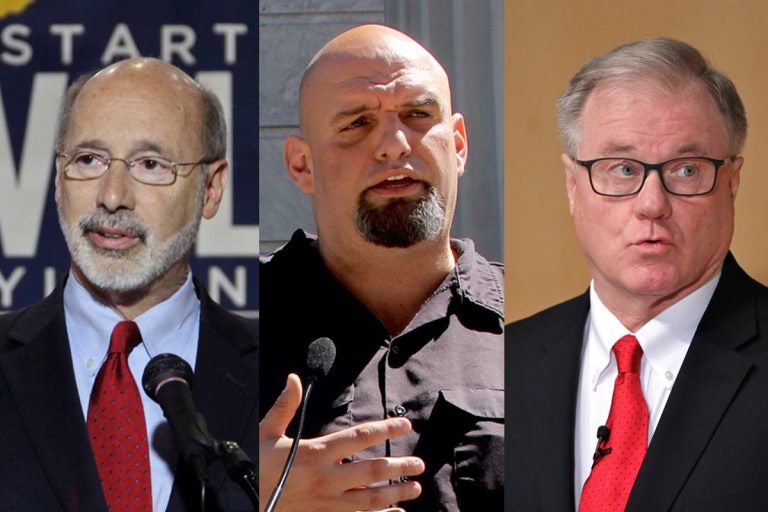 What do you know of York, Pennsylvania? Consider this. It's a 2-hour drive, due west of Philadelphia. It provides rural, suburban, and city living. Its outlying area is majority white, while the downtown is more racially diverse. It's a county seat, full of Republicans who backed Donald Trump for president. And York's ideal for commuters who want access to Baltimore, Lancaster, and Harrisburg.
This week's Pennsylvania primary election drew attention toward York, home to sitting Democratic Gov. Tom Wolf, his Republican challenger state Sen. Scott Wagner, and lieutenant governor candidate John Fetterman.
Morning Edition host Jennifer Lynn spoke with York Daily Record reporter Ed Mahon.  Mahon started the conversation about this uncanny political intersection of Wolf, Wagner, and Fetterman.
—
So Gov. Tom Wolf' family is from Mount Wolf. I think that the town is named after his ancestors. Scott Wagner grew up in southern York county. He lives now outside of York City in Spring Garden Township. And John Fetterman is from York County originally and went to high school here. He still has ties to the area.
Why is York so prolifically producing political leaders? 
All the political analysts I've talked to say it's just coincidence. They say Scott Wagner and Tom Wolf, especially,  use their money to propel themselves to this higher office or to this statewide recognition, so they didn't come up through the political machine here.
Any other current political figures from York? 
State Auditor General Eugene DePasquale is originally from the Pittsburgh area, and he moved here. Stan Saylor,  the chairman of the House Appropriations Committee, a powerful committee in the state House. 
I poked around a little bit and found there was a governor from York long ago, right?
 Yeah, George Leader. He was a chicken farmer state senator. He was elected here in 1954 in an upset victory … and made it on the cover of Time magazine. He used something called television to get his message out across the state to work for him.
Let's go back in time a bit. York was once our nation's capital. It has that in common with Philadelphia.
Exactly. So in 1777, the Continental Congress was running away from advancing British troops. They ended up in York County, and they were home here. The Articles of Confederation were adopted here. John Adams was not a big fan of York County. He complained about all the German-speaking people. It was here in York County that the Marquis de Lafayette gave a toast that squashed the Conway Cabal, which was trying to oust George Washington as commander-in-chief of the Continental Army. So York County can take credit for saving George Washington. 
All right. It's had some heydays. It's had some dark times that have led to a bad rap. Let's take the riots of the late '60s.
A police officer and a young black woman were both killed during those riots and those crimes went unsolved for decades until the early 2000s when prosecutors started looking at those cases again. About a dozen people were charged in the death of the Lillie Belle Allen, including then-York Mayor Charlie Robertson. He was later acquitted in that case. But there were several other convictions.
Industry is strong in York. What's going on there now? I know Harley-Davidson is there. 
We have a Harley-Davidson. We have more manufacturing, in general, than a lot of other counties. The city itself and the county billed itself as sort of the factory for capital. There's places to see potato chips being made, pretzels being made. And we also have a Caterpillar plant here.
So, I guess the Amish and Mennonite community is pretty strong. 
It is. It is. People here in York County like to joke that we have Amish population, but, unlike Lancaster County,  we don't make a big deal about it.
Unemployment is rather low, right?
Yeah, I think the latest report was 4 percent, which is lower than the state average. Incomes are a little bit higher here than the state average as well.
And there are some current pretty serious issues. Leaders are looking at ways to address race. And then let's touch base with how the opioid epidemic is touching that city. 
Like a lot of Pennsylvania, there's a large number of opioid overdoses here. The district attorney here is talking about how a lot of drugs are coming in from Baltimore, which is a short drive away from here. And we actually lead the state on prosecuting people for drug delivery resulting in death. That's a charge that has a much stiffer sentence than a standard drug conviction charge, and prosecutors use that when someone either delivers or supplies drugs that led to someone's death.
And what about leaders looking at different race issues right now?
There was an incident in tech school here where a student was seen on video saying "white power" after Donald Trump's election. There was an incident at a golf course here with five black women. They had the police called on them. Recently, a bunch of community leaders and politicians and business leaders put out an open advertisement, open letter, talking about how this is a cancer in the community — racism issues — and that they need to do something to address it.
And back to talking about Tom Wolf and Scott Wagner. Will York residents voters have a tough time choosing between the two hometown politicians in November? 
Tom Wolf didn't win here back when he won the state in 2014. He's very well known in the community. I think a lot of people like him in the community. I think it's just we're a pretty solid Republican area. So it would be pretty surprising if Scott Wagner didn't win easily here.