Following early morning rally, St. Hubert community launches fundraising effort in earnest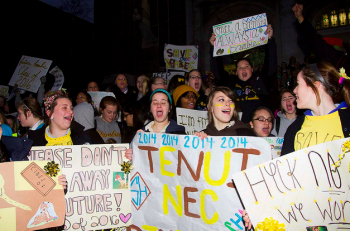 As has been a common scene on Torresdale Avenue since word came that St. Hubert's High School is set to close at the end of the school year, faculty, staffers and current and former students lined the sidewalks in brown and gold Friday morning for a rally and an announcement.
Flanked by city and state politicians, school leaders vowed to fight. Messages of support and offers of donations came pouring in soon after the Blue Ribbon Commission's recommendation, but the fight to save the all-girls school began in earnest with Friday's event.
"In response to the Archdiocesan statement today that raising funds is not a prerequisite to an appeal hearing, the St. Hubert's Advisory Board and Alumnae Association gratefully accept this recent news and will redouble their efforts at fundraising," reads the statement from the board and association following the news that the school's appeal will be considered regardless of whether the community can secure $1.2 million cash beforehand.
The rest of the statement follows:
"All parties are aware that school deficit reduction is a critical component of any successful appeal. Therefore, our supporters, friends and family will continue their generous giving and solicitation efforts with the ultimate goal of significantly bolstering our likelihood of success on January 25 at the appeal hearing.
We welcome this positive news by the Archdiocese and stand ready to fully proceed with our appeal as well as our fundraising drive in order to keep St. Hubert High School open for future generations of women.
We are moved by the tremendous support showed at this morning's rally and the generosity that is pouring in.
In light of this growing movement by the community to help St. Hubert stay open, the Board and Association will maintain their goal of raising $1.2 million in order to ensure the long-term viability of St. Hubert's as well as provide possible tuition assistance."
A website has been set up
specifically for news about the closing and the handling of donations. Seven parochial grade schools in the Northeast also made the Blue Ribbon Commission report. Pending the appeals process, some will consolidate for the 2012-13 school year.