City Council introduces new zoning bills, holds more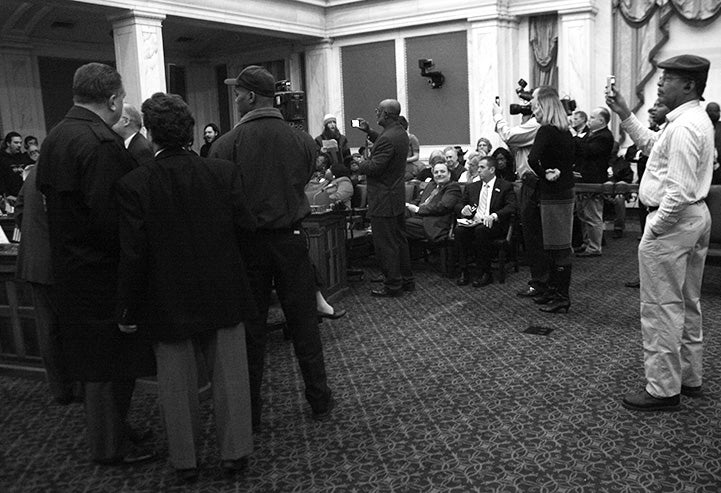 A small contingent of the Occupy Philadelphia movement hijacked a portion of Thursday's meeting of City Council, held a session of "People's City Council," and passed a handful of its own bills and resolutions. Surprisingly, none of them had to do with zoning. After the group left—chanting "We'll be back!"—Philadelphia City Council seemed to follow its lead, holding all but one of its agenda items related to the zoning code. Council also canceled a Committee of the Whole hearing on Bill No. 110766 which was scheduled for Friday morning.
Bills on the agenda not discussed by Council at Thursday's meeting:
Bill No. 110671, striking and vacating a portion of Bodine Street in Northern Liberties
Bill No. 110307, establishing a neighborhood improvement district in the area between Broad, Vine, Spring Garden and 8th streets. The area would be known as the Callowhill Reading Viaduct Neighborhood Improvement District.
Bill No. 110563, amending the zoning code to allow large non-accessory outdoor advertising signs on the block between Spring Garden, 6th, 7th, and Willow streets
Council did pass a fourth bill, No. 110670, which amends portions of the zoning code and zoning maps targeting a proposed Dranoff Properties development at the corner of Broad and South streets.
Despite Councilman Frank DiCicco's decision to hold Bill No. 110563, several members of the public showed up to testify against it. The bill is written to change sign permissions for a whole block, but its details make clear that only one large building would be affected by the change and permitted to put a wrap-around advertisement on its edifice.
"Wrapping our buildings with advertising wall wraps only benefits the property owner," said Mary Tracy, executive director of SCRUB. She passed out a study to Council which she said showed that buildings with such large wall-wraps are detrimental to property values in the neighborhoods surrounding them.
After the Council meeting, DiCicco characterized the opposition to the bill as purely political. He said SCRUB has opposed countless bills he's introduced, and said his decision to hold Bill 110563 was based on Mayor Nutter's plan to veto it. Holding the bill, DiCicco said, will give him more time to discuss it with the Mayor. DiCicco said that wall-wraps are a good revenue source for the City. He said he's thought they were a good idea ever since a trip to Rome some years ago, when a large obelisk at the top of the Spanish Steps was being repaired. An advertisement was wrapped around the scaffolding, which DiCicco said also made it less of an eyesore.
Perhaps of most interest to PlanPhilly readers are two bills introduced in Council yesterday and scheduled for first reading on December 7th. Bill No. 110845, introduced by DiCicco, would repeal title 14 of the Philadelphia Code and replace it with the Final Report issued by the Zoning Code Commission last week. Bill No. 110835, introduced by Councilwomen Anna Verna and Marian Tasco, would make a small change to the portion of the code that deals with conditional zoning permits. The latter bill is a response to a concern voiced by Craig Schelter of Development Workshop, who felt one word of the code needed to be removed in order for it to meet its goal of allowing development to proceed by right. The Zoning Code Commission passed its Final Report without including Schelter's suggestion.
With the introduction of Bill No. 110845 and the cancellation of Friday's Committee of the Whole hearing, it seems unlikely that Council Bill No. 110766, which was introduced by Brian O'Neill several weeks ago, will move forward. That bill replaced Title 14 of the Code with the ZCC's Preliminary Report and 40 of Council's recommended amendments. ZCC director Eva Gladstein said that the new bill includes all the work of the ZCC. But it also leaves the door open for amendments prior to its passage.
Both new bills are scheduled for a first reading in Council December 7th, and Councilman DiCicco said he hopes they will have a final reading and be adopted in Council's last 2011 session on December 15th. DiCicco suggested that he feels fairly confident the new code will pass in the next few weeks. But, he told PlanPhilly, "It's not over until it's over."
Contact the reporter at jaredbrey@gmail.com