Cheaper 'dry-leaf' medical marijuana draws crowds to Philly-area dispensaries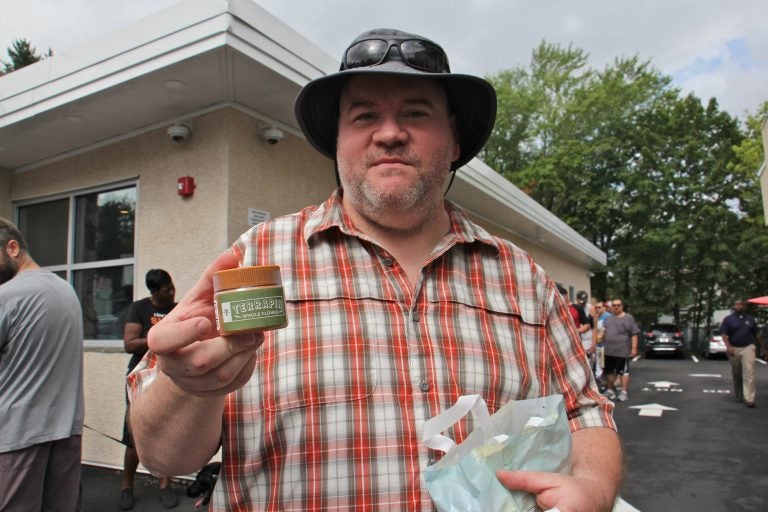 The prospect of being able to buy vaporizable "dry-leaf" medical marijuana was enough to draw crowds of patients out of bed early Wednesday morning.
For some, very early.
"I was here at one," said Thom Shannon as he stood outside TerraVida Holistic Centers in Abington Township.
That's 1:00 a.m. He'd heard the line might be long. Another dispensary offering dry-leaf, also known as "flower," had opened at midnight.
"I got a little panicked," said Shannon, who lives in Abington. "I had stuff to do today, so I figured I'd just line up and enjoy the historic morning with the rest of my fellow patients."
Other patients didn't start joining him until around 4:30 a.m., and by 9:30 — a half hour before TerraVida opened its doors — the line snaked around the building and was about fifty people deep. TerraVida offered free donuts, coffee, and water to those who'd made the trip.
Like many waiting to buy the new product, Shannon suffers from chronic pain, including several herniated discs in his back. His pain was caused by years of working as a chef, a job he no longer holds. He has been on OxyContin for a decade, along with benzodiazapines and Motrin. But since the first dispensaries opened in February, he said he has cut his OxyContin use in half and is off the other two drugs completely.
"With the cannabis, it's provided me the opportunity to have better control over my medication," he said.
For many, including Shannon, the main appeal of dry-leaf marijuana is the price — about half that of concentrates like oils and waxes already on the market. At TerraVida, the dry-leaf products range from $12 to $20 per gram, or $35 to $65 for an eighth of an ounce.
TerriVida is one of sixteen dispensaries across the state authorized to sell dry-leaf marijuana. Another twelve will join them next week. TerraVida's President Chris Visco says the lower price point will make medical marijuana more accessible.
"There were a lot of people sitting on the sidelines, waiting for this to happen," Visco said. "They couldn't afford it, and now they can get affordable medicine."
Jon Tomlin of Jenkintown hasn't been on the sidelines, but he is excited about flower being for sale. He has been using marijuana for about seven years to treat a seizure disorder caused by a head injury he sustained during a motorcycle accident.
"I'm looking forward to the flower because that's more fast-acting," he said, "especially if I'm in an emergency, like I'm having a seizure right now."
Patients are restricted to buying a maximum of 15 grams of flower. That restriction will persist for the first two weeks the product is on sale.
Patients are also prohibited from smoking the product. Instead, they must vaporize it. If they are caught smoking it, they could lose the patient I.D. cards that grant them access to medical marijuana.
Visco said flower is the purest form of the drug, but that approximately 71 percent of her customers say they'll still buy concentrates as well because it's effective for a lot of medical conditions.
State Sen. Daylin Leach, D-Montgomery, co-sponsored the bill that legalized medical marijuana in Pennsylvania and said just as concentrates are effective for certain patients, the same goes for flower.
"There are a lot of conditions where whole plant, where flower is really important as a delivery mechanism," Leach said, "and it has not been available until today. This is going to make a huge difference in the lives of a lot of people in Pennsylvania."
Competition could also bring the price down further. This week, the state Department of Health issued permits to thirteen additional cannabis growers and producers, bringing the total number in the state to twenty-five. As with the first phase of permits, none of the growers and producers are based in the city of Philadelphia.