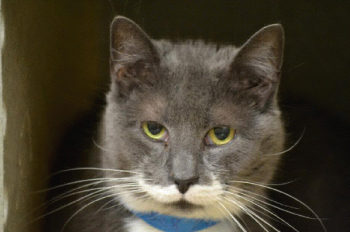 Milo could really use a home. This is his second time being featured as Cat of the Week.
Smoky senior alert! Milo is a dashing and dignified 10-year-old gray and white tuxedo boy with a coat that feels like it might have been made of velvet, it's so soft!
Milo lived with the same family his whole life, so imagine his sadness and confusion when he found himself here at the shelter after all that time. At first, Milo would just hide in his little cube, cautiously observing everything that was going on around him. If you stopped in front of his kennel, he wouldn't come out from hiding, but he would make eye contact with you and give you a short but eloquent "meow," as if he was saying, "I'm not ready to be friends, but thanks for noticing me" (boy, he sure packs a lot meaning into a simple meow).
These days, with a little bit of help from his volunteer friends, Milo's feeling a little braver and a lot more social. Stop at his kennel now, and Milo immediately gets up and comes to his kennel door, and you can tell he's thinking, "Oh boy, its pettin' time!"
And pettin' time it is- Milo absolutely loves to be touched and held, and with a coat as soft and silky as his, you can easily imagine yourself holding him forever. Milo has also revealed himself to be quite the fan of catnip, and one of his favorite things to do is roll around in it until he's covered in catnip from head to toe!
Milo the Magnificent does appear to have a few broken teeth, so he would probably do best on a wet food only diet (although he will eat dry food). Other than his broken chompers, though, Milo appears to be in fantastic condition for a middle-aged boy. And, at 10 years old, Milo's past all the kitten nonsense, and he still has many happy years ahead of him . . . this really makes him the perfect age!
Think you might have room in your heart for this sweet graybie? Email his Kneady Cat pal, Sheri, at sherilynnmarie AT hotmail.com. She can tell you everything you need to know about him.
These animals are located at Philadelphia's animal control shelter, ACCT. They need immediate adoption or foster care. ACCT is located at 111 W Hunting Park Ave and is open 365 days a year. Adoption hours are Monday-Friday; 1pm-8pm; Saturday and Sunday; 10am-5pm. To check the status of an animal, call 267-385-3800. Check in every week with NEast Philly to see the cat and dog of the week.