Can SEPTA Key unlock financial services for the underbanked?
When SEPTA Key finally begins to roll out – hopefully this fall, but SEPTA has stopped making promises on when exactly the now year-and-a-half overdue fare system will arrive – riders will finally get the easy payment system long enjoyed by transit passengers in most other cities.
But a subset of riders may find that SEPTA Key unlocks something far more fundamental: access to basic financial services they've gone without because traditional bank accounts have been too expensive or inaccessible.
SEPTA Key cards will have the ability to function almost like two separate cards. It will operate primarily as a transit card for purchasing fare instruments – this is the "transit wallet". But it will also have a general purpose, reloadable pre-paid debit account, or "retail wallet," complete with the capability to set up direct deposit, make ATM withdrawals, and purchase items in person and online.
SEPTA didn't set out to knock down barriers to financial services with its fare card system – as spokeswoman Jerri Williams recently said to PlanPhilly: "We're a transit agency and our obligation is to get out the information people need for the transit part of the card." But once it does that, SEPTA is "absolutely" open to working with the right partners to potentially leverage its new fare technology into a fair banking option for the unbanked and underbanked.
UNDERSTANDING UNDERBANKING
Many households struggling economically decide to forego traditional checking and savings accounts – these are the unbanked and underbanked. According to 2013 FDIC Survey of Unbanked and Underbanked Households, 7.7 of American households are unbanked and another 20.0 percent are underbanked.
"Unbanked" means the household does not have an account at an FDIC-insured institution. "Underbanked" refers to households that might have an FDIC-backed account, but also rely on non-bank, alternative financial services.
The unbanked and underbanked make up a large chunk of the 57 percent of Americans who are struggling financially, having difficulty managing their day-to-day expenses or saving for a rainy day. That's according to a recent report by the Center for Financial Services Innovation, a nonprofit that focuses on low-income access to financial services.
"For many of these [un- and underbanked] individuals, traditional bank accounts just aren't right for them," said Thea Garon, CFSI Senior Associate and report co-author. "They can have high, unexpected fees, so many consumers who might be living paycheck-to-paycheck might get high fees for low balances or get hit with large overdraft fees. Those catch them off guard and contribute to a negative financial cycle."
Lack of access to financial services goes hand-in-hand with financial insecurity and poverty. Philadelphia has the highest poverty rate of large American cities and the highest rate of deep poverty, meaning households with incomes below half the poverty line.
CFSI argues that "sound financial present is connected to a better financial future." To them, effective management of day-to-day financials translates into resilience in the face of inevitable, yet often unexpected, problems life throws one's way. And once individuals have stability and a cushion, then they can start planning for the future and start seizing opportunities.
That's where alternative financial services like pre-paid debit cards and apps like PayNearMe step in – and where SEPTA Key might as well. These services are "relatively easy to use," and "relatively affordable," says Garon, noting that these services rarely featured expensive, hidden fees or minimum balance requirements.
According to Garon, these services allow households to make purchases where cash won't work, namely online. But there are other benefits, too, like "being able to manage finances via online or mobile account," said Garon. "For budgeting purposes, using a card is a much more secure way of transferring money than just cash itself.
"Access to financial services will never be a full solution for eradicating poverty," noted Garon. "But for those who are struggling, at the cusp of achieving financial stability, then prepaid cards can absolutely go a long way for expanding accessibility for this group."
SEPTA KEY – THE DEVIL (AND THE FEES) ARE IN THE DETAILS
SEPTA has made it clear that it's focused on developing a fare system, not a novel financial product for the impoverished or anything else. "First and foremost, the SEPTA Key Card is for transportation on the SEPTA Network," CFO Rich Burnfield told PlanPhilly in a recent interview.
Still SEPTA Key's "retail wallet" or general purpose, reloadable (GPR) prepaid debit account will undoubtedly be the closest many SEPTA passengers will have to a regular checking account. The MasterCard-branded Key Card will do almost everything a checking account does: accept ACH transactions and transfers from other credit or debit cards; allow direct deposits; use ATMs to withdraw cash, and; make retail purchases online and in person. The one thing it won't do: cash checks. For that, Key holders will need to go to a check cashing service, which often charge between 1 and 4 percent in fees.
There will be two versions of the Key Card – a personalized Key Card that will have the users name on it, and a non-personalized, so-called "instant" card. SEPTA claims that its offering two versions of the card for customer's convenience and flexibility.
Personalized SEPTA Key cards will be free; users will sign up for one online or over the phone and then have it mailed to them, not unlike a credit card. Non-personalized, "instant" cards will be available at SEPTA Kiosks and ticket windows for $4.95. The non-personalized Key Cards will lack some of the features of a personalized one, such as account balance protection, and the ability to make direct deposits and ATM withdrawals.
While everything related to SEPTA Key's "transit wallet" will remain free, there will be some fees associated with the GPR, "retail wallet" account. If a personalized Key cardholder wanted to use the GPR account, she would face a $4.95 per month fee. That monthly fee would be waived, however, if one of two conditions were met: the holder made 20 or more qualified transactions in a given month, or directly deposited $650 or more in a given month.
SEPTA's Burnfield told PlanPhilly they chose those amounts based on amounts provided by most public assistance programs. "We wanted to make sure we did not set that threshold so high that if you received a check from that source, given that those individuals may find a card like this useful, that we didn't want to set the limit too high."
$650 per month works out to $7,800 a year, well below federal poverty guidelines.
Direct deposit has become commonly available among employers, but not universal. According to Bill Dunn, Director of Government Relations at the American Payroll Association, 75 percent of APA members' employees are paid by direct deposit.
But Dunn added in an e-mail that "[s]mall businesses (especially very small businesses) are less likely to offer direct deposit," noting the expenses in setting the system up. For them, the time and cost of writing and mailing one or two checks a month is less than the effort to set up the automated system.
Even if the personalized SEPTA Key cardholder managed to avoid the monthly $4.95 fee, there will be other fees associated with the account. Direct deposit will be free, but other ways of adding money to the retail wallet won't be. Adding cash at a SEPTA kiosk will cost $2 and third-party retail locations will charge between $2.95 and $4.95. ATM withdrawals will have a $1.95 fee on top of whatever fee charged by the ATM itself for "convenience." Additionally, bank-to-card and card-to-card transactions will have a $1 fee.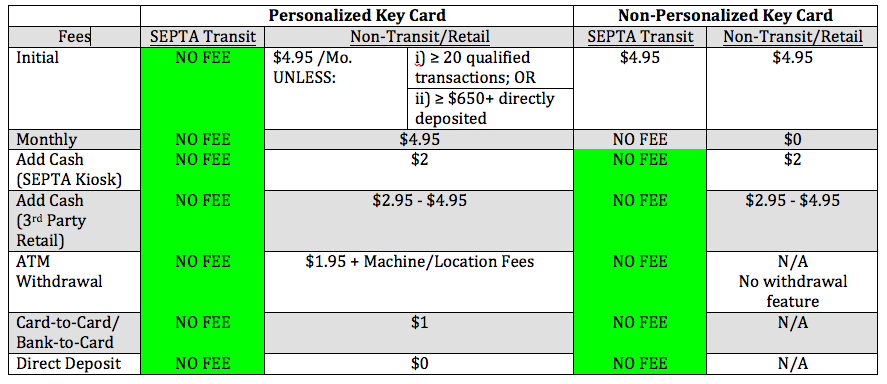 These fees are precisely the kind of thing that pushes individuals away from traditional banking to begin with. According to the FDIC, while 57.5 percent of unbanked households blamed not having enough money to hit minimum balances as why they did not have an account, 30.8 percent blamed high or unpredictable fees.
CFSI's Garon lamented the lack of a good check cashing option, and called educating the public about the fees "critical." When the Chicago Transit Authority introduced its own new payment system, the Ventra card, in 2013, the public didn't have a clue about its hidden fees and service charges until a Chicago Tribune investigation examined a thousand-page contract to find them. The CTA subsequently dropped most of those fees and charges, but not before becoming a more hated figure on the North Side than Steve Bartman and the Billy Goat combined.
"That's something we've certainly followed … very closely," said SEPTA's Burnfield. SEPTA will be "very clear about the difference between the travel wallet and the GPR part of the wallet," Burnfield said, adding that the authority will engage in significant customer education and outreach.
NO FEES FOR TRANSIT
To be clear: there will be absolutely no fees for using the "transit wallet" account on a Key Card (other than the cost of buying a fare instrument, of course). So, for most people who will use SEPTA Key only as a replacement for monthly passes or change purses full of tokens – and not for retail transactions or as another ATM card – there will be zero fees to add money to the card, use the card, etc. And they will still enjoy the discounted fares you can get now – $1.80 for a bus or subway ride using the transit wallet, what a token costs today.
It will also be free – meaning no additional fees, that is – to set up a "transit wallet" on a NFC-enabled phone or contactless bank card and use that just like your SEPTA Key Card for transit-related purchases. A properly enabled "transit wallet" on your Google Wallet, Apple Pay, or PNC Bank contactless debit card would also get the same discounts.
And that's true no matter where you use it, according to Dennis Hiller, Chief Officer of Revenue, Advertising and Sales at SEPTA. "If you have a SEPTA card, go to a retail provider, want to add weekly pass – there are no fees, at all, in this process."
Despite the fees and concerns, SEPTA still might have stumbled across something useful here. Garon said she would prefer if SEPTA offered a way to take cash off or put cash on the card without incurring a fee –besides retail – something other GPR prepaid cards often allow. Still, she said that the fees themselves wouldn't be cost prohibitive. Garon also suggested that the $650 per month direct deposit amount to waive the monthly fee was a bit higher than ideal, but, "as long as [SEPTA] discloses these fees and consumers know how they can use it for free," Garon said, "then, yes, I do think this card could still have a positive impact for low-or moderate-income septa riders."
With any luck, SEPTA will be able avoid Chicago's stumbles and offer a service – besides convenient travel – that can benefit Philadelphians on the cusp of financial stability.
WHYY is your source for fact-based, in-depth journalism and information. As a nonprofit organization, we rely on financial support from readers like you. Please give today.