Camden County town with 5 people is wealthiest (per capita) in the state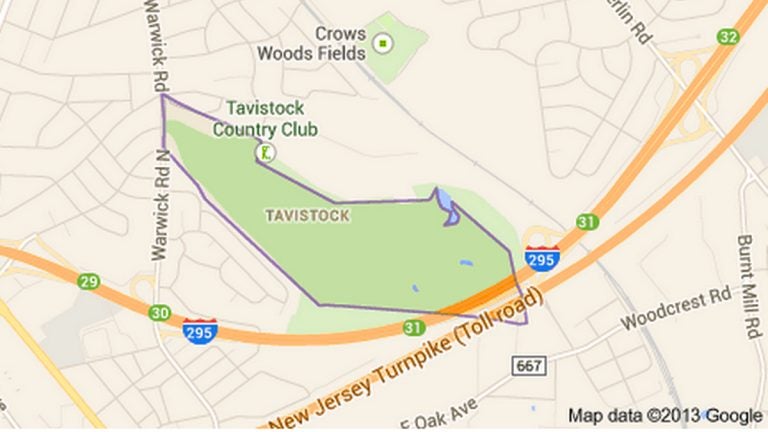 A quick tour of the communities with the highest median incomes in New Jersey.
New Jersey is a state of contrasts, with pockets of poverty and areas of wealth. Save for one very small municipality in Camden County, which is the wealthiest, all of the other communities with the highest estimated median household incomes averaged for the period 2007-2011 were in the north, according to data from the U.S. Census Bureau. Here are the top 10, all of which have median incomes of more than twice the state average of $71,180:
1. Tavistock — More than $250,000
Since the census counts $250,000 as the maximum median, Tavistock's could be significantly higher. This small borough in Camden County had a population of five, according to the 2010 census, and reportedly was formed to allow members of the Tavistock Country Club to play golf on Sundays.
2. Upper Saddle River — $180,429
This Bergen County borough of about 8,200 has been home to a number of professional ball players due to its proximity to New York City.
3. Alpine — $178,889
Located along the Palisades at the northeastern tip of Bergen County, this 110-year old borough has a population of roughly 1,850.
4. Essex Fells — $178,750
This borough of 2,110 took its name from its county – Essex – and John F. Fell, one of the three men whose company bought 1,000 acres of land that would become Essex Fells.
5. Harding — $178,594
Harding was created in 1922 and named after the president. U.S. Rep. Rodney P. Frelinghuysen (R-11th) is one of the 3,840 residents of this Morris County community.
6. Rockleigh — $177,708
This small borough in Bergen County has 530 residents living in less than a square mile.
7. Millburn — $173,924
The first municipality of any size on the list, Millburn has about 20,150 residents. Its location in Essex County and its direct rail service to New York City have made it a haven for people who work in Manhattan.
8. Chester Township — $168,235
A township of 7,840 in western Morris County, Chester Township is still home to farms, as well as large estates. It is one of several New Jersey communities that completely encircles another — Chester borough.
9. Mendham Township — $165,438
Hometown of the current governor, Chris Christie, this Morris County township of 5,870 was one of the state's original 104 townships created in 1798, although it is significantly smaller today, having lost land to Randolph Township and the borough of Mendham.
10. Tewksbury — $165,000
A township of almost 6,000 in Hunterdon County, Tewksbury was named for a town in England, spelled Tewkesbury, with which it has a sister relationship. Former Gov. Christine Todd Whitman lives in the Oldwick section.