Are alleys the next frontier in Philly placemaking?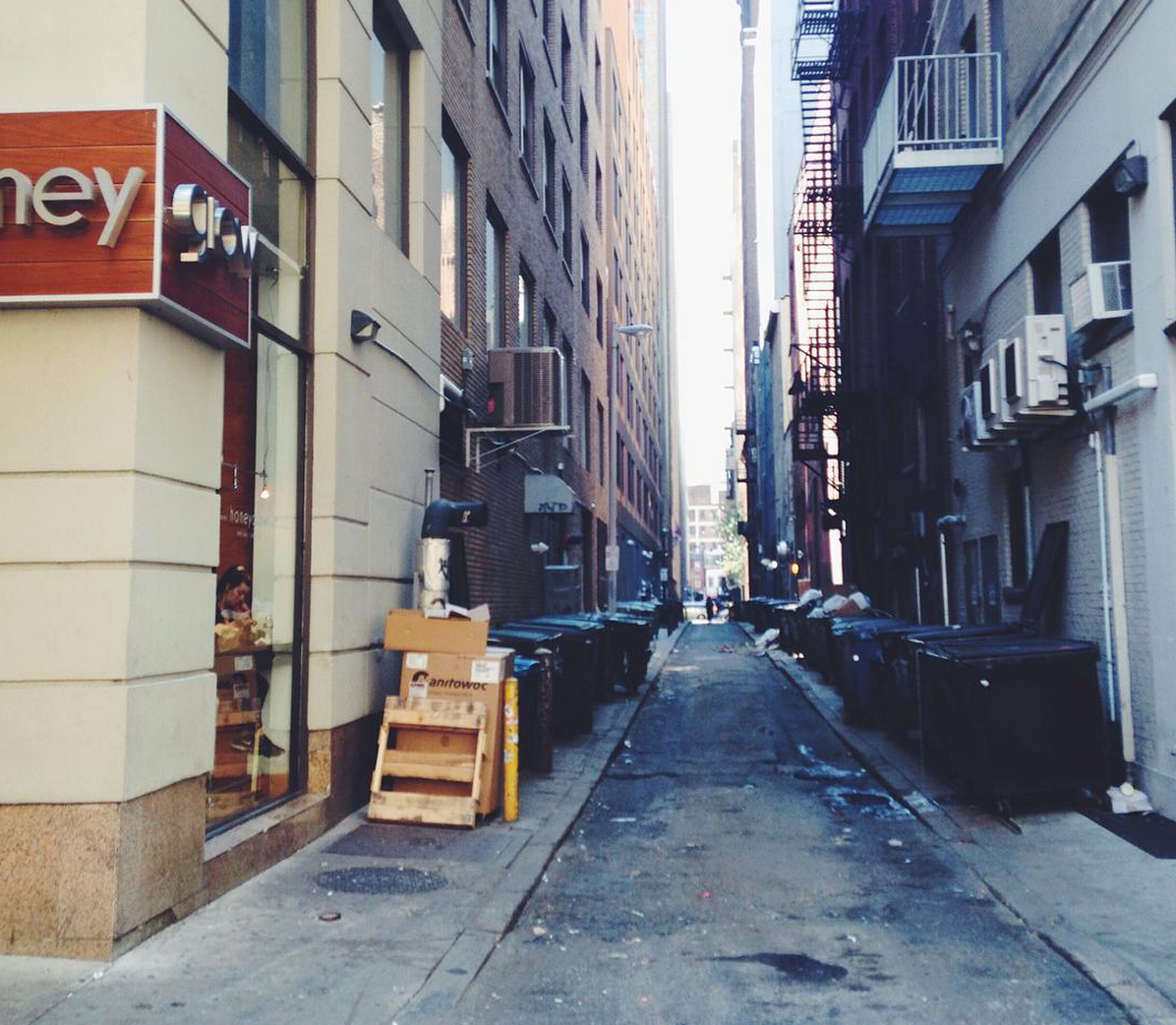 William West has a grading scale for the filthiness of Center City's narrow, often dumpster-choked alleys. His taxonomy of crud:
F – Functional. A place to stow cars or stash trash. No redeeming qualities.
D – Depressing. Many defects, but not the worst.
C – Crummy. A few defects, lacks cohesive vision.
B – Borderline. No defects, but doesn't spark joy.
A – Actually Attractive. A good, integrated design showing imagination and possibly a bit of whimsy (See: Addison, 1700 block of).
West, a Center City based blogger, shared his grading system in this month's Center City Residents Association (CCRA) newsletter and explained his interest in repurposing alleys as delightful public spaces.
West's point in grading alleys is to evaluate which ones might be good prospects for a public space makeover.
There are plenty of F's to go around, West says, but rather than dwelling on the most putrescent, he suggests fixing the B's and C's first to set an example of a great space that could inspire copycat projects. The 2100 block of Cypress, the 1700 block of Moravian, and the 1300 block of Drury Street by McGillin's are good contenders, he says.
West isn't alone in thinking that the time is ripe for alley placemaking initiatives. A few different neighborhood groups and organizations, including Center City District, see opportunity in some of Philly's most disappointing street spaces.
In the same newsletter, CCRA board member Andy Nicolini described a plan in the works to turn the 2000 block of Moravian Street—the service alley next to Shake Shack – into Philly's "first green alley."
The 2000 block of Moravian isn't completely dumpster-fied, at least in comparison to some of its brethren. Using West's grading system, it's probably somewhere between a C and a D.
Nicolini offered this colorful description:
"Crowding the sidewalks are graffiti-covered dumpsters overflowing with trash, rusting commercial oilcans leaking food waste, firewood piles stacked six feet high, and rodents scurrying in search of scraps of malodorous leftovers."
I did a walk-around with Nicolini and didn't see any rodents, but the code violations he pointed out in the newsletter were still there for the ticketing: Behind a row of businesses on Walnut Street were leaking barrels, unlocked dumpsters, a big wood pile barely covered by a tarp, destined for a pizza oven.
The north side of the street is mostly lined with small rowhouses with a few commercial rear entrances mixed in, while the south side is almost entirely the backs of restaurants and commercial buildings. Unlike some of the epic dumpster alleys, it's a multi-use street that does draw some foot traffic.
"It's a very walkable street," says Nicolini, who lives on the block, "People do walk on it, to get off of busier streets like Walnut and avoid the traffic. It's also a service street so trucks come in and out, but on a Saturday or Sunday evening nobody's driving through it."
Earlier this year, Nicolini and a group of Moravian Street neighbors, with the blessing of Shake Shack and a few of the other businesses, partnered with Shift_Design (known for their work on that Shake Shack) to craft a proposal for a street "resplendent with vivid rainbow hues…healthy vines cascading from above; window boxes spilling over with unique, brilliant foliage of native plants; birdhouses that invite wildlife to make their home in a newly designed refuge boasting permeable pavement, vertical gardens and LED-lighting."
Here's Shift_Design's illustration of what that might look like:
(Shift_Design)

(Shift_Design)

(Shift_Design)

(Shift_Design)

(Shift_Design)
The proposal was a finalist for a Pennsylvania Horticultural Society (PHS) Placemaker Grant this year, but was ultimately not selected.
Don't count it out for good though. The group plans to reapply next year, and there's some pent-up interest from the likes of Center City District, businesses, and community groups in establishing a successful proof-of-concept for an alley reclamation.
WHYY is your source for fact-based, in-depth journalism and information. As a nonprofit organization, we rely on financial support from readers like you. Please give today.