Analyzing key midterm races for South Jersey voters
Listen
6:12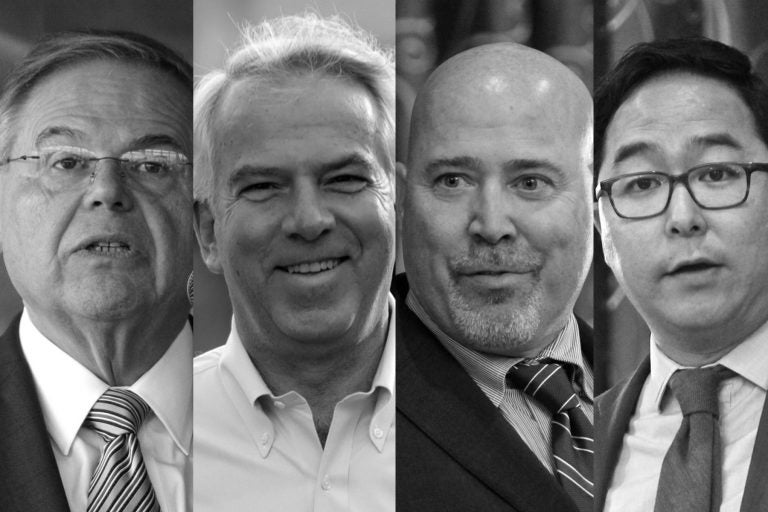 There's plenty of polling and analysis out there to help voters keep their fingers on the pulse of political races making their final laps toward the Nov. 6 elections. Morning Edition host Jennifer Lynn speaks with WHYY reporter Joe Hernandez about the latest on a handful of contests that make up an part of the election narrative in South Jersey.
—
Good morning, Joe. What are you keeping an eye on?
Well, three main races. In the U.S. Senate race in New Jersey, Bob Menendez is up for re-election. Then there's the race in the 3rd Congressional District, which is Burlington and Ocean counties. Tom MacArthur, the Republican, is up for re-election there. And then the 2nd District in South Jersey where Frank LoBiondo, the longtime congressman, is retiring. So that's an open seat.
Let's start with the U.S. Senate race between the two Bobs. As you mentioned, incumbent Democratic Sen. Bob Menendez is being challenged by Republican Bob Hugin, the former CEO of Celgene, a pharmaceutical company. Some say this race is close, and some say Menendez will sail to victory. Which is it?
Well, it depends on who you are and which polls you're looking at. Bob Menendez, obviously, is struggling to overcome the shadow of his corruption trial. It ended in a mistrial. He was not found guilty of anything, but he was severely admonished by the Senate. When I chatted with him, I asked him if voters should take that into account.
"Yes, but I also have all of this legislative record … my record from being in Congress. They should look at that as well. But I also say that judgment is a question of a lifetime. I'll stake my lifetime of judgment on behalf of the decisions I made for the people of New Jersey and let them choose. When I voted against Judge Kavanaugh on the D.C. Court of Appeals — and how right that was in view of … now."
He also points to other votes that he's taken that he's proud of — his opposition to the Iraq War and his support for the Affordable Care Act under former President Obama.
So look at his body of work and not just the corruption scandal that he was up against. Let's talk about Bob Hugin.
Right. He's a Marine veteran, political newcomer, and he's a wealthy businessman who's poured millions of dollars into his own campaign. Hugin, as you mentioned, was the head of Celgene, a New Jersey-based pharmaceutical company. They had a big cancer drug, very popular, and while Hugin was head of the company, the company doubled the price of this cancer drug. Meanwhile, Hugin as CEO was making millions. So he's been getting a lot of heat for that. The company was also sued by generic manufacturers for withholding its product. But when I asked Hugin about this, he said that that's been misconstrued in the attack ads.
"Lies and mischaracterization. It's a shame that you have been in Washington for 25 years, and your campaign is nothing about what you've accomplished because you really haven't accomplished anything for the people of New Jersey. So you tear the other guy down. Celgene has done an amazing thing for cancer patients."
Hugin has also taken some heat for comments he made about women and the LGBT community when he was a student at Princeton. But his argument is New Jersey should be embarrassed by Bob Menendez and what he was accused of. There are four polls right now in this race. Two put Menendez in the lead, and two show a tie. So depending on your perspective, you could read that as Menendez in the lead in an overwhelmingly Democratic state or a Republican having a chance because people are still thinking about the trial.
Now the 3rd District congressional race. This district stretches from the Delaware River to the Atlantic Ocean. At the end of the summer, Republican incumbent Tom MacArthur and Democrat Andy Kim were galloping toward a photo finish. Who are these candidates and where are their campaigns now?
Tom MacArthur has been in Congress for two terms now – he's running for his third term. He's a former insurance executive. And during his time in Congress, he's tried to strike a bipartisan image, but some people also tie him to President Trump. He wrote the now famous MacArthur amendment to the bill that was supposed to repeal Obamacare. It ultimately failed, and he got a lot of flak for that. People said it was going to take away health care and blamed him for it.
He had a kind of now infamous town hall in which he stayed for hours and people yelled at him and argued with him. And I asked him about that because he said. "You know, those people are like Andy Kim. They're just resistance figures, they're just against President Trump." And I asked about the constituents who were upset.
"For their sake, I stayed for hour after hour after hour, until after midnight, until five and a half hours. Look, I get that not everyone is an angry resistance figure who's organized and is there to disrupt. I get that. But Andy Kim is that person."
MacArthur was the only yes vote from New Jersey on the Republican tax plan. So all the Republicans in New Jersey voted against it except him. He touts his work on things like helping Sandy victims, and he's also chair of the bipartisan Heroin Task Force, and they've been trying to do some things to combat the opioid crisis.
Andy Kim is a former national security official. He worked under President Obama and a little bit under President George W. Bush. He's also a political newcomer. He's been getting a lot of heat because the MacArthur campaign and other critics say he has lied. He embellished his resume, they say he said he did things when he didn't really. And he also took a tax break on his house in D.C. that the MacArthur campaign said he only admitted was wrong once they called him out on it. I asked Kim about his truthfulness.
"You know I've done it and some of the most challenging environments some of them under a lot of stress working with a top secret security clearance. I've had multiple vetting from the U.S. government through everything in my life, and I'm proud of what I've done."
And finally, Joe. Congressman Frank LoBiondo, he chose not to run again for his seat. And I recall him lashing out at party gridlock as he announced his departure. Who wants in?
State Sen. Jeff Van Drew is the Democratic nominee. He's been a state politician for a long time. He's a dentist. He has gotten some criticism from fellow Democrats because he is pro-Second Amendment. He's a gun owner and he's voted against some gun control bills in the New Jersey Legislature. The Republican opponent in that race is Seth Grossman. He's a former local politician, an attorney, extremely pro-Trump. He says he wants to get into Congress to support the president's agenda. He's made some controversial remarks such as saying that diversity is a bunch of crap. They had one of their first debates, it was a little bit contentious, but the polls are showing that Van Drew has the advantage. So it's likely to flip that seat from red to blue.
Well, that's very helpful.  South Jersey reporter Joe Hernandez, thanks for your time.
You got it.