Pro-gun activists protest proposed firearm legislation outside Pittsburgh city-county building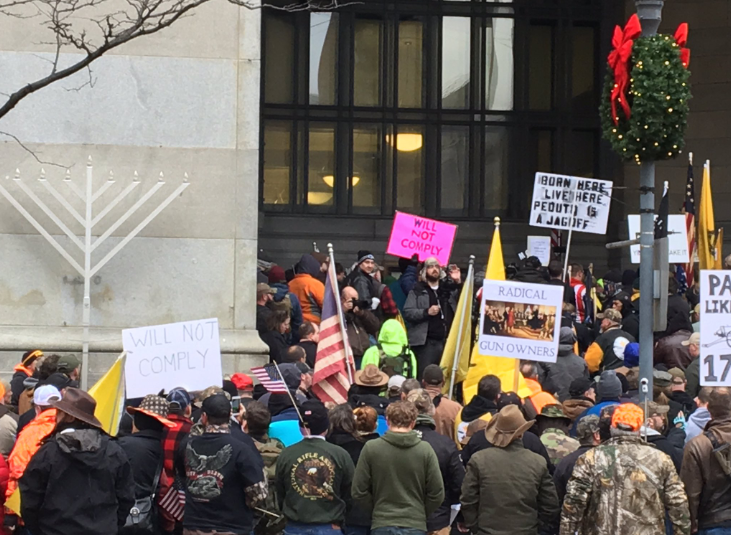 *This story will continue to be updated as new information is available. 
Gun rights activists, some carrying firearms and yellow "Don't Tread On Me" signs, are gathered outside of Pittsburgh's City-County Building for a pro-gun rights rally.
The rally was organized by Justin Dillon of Erie, Pa., in response to efforts by Pittsburgh City Council to enact gun control legislation. The legislation was introduced in City Council in mid-December, nearly two months after the fatal shooting at the Tree of Life synagogue in Squirrel Hill, leaving 11 dead.
Brenda Clapper, of Altoona, was among the demonstrators.
"We come here mostly because of [Pittsburgh Mayor Bill] Peduto, what he's trying to pull," she said. "We're all obviously for the Second Amendment, and we're here to fight for what's right."
Clapper was among those openly carrying a handgun but said advocacy involved "standing up for what you believe in. Not physically fighting, not whipping out your pistol. Just getting the point across verbally."
"I feel anger and threatened" by the city's proposed law, she said. "It's in our Constitution. We can't let them do that. You just can't."
Speaking to demonstrators during the rally, organizer Dillon said he's passing his values onto his 9-year-old son, who he hopes will continue to fight in support of the Second Amendment.
A lot of protesters here and many have firearms. @905wesa pic.twitter.com/0TZOQ3xxYl

— Lucy Perkins (@lucyeperk) January 7, 2019
One theme of the demonstration was the idea that guns don't kill people, people kill people.
Speaker Kelly Ann Pidgeon said guns are part of feminism and an "equalizer" for women against larger, stronger men.
I'm downtown with @lucyeperk and @airreeulll to cover a pro-gun rally expected to start here at noon. There's a pretty big crowd gathered. pic.twitter.com/P3lKJ9F36L

— Kathleen J Davis (@katjacqueline) January 7, 2019
The city's proposed three-bill package would bar certain kinds of ammunition, firearms and accessories, while also establishing a process for barring someone from having guns if family members or law enforcement deems them a risk.
"This mayor … is breaking the law," said state Rep. Aaron Bernstine (R-Beaver, Butler, Lawrence counties) at the rally, referring to a Pennsylvania law that precludes municipalities from regulating firearms in any way.
Dillon suggested some kind of legal battle if the mayor and City Council pass the legislation.
If the mayor and city council pass this, we'll see you in court. – Justin Dillon of Open Carry PA

— Lucy Perkins (@lucyeperk) January 7, 2019
Councilor Corey O'Connor has said that Council hopes to pass the group of bills by Feb.14, on the one year anniversary of the shooting at Marjory Stoneman Douglas High School in Parkland, Fla.
However, even if the proposed legislation is passed at the city level, there would still be legal questions due to the state law that Bernstine cited.
WESA reporters Kathleen J. Davis, Lucy Perkins, Ariel Worthy and Chris Potter contributed to this report.