Pa. getting $10 million under first Bloomberg grant to combat opioid addiction
Former New York City mayor picked Pennsylvania to get the initial grant because of the severity of the crisis in the state and Gov. Tom Wolf's work toward solutions.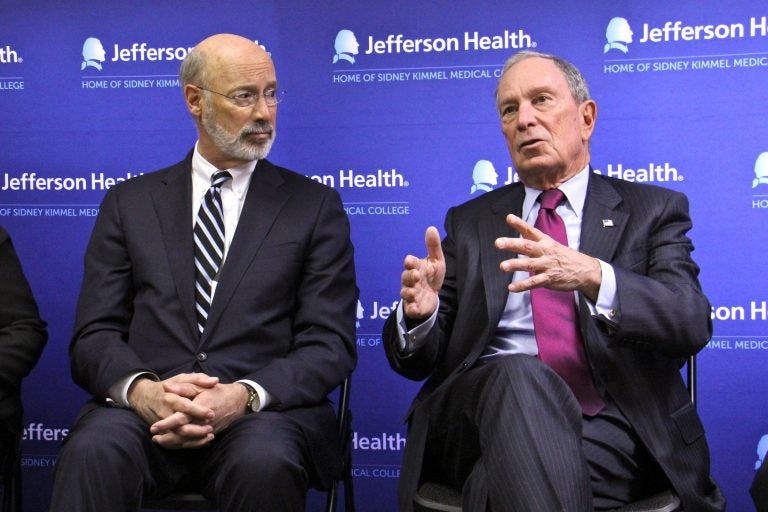 Former New York City Mayor Michael Bloomberg's charity organization is giving Pennsylvania $10 million over three years to fight the opioid crisis.
Bloomberg announced the donation Friday alongside Gov. Tom Wolf at a treatment center in Philadelphia for pregnant women who are addicted to opioids. It was one of two unique addiction recovery programs the two visited on Friday in announcing the grant.
The grant comes from a total of $50 million Bloomberg Philanthropies plans to award to several states to combat opioid addiction. Bloomberg selected Pennsylvania to receive the initial grant because of the severity of the crisis in the state and Wolf's work on striving for solutions.
"Some of the programs that he has initiated look like they have promise," Bloomberg said.
Bloomberg said he hoped the state would use the money to work on innovative strategies for fighting addiction and expand programs that had already proven effective.
The announcement came a day after The Centers for Disease Control and Prevention released data showing drug overdose deaths continued to climb to record heights nationwide in 2017, numbering more than 70,000. The CDC
report also found that Pennsylvania, with a total of nearly 5,400 deaths, had the third-highest rate of fatal overdoses in the country last year.
Wolf said the $10 million grant will provide "significant help to the things that we're all trying to do to make lives better — to save lives."
Wolf and Bloomberg made their remarks at the Maternal Addiction Treatment Education and Research program at Thomas Jefferson University Hospitals, which pairs medication-assisted treatment with parenting education that uses mindfulness-based counseling to help pregnant women get off opioids and care for their babies once they give birth.
Earlier in the day, the two toured the Bridge Way School in Northeast Philadelphia, a special high school for teens in recovery from addiction.
The Bloomberg Philanthropies grant will allow Pennsylvania to invest more in programs like these, said Jennifer Smith, the state's secretary of Drug and Alcohol Programs. Smith said it will complement federal dollars that have been earmarked for more specific purposes such as expanding medication-assisted treatment.
"One of the things that's really great about this $10 million is that the parameters are little bit different," Smith said. It will allow the state to "do some innovative things both around treatment, prevention, and recovery."
Bloomberg said his strategy was to work with Pennsylvania and other states to model approaches to fighting opioid addiction that can be replicated in other parts of the country.
"The federal government in Washington is MIA, as it is on a awful lot of these issues," Bloomberg said. "So it falls back on the states."
WHYY is your source for fact-based, in-depth journalism and information. As a nonprofit organization, we rely on financial support from readers like you. Please give today.