NEast Philly gets Metro cover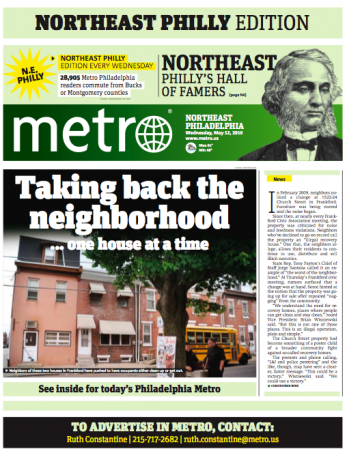 As part of our ongoing partnership with Metro, NEast Philly continues to contribute content to the city's free daily newspaper.
Yesterday's Northeast edition — which comes out every other Wednesday — featured NEast Philly content on the cover. Yes, we're proud! And you should be, too — when was the last time you saw Northeast news make the front page of a citywide publication?
Metro republished Web Editor Chris Wink's coverage of last week's Frankford Civic Association meeting and realtor Stacy McCarthy's discussion of home prices in the Far Northeast. In addition, an original story about the 2010 Northeast Hall of Fame inductees ran on page 4 of the section.
Check our calendar to find out when the next edition of the NEast Philly Metro will be published. Metro has the PDF for the entire issue.