Goodwill workers in N.J. find original 1774 'rebel' newspaper
There are three other existing copies of the same weekly edition of the Pennsylvania Journal, all housed in university collections.
A quick eye by Goodwill workers in southern New Jersey turned up framed pages from an original 1774 Philadelphia newspaper with an iconic "Unite or Die" snake design on the masthead.
The frayed Dec. 28, 1774, edition of the "Pennsylvania Journal and the Weekly Advertiser" boasts three items signed by John Hancock, then president of the Provincial Congress, who pleads for the Colonies to fight back "enemies" trying to divide them.
A jumble of small advertisements offer rewards for a lost horse or runaway apprentice, while another insists the poster will no longer pay his "misbehav(ing)" wife's debts.
The discovery was first reported by NJ Pen, an online news site.
Bob Snyder of the New York auction house Cohasco says the "rebel" newspaper shows how "everyone was good and mad" at the British just months before the Revolutionary War began. The masthead design is a variant of the "Join, or Die" political cartoon credited to Benjamin Franklin.
"These were very important propaganda tools," Snyder said of newspapers and pamphlets of the era. "The viciousness then in some was as much or more as it is today. . (But) the language was more powerful in putting down the other side."
Snyder estimates the newspaper's value at $6,000 to $16,000. Goodwill Industries hopes to sell it to help funds its educational and job-training services, according to Heather Randall, e-commerce manager of the regional operation in Bellmawr, New Jersey.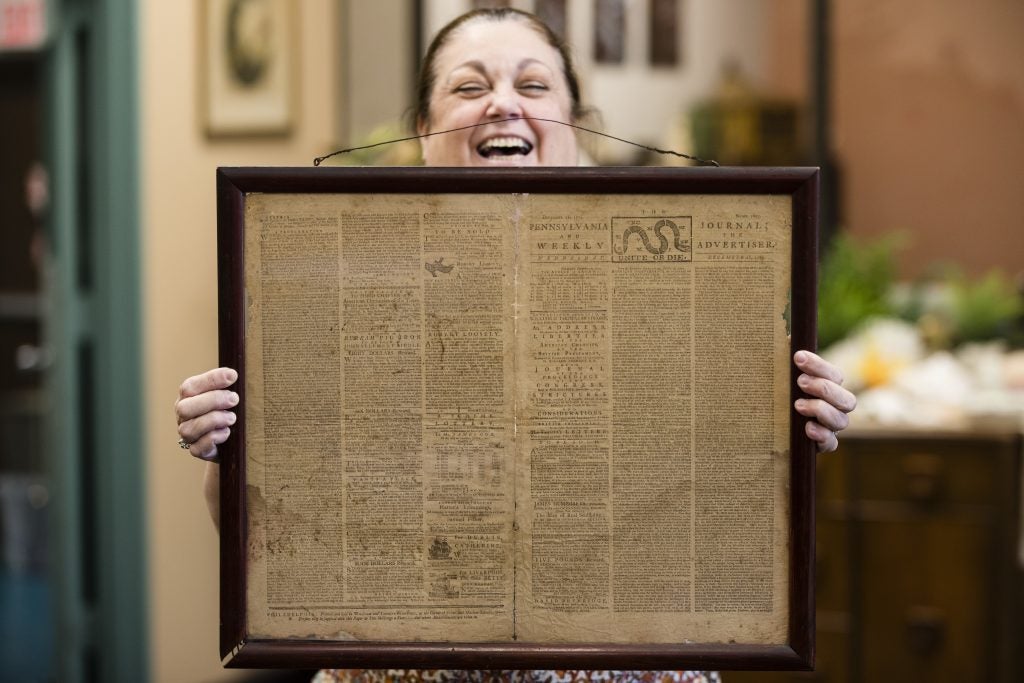 The framed document was dropped off in Woodbury, New Jersey, and sent to her department, which reviews donations that may be valuable, and lists the best among them on Shopgoodwill.com. Employee Mike Storms did the detective work, guessing it was original given small keyholes at the inside edge of the pages that suggest they had once been bound by string. What's more, the four pages were preserved in an old frame with glass on both sides.
"It's like a big treasure hunt, really, because you never know what's going to come through. Sometimes, the things take a lot of research," Randall said.
"We got a Bill of Rights the other day, but it was (printed by) the Phillip Morris Tobacco Company," she said Thursday. "It looked good."
There are three other existing copies of the same weekly edition of the Pennsylvania Journal, all housed in university collections. Randall hopes this one will find a home in the Philadelphia area where the public can see it. She posted it for sale on the Goodwill website for 15 days earlier this year, but the listing didn't get widespread interest. Snyder believes it should.
"It's only three or four months until the first actual shots of the revolution were fired. So by this time, everybody was good and mad," said Snyder, who said newspapers of the day were more partisan than today, although the level of debate was more highbrow. The Pennsylvania Journal was published by William and Thomas Bradford, who came from a distinguished local family of booksellers and printers.
"They obviously had a very strong belief system. They were willing to risk their lives to publish," he said.
Storms nonetheless found some irony in the sign-offs that ended many of the submissions.
"With all the anger and angst they have toward Great Britain, they still sign things 'God Save the King,'" he said.
WHYY is your source for fact-based, in-depth journalism and information. As a nonprofit organization, we rely on financial support from readers like you. Please give today.