Financial Perspectives: A time to pause and remember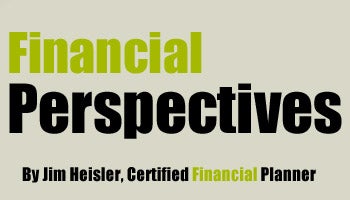 As we reflect on the sacrifice of our brave men and women in uniform, especially those still serving in Afghanistan, we should recall what the idea of freedom meant to our founding fathers and other special people in our history.
Here are some famous quotes that help remind us how special a country and system of government we have.
"The jaws of power are always open to devour, and her arm is always stretched out, if possible, to destroy the freedom of thinking, speaking, and writing." – John Adams
"Remember, democracy never lasts long. It soon wastes, exhausts, and murders itself." – John Adams
"Every step we take towards making the State our Caretaker of our lives, by that much we move toward making the State our Master." – Dwight D. Eisenhower
"They who would give up an essential liberty for temporary security, deserve neither liberty or security." – Benjamin Franklin
"Bad men cannot make good citizens. A vitiated state of morals, a corrupted public conscience are incompatible with freedom." – Patrick Henry
"History, in general, only informs us what bad government is." – Thomas Jefferson (1807)
"America will never be destroyed from the outside. If we falter and lose our freedoms, it will be because we destroyed ourselves." – Abraham Lincoln
"The means of defense against foreign danger historically have become the instruments of tyranny at home." – James Madison
"Those who expect to reap the blessings of freedom, must, like men, undergo the fatigue of supporting it." – Thomas Paine
"I used to say that Politics is the second oldest profession [prostitution being the oldest], but I have come to realize that it bears a gross similarity to the first." – Ronald Reagan
"Let every nation know, whether it wishes us well or ill, that we shall pay any price, bear any burden, meet any hardship, support any friend, oppose any foe to assure the survival and the success of liberty." – John F. Kennedy
"Future years will never know the seething hell and the black infernal background, the countless minor scenes and interiors of the secession war; and it is best they should not. The real war will never get in the books." – Walt Whitman
"Courage is contagious. When a brave man takes a stand, the spines of others are often stiffened." – Billy Graham
"True heroism is remarkably sober, very undramatic. It is not the urge to surpass all others at whatever cost, but the urge to serve others at whatever cost." – Arthur Ashe
"We must be prepared to make heroic sacrifices for the cause of peace that we make ungrudgingly for the cause of war. There is no task that is more important or closer to my heart." – Albert Einstein
"It is surmounting difficulties that makes heroes." – Louis Pasteur
"It doesn't take a hero to order men into battle. It takes a hero to be one of those men who goes into battle." – Norman Schwarzkopf
"Heroism is not only in the man, but in the occasion." – Calvin Coolidge
"Courage is resistance to fear, mastery of fear – not absence of fear." – Mark Twain
We will return to our normal financial column next time. Have a great week!
The views expressed are not necessarily those of Cambridge and should not be construed as an offer to buy or sell any security.
Jim Heisler, CFP®, CDFA™, CASL™ Family Wealth Services, LLC 8725 Frankford Avenue Philadelphia, PA 19136 jim@familywealthservices.net 215-332-4968
Jim Heisler is a Certified Financial Planner with Family Wealth Services in Holmesburg. You can read all his Financial Perspective columns here.