East Falls "passive house" cleared by zoning board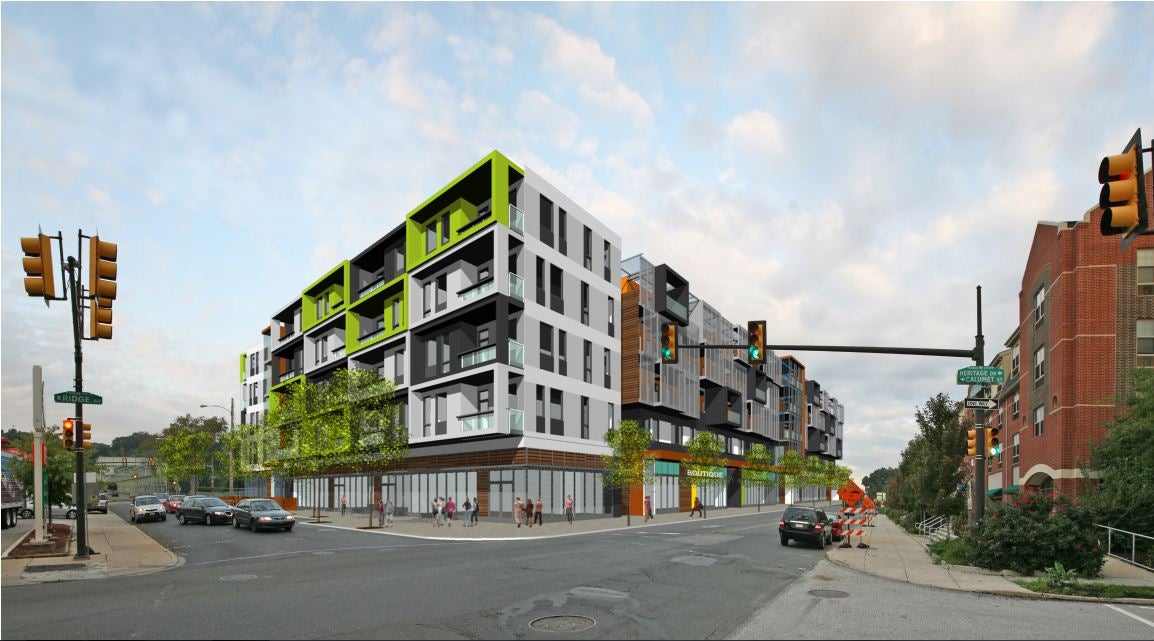 Ridge Flats, a proposed 146-unit apartment complex at 4300 Ridge Avenue in East Falls, was green lighted by the Zoning Board of Adjustment Wednesday afternoon.
The building will contain some retail space on the ground floor, as well as 120 above-grade parking spaces. The property is in the 100-year floodplain, said the developers' attorney David Orphanides, which prevents them from digging underground for parking. Under the East Falls zoning overlay, the project requires 695 parkings spaces–four spots for every 1,000 feet of commercial space. But no one, including the East Falls Development Corporation and East Falls Community Council, thinks that many parking spaces is a good idea. The developer said the retail uses will be community-based and geared toward pedestrians.
Gina Snyder of East Falls Development Corporation suggested that the parking requirements in the East Falls overlay should be reconsidered, and the Planning Commission has created recommendations that it will submit to City Council.
The building, according to the developers, will be the biggest "passive house" in the country. In passive houses, energy usage can be reduced by as much as 90 percent just by the way the "thermal envelope" is designed, said Onion Flats' Tim McDonald.
Approval of the zoning variances–for height, parking, and loading–was a needed step for Onion Flats to acquire the vacant lot from the Philadelphia Redevelopment Authority, which has owned the property since 2000. Howard Steinberg, a partner in the development group Onion Flats, said the group plans to pull permits and begin construction next spring.
Onion Flats has projects throughout the city, including Thin Flats, a LEED-Platinum certified 8-unit complex near 2nd and Laurel streets, The Stables, also in Northern Liberties, and a firehouse adapted into a residence at 12th and Ridge. The one- and two-bedroom apartments at Ridge Flats will likely range in price from $1,300 to $2,000 a month, according to Howard Steinberg.