Comly Elementary School gets an outdoor classroom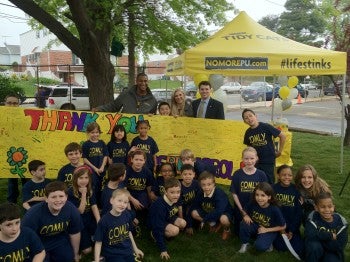 Pa. Rep. Brendan Boyle, D-170th, in partnership with Tidy Cats, was at Comly Elementary School in Somerton with Principal Michelle Byruch, students and teachers to unveil Comly's outdoor classroom.
"Outdoor classrooms provide an opportunity for teachers to engage their students in ways that are not possible within the walls of a traditional classroom," Boyle said. "Thanks to funding provided by Tidy Cats, the students at Comly School will be able to benefit from outdoor learning, which has been known to enhance social skills and behavior, increase participation and much more."
"Creating an outdoor space for learning is exactly the kind of creative solution that we strive to provide," said Rebecca Schulz, Tidy Cats senior brand manager. The company funded the construction of the 420-square-foot outdoor classroom.
Boyle said the new classroom will allow students and teachers to read, learn about nature and enjoy the outdoors when the weather is nice.