After a long road, 205 Race project expected to break ground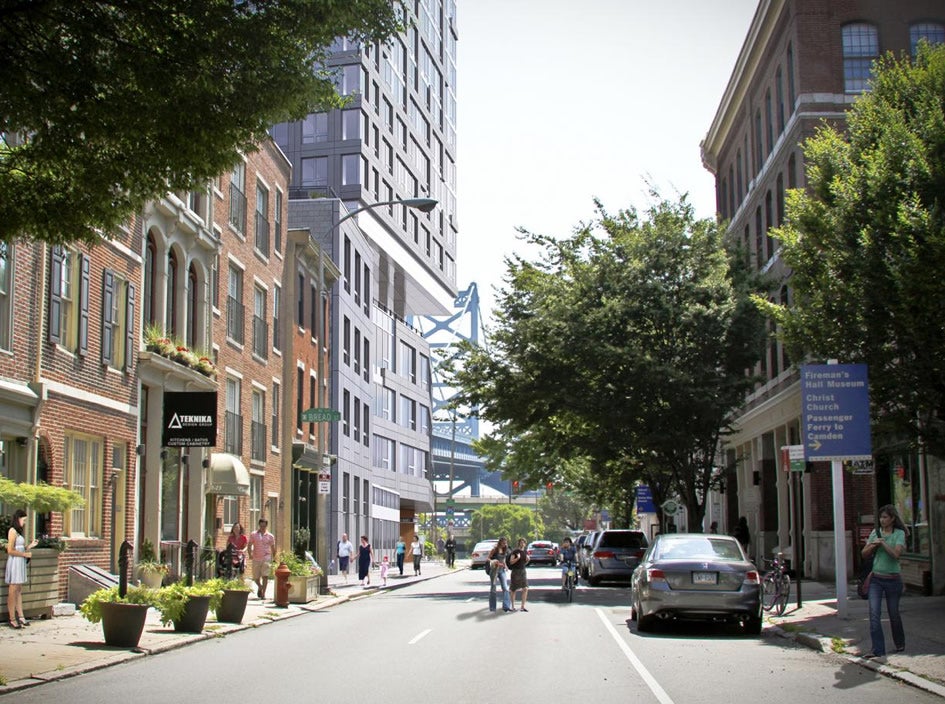 As Philly Mag and The Inquirer both reported this week, Brown Hill Development will finally break ground next next month on a 148-unit apartment complex at 2nd and Race streets in Old City. This version of the project, which is now called The Bridge, has been in the works for more than three years.
Brown Hill initially planned a shorter, boxier building on the site with 122 units. Later, the group presented plans for a 16-story tower with ground-floor retail spaces. That proposal ticked off some of neighbors and members of the Old City Civic Association (RIP). Some objected to the scale of the building, and, according to developer Greg Hill, Keystone Outdoor Advertising was worried that the project would block views of its high-mast billboard, which sits alone on a vacant lot across the street.
The group applied for zoning variances for that proposal, but later withdrew its application.
Councilman Mark Squilla then introduced a bill creating a zoning overlay for the area surrounding the Benjamin Franklin Bridge. The overlay, which was adopted by Council, allows the current proposal to be built by right. Brown Hill pulled building permits for the latest design, which includes 146 units and retail on the street level, earlier this month. The building takes advantage of a zoning incentive for including reduced-rate apartments.
It was also redesigned so as not to block any drivers' views of the Keystone billboard across the street. Go ahead and read that sentence again if you like. This is our world.