'Afrofuturist' play debuts at Fringe with look at gentrification and history
Listen
3:27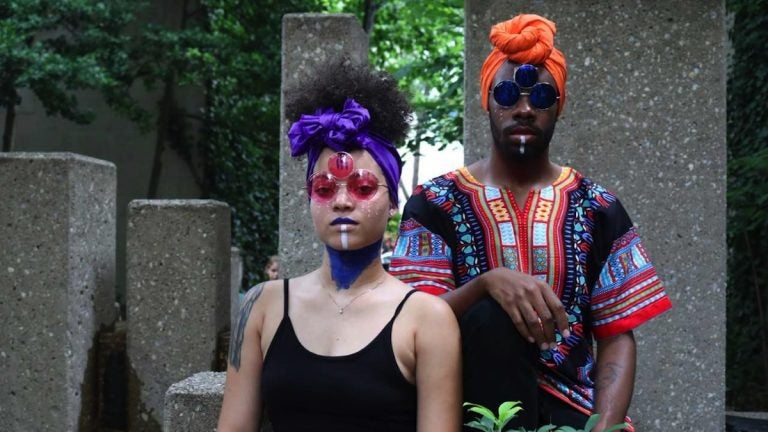 In a Center City rehearsal space, six student actors slowly begin to melt out of their seats and onto the floor.
They come together, imitating different parts of a machine. Raising their hands collectively, they try to grab something, but they're unsuccessful. This happens a few more times before they sink back to the floor.
"A community has to be a well-oiled machine. The state of this machine is oil and rust," said Alyse Hogan, the writer and director of "Cotton & Gold", an Afrofuturist play that debuts this weekend as a part of Philadelphia's 2017 Fringe Festival.
As a genre, Afrofuturism explores the experiences of black people through science fiction. The play takes place in a post-apocalyptic landscape. Each town is represented by a machine. At the play's rehearsal, the actors are embodying the machine of the town Rankin, which like the machine, is doing poorly.
Community members are fighting hard to get by as their town becomes increasingly gentrified by the sinister and mysterious entity known as Metropolis, which Hogan said is a stand in for corporate America. The play follows a young man named Loron Senior, played by DaZay Burnett, as he leaves Rankin to find solutions.
"He's searching for answers as to why his town is being gentrified, why the people in this town are hurting one another and disagreeing with one another," said Hogan.
Gentrification can have many definitions, but often refers to what happens when low income people are pushed out of their neighborhoods by new development geared toward people with higher incomes.
Loren travels to a thriving city called Tulsa to figure out how to save his town. The town is modeled after the actual Tulsa, Oklahoma of the early 1900s, when it was one of the wealthiest black communities in the nation and known as Black Wall Street.
"It was so economically independent that they said it took about a month for a dollar to even leave Tulsa," Hogan said. "It became like the utopia of this whole play."
Looking back at history is an important theme in "Cotton & Gold". Hogan wrote the play in an Afrofuturistic style to re-imagine Black Wall Street and reflect on how that history can inspire black businesses and communities today.
She said, "There are wonderful black organizations that exist today and that are continuing to be built but at the same time some of these places can still be taken away through gentrification, so it's like how do we hold on to what we have?"
Hogan is a recent graduate of The University of the Arts in Center City, but grew up in Pittsburgh. Over the years, she's watched her hometown change, like when an apartment complex in her neighborhood was bulldozed. Within the past year, new coffee shops and a luxury apartment building have opened in the area.
Hogan said those changes are upsetting. "How do you tell somebody, 'I know you've been living here for twenty years but you've got to go?' I don't want that feeling that black people could be erased, but that's what it feels like".
Hogan wanted the play not only to embody this struggle but also search for solutions. "It turned into this semi-political Afrofuturistic wake up call of like how do we fix this," she added.
Producing the play has allowed Hogan to step back and ask herself how she can create change. She said she's tired of just talking about what's wrong, and hopes "Cotton & Gold" will inspire the audience to support black owned businesses and artists well into the future.