Wilmington Children's Chorus and The Best Christmas Pageant Ever highlight Delaware arts calendar
From concerts and movies to special events for the whole family, there is always something to see and do in Delaware. Here are some of our picks.
New Castle County
A Christmas Carol, December 9th – 11th
The Reedy Point Players are very excited to present the Charles Dickens classic, A Christmas Carol, directed by Nicole Peirce. Though London awaits the joyful arrival of Christmas, miserly Ebenezer Scrooge thinks it's all humbug, berating his faithful clerk and cheerful nephew for their view. Later, Scrooge encounters the ghost of his late business partner, who warns that three spirits will visit him this night. The ghosts take Scrooge on a journey through his past, present and future in the hope of transforming his bitterness.
The Wilmington Children's Chorus Annual Candlelight Holiday Concert, December 10th & 11th
Join the Wilmington Children's Chorus as we celebrate the season; showcasing holiday music from around the world! This concert will feature all 150 members of the Youth Choirs, Select Choir, Young Men's Ensemble and Chamber Choir at First and Central Presbyterian Church, Wilmington.
Kent County
The Best Christmas Pageant Ever, December 9th – 11th
In the hilarious Christmas classic, The Best Christmas Pageant Ever, a couple struggling to put on a church Christmas pageant is faced with casting the Herdman kids–probably the most inventively awful kids in history. You won't believe the mayhem – and the fun – when the Herdmans collide with the Christmas story head on! This delightful comedy is adapted by Barbara Robinson from her own best-selling Young Adult book. It has since become a holiday staple all across the United States and Canada. Kent County Theatre Guild, Dover.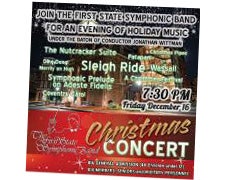 First State Symphonic Band Christmas concert, December 16th
Come enjoy the holiday season with a concert by the First State Symphonic Band featuring favorite Christmas and holiday music. Selections include Tchaikovsky's Suite from The Nutcracker, Symphonic Prelude on Adeste Fidelis, and medleys of popular and traditional Christmas carols. The concert will conclude with two Leroy Anderson Christmas classics: A Christmas Festival and Sleigh Ride. Performance begins at 7:30pm. Doors will open at 6:45pm. Smyrna Opera House.
Sussex County
Clear Space Theatre presents: Meet Me in St. Louis, December 11th
Suddenly there's a blackout. Imagine yourself standing as the lights from the World's Fair fill the stage; you've never seen such a spectacular panorama in your life! Join the Smith family at the 1904 World's Fair, and see how their love for each other is tempered with the genuine humor that can only be generated by a special family. MEET ME IN ST. LOUIS is based on the heartwarming holiday movie, including memorable musical numbers like "The Trolley Song" and "Have Yourself a Merry Little Christmas". Clear Space Theatre, Rehoboth Beach.