10th District council race mailer has the wrong poll hours on it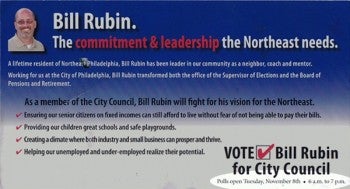 Okay, crazy time is here.
If you're running a competitive political campaign, there comes a point in the closing days of the race, when you realize that this is, or could be really close, and any little thing could make the 100-vote difference, and somebody is putting out some scurrilous crap that could cost you this thing, which by the way you've been working 18 hours a day on for so long you don't remember what clean laundry even looks like, and you'll be damned if you're going to let them get away with it and….lord only knows what will follow.
In the Northeast Philadelphia City Council race, incumbent Brian O'Neill's campaign has filed complaints with the city board of elections, the city board of ethics and the District Attorney's office about mailings that have reached voters touting the candidacy of his Democratic opponent, Bill Rubin.
You can read the O'Neill campaign's complaint by clicking here.
O'Neill's folks are steamed because the mailer doesn't say who paid for it – a violation of the state election code – AND because the mailer has the wrong hours for voting on November 8th. As you can see above, it says that polls open from 6 a.m. to 7 p.m..
You can read the rest of this blog post from Dave Davies on NewsWorks.