Your bike's lifespan may depend on what it's made of
Listen
8:01
Have you ever noticed those heavy steel road bicycles from the '70s and '80s chained up alongside today's featherweight carbon fiber and aluminum models?
We wondered which would still be on the road two or three decades from now.
At the the Philadelphia Bike Expo last month, carbon fiber was the material on the tip of everyone's tongue.  Composite materials made with carbon are extremely light, strong and — thanks to falling manufacturing costs — finding their way into more and more bikes.
But there was a time when most high-performance bikes were made of steel, and many of those bikes have survived decades — still cruising today's bike lanes.
Steel is still the most common material found in bikes, but that's thanks to cheap department store models and clunky throw aways — more fit for kids — than commuters, according to Bicycle Retailer's east coast sales analyst, Karl Wiedemann.
In terms of market share, next is aluminum, which is followed by carbon.
When I met, Nolan Bixler, he was working the Bianchi Cycles stall at the expo, showing off a line of bikes with full carbon frames.
"These two Bianchi's here, they have what they call Countervail. It's a carbon fiber that was originally made for NASA and satellites," he said.
NASA comes up a lot at this bicycle expo.
"So in space, you know, you have a satellite and its arm opens up with kind of that non-gravity thing that's going on out there.You can get a lot of vibration. So these, they stop the vibration as it happens," Bixler said.
Bixler also fixes bikes, so I asked him: What happens when a carbon bike takes a hit?
"We actually have a bike in the shop right now where the seat stay [the tube that runs from below the saddle to the rear fork] here took an impact. You can see the paint chipping. It's cracked,"  Bixler said. "You push on it. It's got a little bit of a, like a dead feeling."
Fixing just a portion of a carbon frame could cost up to $800.
"You can get a full carbon fiber bike for about $2,000. If it costs $700, $800 to repair one part of the frame, you can argue that I may just go get a replacement bike," Bixler said.
Of course not everyone can afford to replace a damaged bike. Couriers, for example, need a ride that they can rely on in punishing conditions.
Couriers ride steel
"I use my bike to feed my family, dude. I know I look young but I'm 30-years-old. I have five kids, man," said Ozzy, a Philadelphia bike courier who did not want to use his full name. After a recent police stop he says he's keeping a low profile.
Ozzy bikes at least 100 miles every work week, not counting his 16-mile daily commute. Like his colleagues, he rides a steel frame bike. Carbon and aluminum are nice, he said, but the demands of the job would "tear the guts out" of those frames.
"When you're working on your bike as opposed to commuting on your bike, you need parts that's going to last," Ozzy said. "You know, when you're putting that wear and tear on your bike, putting all those miles on your bike."
Drexel University engineer Kevin Turner explained steel's appeal by pointing to its high ductility and high toughness: it can bend well before it breaks, and it's very resistant to cracks.
Still working with steel
Steve Bilenky of Bilenky Cycle Works builds high performance steel bikes. He mostly uses milling machines from the '70s, and owns one all the way from the '40s.
"This was used for big parts, for boats and tanks." Bilenky said, standing next to a refrigerator-sized steel cutter. "This was a war machine."
He's been making steel bikes for 35 years.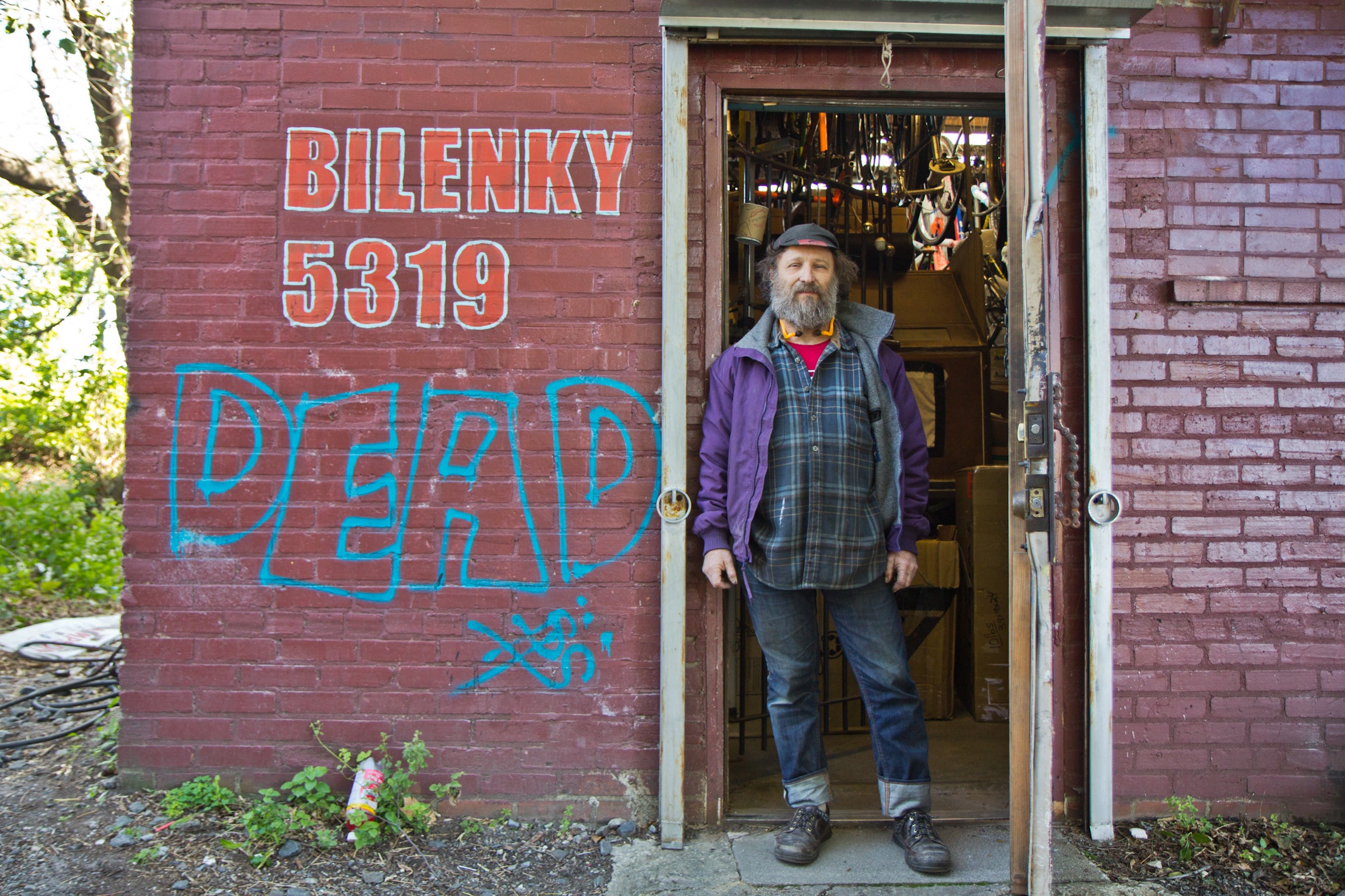 "If it's not at least 25 years old, it hasn't really seen its life," Bilenky said.
He uses his vintage machines to make bikes in a vintage style, with steel lugged frames.
Picture an erector set: the tubes that make up the frame fit together in socket-like steel lugs.
"I have a bike right now from the '80s hanging in there," he said. "I just finished two tubes that were bent and now it looks like a brand new bicycle again.
Bilenky says being able to repair a bike means being able to keep a bike, year after year as the decades come and go.
"After a good amount of miles and good amount of years, there's a certain panache," said Bilenky. "But really it's about the connection to the rider — what they've done with the bike."
WHYY is your source for fact-based, in-depth journalism and information. As a nonprofit organization, we rely on financial support from readers like you. Please give today.