More people in crisis doesn't mean more calls to suicide hotlines. Why the disconnect?
Listen
10:57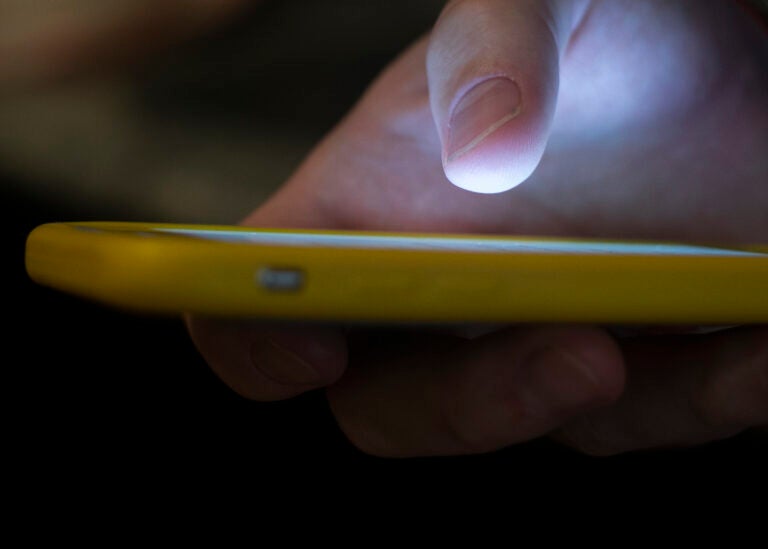 This story is from The Pulse, a weekly health and science podcast.
Subscribe on Apple Podcasts, Stitcher or wherever you get your podcasts.
---
It was a tall order for a teenager barely out of high school: Save a desperate stranger's life, over the phone.
"She was with her children, with her young children, at the time, and she was feeling suicidal and had gotten to a point where she didn't think she could do it anymore," said Kelly Kautz, speaking about her time at a suicide call center. "She didn't think she could stop herself from actually committing suicide, and she was worried about herself and her kids."
Kautz is a web designer now, but this call with a mother stuck with her.
"She didn't want to put [her] kids through that, and that was maybe the only call that I ever had to forward to crisis intervention," Kautz said.  "I think, I hope I made a difference for her."
Making a difference is the whole reason Kautz wanted to volunteer for the suicide hotline.
"I was young, I was in my late teens, and I had spent a lot of my teenage years struggling with depression and anxiety," Kautz said. "So I wanted a way to give back."
Over more than 100 hours of training, Kautz had learned two really big things. The first was how to decide when to make the intervention call to an ambulance or police when it seemed like someone was really on the edge.
The second was how to listen really well and reflect back what she was hearing from callers.
"We did a lot of repeating back and forth, we spent a lot of time in those mock interviews saying, 'You're feeling really scared right now, you're feeling really frustrated,'" Kautz said.
It sounds simple, but there's real science behind this method — it's designed to put a brake on the brain's fight-or-flight stress response and get what one expert called "the thinking brain" back online. That's critical for someone in crisis.
But on the job, Kautz learned a third lesson: that truly at-risk callers, like that mother with her kids, were rare. She would get another type of call much more often.
"They would tell us about how they were not sure they could go on anymore, and my adrenaline would be going," said Kautz. "I would be constantly thinking, 'Is this a life-threatening scenario? Am I going to have to connect them with crisis intervention? Can I do it fast enough?'"
They were "This is what I trained for" moments, until they weren't.
"And then the more they talk, the more my intuition is saying, 'Something's not right here,'" said Kautz. "And then in a couple scenarios, when they would stop talking, I would hear a porn playing in the background, or I would hear other things that made me realize this is just somebody who's calling to get off on the sound of another person's voice."
It was not exactly the type of thing Kautz expected when she signed up to answer phones.
The hotline number comes up any time you type the word "suicide" into Google. It's at the end of every newscast or TV show that deals with suicide. For many, it represents the first line of defense against suicide in the United States, where rates have climbed year after year for decades.
But almost all the callers Kautz spoke with during her year on the phones weren't actually suicidal. She thinks she got a good chunk of the weird sex stuff because she's a woman and she worked Friday nights. But most of the calls weren't that either.
"If I had to break it down into percentages, I would say probably 85 to 90% of the callers were lonely and they were looking for connection, and they just wanted somebody to talk to," she said.
A lot of them were quite old, some disabled. They weren't in tears or afraid, no real crises, Kautz said, they were isolated and bored. Some of these callers even became regulars, calling several times a day, tying up the lines.
"Sometimes, we had to set up rules with specific callers where they created a formal agreement with our director that said, 'I will call for up to 30 minutes at a time, twice a day, once in the morning and once at night,' and we agreed to this to stop them abusing the line," she said.
And while people who were not suicidal kept calling, a great many people who actually were never did.
Connecting, but not in the expected ways
John Draper heads up the National Suicide Prevention Lifeline, the big umbrella organization that coordinates local efforts.
"You know, frankly, there's about over 13 million people who think seriously about suicide every year," he said.
But only some 2 million people call the hotline, Draper noted. "We're only reaching a fraction of the number of people who are suicidal."
The lifeline works a bit like a switchboard. Anyone, anywhere, anytime can call the same 1-800 number and will be routed to a crisis center. It could be in the next town over or across the country.
You might think the number of calls to the hotline would be a barometer of sorts for how the country is doing, a mental health reading at the population level. You might think that, with the COVID-19 pandemic, the phones would be ringing off the hook. More people thinking of suicide, more calls. But it turns out that's not really the case.
"I don't know if it tracks directly so much with suicidality and an increase in suicidality as it does with market penetration and awareness," Draper said. "More people become increasingly aware of what we do, and if they become aware, they call."
A prolonged national trauma like, say, a crushing once-in-a-century pandemic doesn't increase calls. Ad-buying does — commercials. It's as if a fire department got calls based on how many YouTube ads it placed at any one time, as opposed to how many fires were actually burning.
Paul Gionfriddo heads up Mental Health America, a nonprofit. He saw the smoke.
"What was interesting to us is that we started looking at this in real time," he said.
His group does not take calls; instead, it's been putting out an online mental health screening for several years. It's engineered in a way to pop up in your search, even if you don't know you're looking for it.
"We've search-engine optimized this," Gionfriddo said. "A lot of times, people don't know what question to ask. Sometimes, they're going on and saying, 'I'm feeling low,' you know, 'I'm depressed, I'm worrying too much' might be something that somebody searches. 'Stopping stupid thoughts' is a term that we found that people will search on."
It turns out we're very honest with Google. People search these things almost like confessions, or virtual prayers. Lots of them end up finding the survey Gionfriddo's group puts out, which is basically identical to a mental health screening you'd get at a doctor's office.
If people take the survey and the results suggest they have a mental health issue, they get a message suggesting that they seek care. Think of it as a gentle digital nudge.
What these screenings found over the past spring was unprecedented.
"And literally, on the last week of February, when people in the United States began to get a little nervous about what was going on, we saw a rapid increase in the number of people who are screening in general and also the number of people who had anxiety and depression," Gionfriddo said.
Anxiety went up first, then, as the months indoors dragged on, depression.
More than 48,000 Americans die by suicide every year. In May alone, Gionfriddo's group found, 21,000 people were having almost daily thoughts of suicide and self-harm.
It's scary, but Gionfriddo said seeing those numbers in the screener mean people are being noticed sooner than they would have been — long before they might dial up the suicide hotline.
The whole point of the screener is getting people to mental health services before all that.
"'We have to act before stage four' is the way to put it for people who are listening. It's like with cancer, with heart disease, we don't wait until stage four, but with mental health conditions, we have waited traditionally till stage four to start treating them after people are in crisis, after people are a danger to themselves or others," said Gionfriddo. "It's way too late, and we need to rethink that whole system and the whole approach."
A need to recalibrate rather than react
This problem is not lost on John Draper, head of the lifeline organization.
"Most of the people who enter the mental health system typically do it when they're in crisis, and they do it when they're in crisis, because you don't really know what mental health is until you don't have it," Draper said.
Lots of us get check-ups with our primary care doctor, regular teeth cleaning at the dentist, but far fewer have a therapist or a counselor that we can check in with from time to time.
Mental health care in this country is still not integrated into general health care. And this manifests in what happens after someone actually calls the hotline — the kind of support they get after they hang up. A couple states have an ideal system Draper describes as "care traffic control."
"Where you call in and you can not only get de-escalation and brief counseling in the moment, but also get mobile crisis outreach if needed, also get appointments scheduled," he said.
But that kind of deeply integrated system is uncommon. Most people would just get referral instructions, and it would be up to the callers to make appointments, to go on from the call to get help on their own.
Jonathan Singer is president of the American Association of Suicidology. "We talk about mental health care services as if it is this well-coordinated system, but it's not," he said. "Mental health services are absolutely a patchwork."
The limitations of a national hotline system have a lot to do with mental health resources in general.
"The idea of having a national system is something that the government tried to do. I think it was in 1963, when John F. Kennedy signed the community mental health centers act," Singer said. "And the idea was we're going to close psychiatric institutions and take the money that we're paying to house people in psychiatric institutions, and we're going to create mental health centers around the country that are in the community."
Only problem? That second part basically didn't happen. Funding never materialized. It's part of the reason so many in crisis first enter the mental health system by calling a hotline instead of through a routine doctor's visit.
The experts say the hotline may get a shot in the arm with 9-8-8. The idea is you dial those three numbers from anywhere in the country, just like you would 911, and you're connected with the lifeline.
And mental health care itself is becoming more democratized. You've probably seen ads for text-based therapy, which is only growing more popular in our socially distanced world. The hotline is working with that kind of technology to try to get more people to dip their toes into the mental health care system before they're right on the edge.
Kautz, who worked at a hotline call center when she was younger, said she knows the current system is far from perfect, but she thinks it's still worthwhile.
"I would do that again in a heartbeat, and I would probably have this whole experience again as well," she said. "I don't feel like I helped people in the way that I set out to do or the way that I expected to do, but I still ended up helping a lot of people. Some were people on the phones, some were people in my life. And I learned a lot about myself and a lot of coping techniques.
She has put a lot of what she learned in training to use offline — with friends of hers who were having a hard time. We all know people in crisis. If you can't rely on a hotline to save everyone, she said, we can at least try to rely on one another.
If you or someone you know is in crisis, call the National Suicide Prevention Lifeline at 1-800-273-8255.