This story is from The Pulse, a weekly health and science podcast.
Find it on Apple Podcasts, Spotify, or wherever you get your podcasts.
---
It was a few months into the pandemic, and people were dying at an unprecedented rate.  It wasn't just COVID-19 patients at overflowing intensive care units, it was on our roadways.
Motor vehicle deaths spiked during the early months of the pandemic. Drivers were being killed at a rate not seen in over a decade. All this was happening during a time when far fewer people were actually on the road thanks to quarantine measures, city-wide lockdowns, and emerging work-from-home schemes. The deaths per mile driven rose more than 20 percent compared to 2019 according to federal data. Nearly 40,000 people died in car crashes in 2020.
To understand how this happened, I visited the most dangerous street in Philadelphia: Roosevelt Boulevard.
Pre-pandemic, it claimed more lives than any other roadway in the city. 
It's 12 lanes wide, kind of like a highway, but in the middle of a city. It barrels through Northeast Philadelphia — a dense neighborhood. There are row homes, people's front porches just feet from the curb, there are turn offs to people's driveways, to businesses and restaurants. The speed limit is posted between 40 to 45 mph, but cars are blazing up and down the road.  
"You want to drive it like you're driving the interstate, but it's not an interstate and it's not designed like an interstate. It's designed more like a parkway," said Kelley Yemen, Director of the Office of Complete Streets for the City of Philadelphia. "So you've got this mismatch of all these different design elements … because it kind of grew organically, that have led to this dangerous situation."
Yemen says "the boulevard" as most people here call it, wasn't intended to be the monstrosity it is today. It grew bit by bit, growing wider over the decades.

I ask her about these national trends. She tells me here in Philly, it was worse, much worse: We saw an 80 percent jump.
"We know that speeding is very related to the survivability of a crash. If a crash is to occur at 20 miles an hour, there's a 10% chance that somebody will die — at 40 miles an hour, that jumps to 90%," she said. "So as speeds increased, as the roads were more open and people were able to go faster in their vehicles, whether it was a vehicle running off the road, a vehicle-on-vehicle crash, or a vehicle hitting a pedestrian, those were all more deadly." 
Yemen thinks what happened is fewer people were driving, so people drove faster. Traffic, as much as we might hate it, functioned like a safety system. With so many people staying home, that system shut off.
"Our roadways are designed to operate for peak hour commuting behavior so that people can get to and from where they need to go, especially at those kind of crush periods where we have a lot of people on the roadways," she said. "It's why we also see roadway fatalities tend to spike at night in overnight hours where we again have open roadways."
At higher speeds, experts say, your field of attention as a driver narrows. You see less of what's on the periphery of the road, focusing instead farther down the length of it. And, of course, at higher speeds, your window for reacting to a car pulling out or a pedestrian is reduced. It's a fatal recipe for collisions.
Yemen says the city noticed a huge spike in fatalities starting around July 2020, as restrictions loosened. 
That is, except for one single, notorious roadway. The fatalities spiked everywhere, except for Roosevelt Boulevard. 
"Roosevelt Boulevard is by far our most dangerous roadway with the highest number of crashes, fatal crashes. But at the same time as COVID and the transportation world in general was changing, things were changing on the boulevard," she said. "And automated speed enforcement was installed and became operational in June 2020. So right as we were seeing the peaks and the spikes in the rest of the city, we had a beginning of leveling off on the boulevard."
It's not as if officials saw the carnage of pandemic-fueled fatalities coming, they were just as surprised as anyone. It was just dumb luck, it turns out, that the cameras went up a month before fatal crashes should have.
It took years for those cameras to be installed. And it also took tragedy. It struck the family of Latanya Byrd.
"So what the witnesses here said was all they could see was all this debris going up in the air in a row, not realizing that it was my niece and the kids," she said. "They got thrown so far."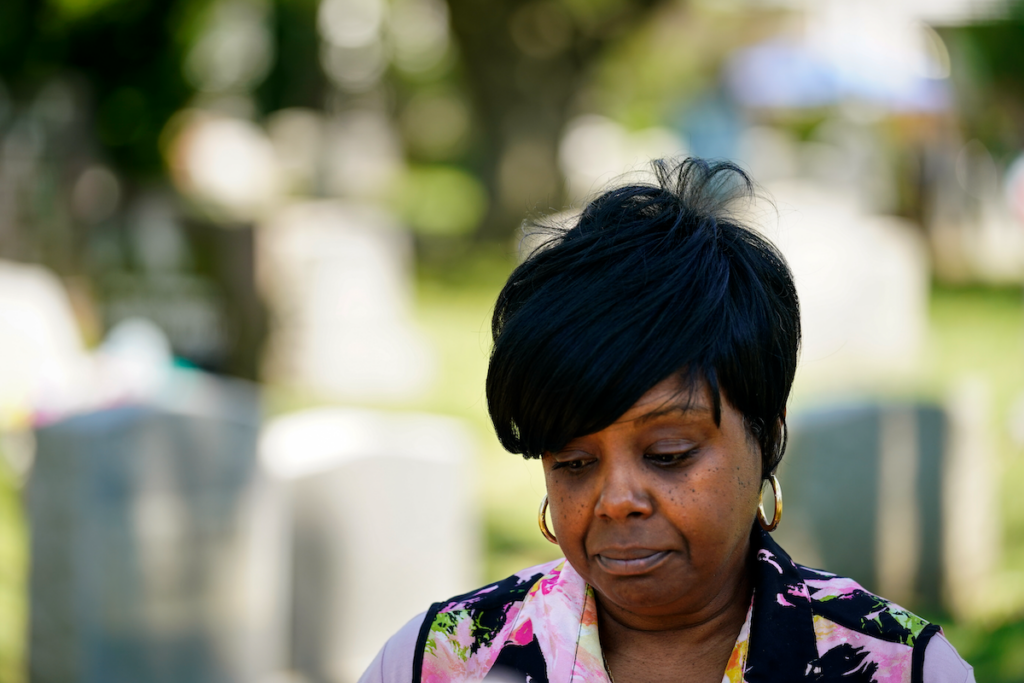 Byrd works in administration for a technical school, but she's had another full-time job for years — advocating for a safer boulevard. She was drafted into this fight when she lost her niece, Samara Banks, and three of Samara's' children, Saa'mir, Saa'sean and Saa'deem. They were killed by a speeding car while crossing the boulevard in 2013.
"They were on their way home. They were walking and no cars," she said. 
Samara had one child in a stroller and another held in a wrap. Saa'deem had been just ahead of them.
"Saa'deem was like, 'I want to be on my mommy,'" Byrd said. "So he ran back and so Saa'deem held her hand. "The car struck the family moments later, right at the edge of the road."
"Samara, based on the accident investigation division, their data said she only needed like one more step," Byrd said. 
Byrd has been telling this story for years; to reporters like me, to lawmakers in the city and at the state capital. Local politicians and a bicycle coalition heard her story and asked her to help lobby for speed cameras.
"I want people to know, you hear a crash or accident, don't just think it's just, 'Oh, it happens.' No, these are people," she said. "Her body was mangled. It was so bad."
The story isn't an easy one for her to tell, even after all this time — even after telling it so many times. 
She calls what happens a kind of violence: traffic violence. It's a term I hadn't heard before, but I can understand it hearing the story of her family. The unsympathetic, uncompromising physics of a ton and a half of metal and glass striking the human body at high speed.
Byrd has seen it, and she can't unsee it. 
She has the citizen app, which tells her anytime there's a crash nearby. Her friends tell her to delete it because every ping gives her that same sinking feeling, knots in her gut.
"It's hard for people, you know, it's just a feeling you get, like I have chills, and it's just a whole thing that comes over your body when you think about it," she said. 
Byrd helps run a support and advocacy group for people who have lost loved ones on the road. Like her, many of them never gave our roadway designs a second thought before whatever tragedy befell them. 
The 'stroad'
Daniel Herriges is an urban planning expert and editor-in-chief for Strong Towns, a website and advocacy organization.
"There's some kind of a truism that the ultimate mark of success of an ideology is to not even be recognized as an ideology, to just be as invisible as, you know, water is to a fish," he said. "And I think that that is what has happened with some of the assumptions of the automobile era.
He's talking about how we don't really think about poor road design in our everyday lives. He calls these arterial through ways like Roosevelt Boulevard "stroads," a portmanteau of street and road. Stroads, he said, are like the futons of motorway design.
"In the same way that a futon is an uncomfortable couch that turns into an uncomfortable bed, a strode is bad at being a street and it's bad at being a road. It's this middle ground that does nothing well," he said. "The idea is that we have two different functions for these public thoroughfares in cities, and we don't often distinguish between them very well." 
A road, the way Herriges uses the term, should be something like a highway. Cars moving quickly. With on and off ramps and gentle curves, no intersections. A street is like your slow neighborhood lane, lined with driveways to people's houses or restaurants and cafes.
Stroads, the kind of unholy combination of the two, end up being pseudo highways within cities. Where speed meets traffic lights and turn offs. Whether you live in a city, a small town, or out in the country, you probably have a stroad. You can tell you're on one, Herriges said, if you don't feel comfortable walking alongside it or heaven forbid, trying to cross it. 
"They're ubiquitous because everybody's using the same engineering manuals. And there's sort of a conventional wisdom in the traffic engineering profession that arose during the early years of mass motor vehicle ownership," he said. "[In] the 1930s, the 1940s cars are becoming this ubiquitous thing that everybody in the middle class has and engineers become confident that they can re-engineer the city and re-engineer our transportation system around this assumption of mass car ownership."
That meant designing streets for one thing: speed.
"The fundamental insight that I think people don't automatically have is that the purpose of many, many streets in our cities should not be to move cars," he said. "Cars are allowed on them. They do move cars, but that's not their fundamental function." 
The organization Daniel works for, Strong Towns, has been lobbying against the stroad for years before the pandemic, where data shows they accounted for the lion's share of deaths.
Another advocacy group, Smart Growth America, says not only have they been bemoaning the stroad for years, they say they saw the upticks in deaths coming. They knew it would happen if the strode was opened up, free of the traffic that acts as a speed bump.
Speed versus safety
"When you put your thumb so thoroughly on the scale for the people trying to jet through the community, knowing that there are a lot of folks that need to move around, often on foot within that community, it's a marvel to me that the result is a surprise to anyone," said Beth Osborne, Smart Growth America's vice president. 
I told her about how the traffic fatalities stayed stable on Roosevelt Boulevard after the speed cameras were installed. She says the fact that fatalities still stayed high speaks to this bigger problem with speed itself. Like forget about reducing speeding, we need to reduce the speed limit. 
"And as a society, we are not ready to grapple with if you're going to insist on high speeds for your driving pleasure, for your sense or perception of convenience, then you have decided safety is your lowest priority. Full stop," she said. "That's just physics."
Her organization is studying pedestrian deaths during the pandemic and why they shot upwards. 
Walking became one of the few things you could do outside your house during lockdown. The problem is a lot of people stepped out for that fresh air only to realize their towns, cities, or neighborhoods weren't very walkable. 
"So, there was interest in walking everywhere," she said. "But areas that were safer before stayed safer and areas that were less safe before got much more dangerous."

She makes the point, though, that stroads like Roosevelt Boulevard, only make up some 15 percent of roadways despite accounting for the lion's share of deaths. That means, she says, they are a good place to start.

Byrd, who lost her niece and her niece's young children, says after this pandemic year where so many people lost loved ones, there may finally be some will to change things.
"So the community is saying, 'Hey, we need this in our neighborhood now,' before they might say, 'Oh, we don't need it,'" she said. "But now it is hitting home like it hit home for us nine years ago." 
She hopes more people are seeing what she sees when she looks at streets like Roosevelt Boulevard, seeing the true cost of speed. And she keeps advocating for safer streets, talking to anybody who will listen. 
"I haven't gotten paid a dime for anything. And I do this because I feel like I have to," she said.  "I have to do it because I know my niece, I know, Samara, Saa'deem, Saa'sean, and Saa'mir did not die in vain."
WHYY is your source for fact-based, in-depth journalism and information. As a nonprofit organization, we rely on financial support from readers like you. Please give today.