How cars took over our cities, and how some are fighting back
Listen
13:37
Tucked away in a dense New York neighborhood is a city street that feels more like a playground at recess.
It's filled with kids — skating around, playing tag and soccer — because it's completely devoid of cars.  Almost a whole block of 78th Street in Jackson Heights has been closed to traffic since 2011.
Eight-year-old Alexandria Awafi and her friends pass around a volleyball. This is her favorite part of the neighborhood.
"Because, like, it's large. So I get to have space to play soccer and other different sports," she said.
Jackson Heights is a diverse, densely packed part of Queens. It has far less park space than almost every other city neighborhood. Alexandria's cousin Sara Awafi is old enough to remember playing on this block before the closure.
"It wasn't really much, and it was kind of hard because of the cars passing by," she said. "Like I was kind of scared, because let's say a ball like flew over, you know? I didn't want to be in the traffic."
When the city blocked off the street for the first time, Sara said, it was weird.
"It was a good kind of weird," she said. "I don't know, because like we're not used to it because we were so used to cars."
Locals don't think it's weird anymore. In fact, they want more of the street, and they're fighting for it.
They've been holding rallies since March, with kids and adults marching together chanting, "Whose streets? Our streets!" and "Hey hey, ho ho, all these cars have got to go!"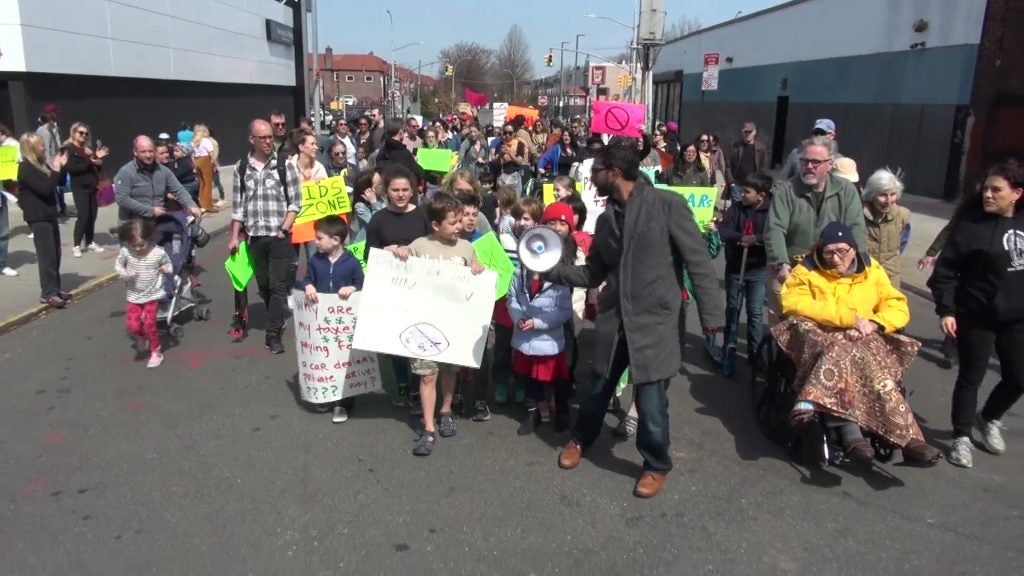 City officials had promised to close the whole block eventually. Standing in their way now, of all things, is a car dealership at one end.
The dealership opened last year, and wants to keep cars flowing in and out of a service entrance.
They didn't respond to requests for an interview.
But locals refuse to back down. A woman from an earlier protest sums it up in a video shared on Facebook: "We're not gonna give up one inch, not one inch."
A group of activists first started working on closing the street more than a decade ago. There was a lot of pushback.
"There was fear that we were gonna cause traffic on adjacent streets by pushing the traffic around. Fear that we were going to lose parking places," said Donovan Finn, an urban planner who lived in the neighborhood. "There was fear that all of a sudden there's going to be like gang turf battles in the street."
He was part of the push to close off the street. Gatekeepers, as he called them, city officials, community board members, thought they were nuts at first.
"When you tell people you're going to close a piece of street, I think it just creates this situation in their mind where they just can't fathom it. They just can't imagine it," he said.
The thing is, Finn was waging a kind of insurgency in a war cars had won decades ago. It was a battle over who the streets were for, and about 100 years ago, it was life and death.
Before cars ruled the roads
Peter Norton is a technology historian and author of "Fighting Traffic," a book about how cars made their way into our cities in the first place. He's an associate professor of history in the Department of Engineering and Society at the University of Virginia.
"The automobiles were killing people at an incredible rate,"  Norton said. "In the large cities, that would have been three out of four people killed by cars were pedestrians. Many of them are children."
Back then, he said, cars were seen as these pleasure machines reserved for the reckless and the ultra-rich. And people had different ideas about what a street was supposed to be in the 1910s.
If you had taken a satellite photo of an older city back then, Norton said, you would have seen a lot of the same grid patterns we see today. But at street level, it was a different world.
"There were no lanes, no center lines, no line markings. People could stroll where they wanted," Norton said.  "And I think it would have given you the impression of being something like a busy, small public park."
New York's Museum of Modern Art has a black-and-white film of Manhattan streets shot in 1911. The first thing you notice is everyone is wearing a fancy hat of some kind, even the kids. And the second thing is that the streets are filled with people.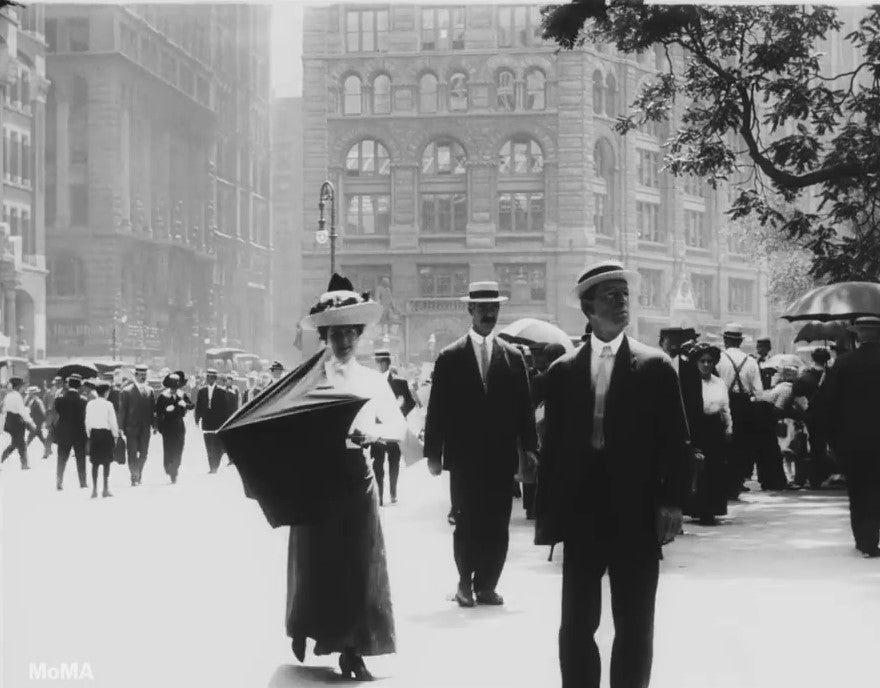 There are the occasional streetcars or Model Ts, but no one looks out for them or even makes an effort to get out of the way. Probably because early traffic laws made cars super slow.
"Cars were in the 8 to 10 mph range, I mean extremely slow by our standards," said Norton.
If you can just outrun a car, you're not going to buy one. So a couple things started happening.
First, car companies lobbied against laws restricting automobiles and for laws restricting pedestrians.  The crime of jaywalking was born.
Kansas City tried strict enforcement in 1912. People used to owning the street were offended, and angry.
"There's one episode where women struck police officers with their parasols for being told not to walk in the street," said Norton.
So officials, he said, added an element of public shaming. In Los Angeles, one official focused on women.
"He even recommended that, if it was a woman jaywalker, that the police officers should pick her up and carry her back to the curb because he said this would be so humiliating, and that it would prevent her from jaywalking ever again and anyone who saw it would be horrified," Norton said.
At the same time, electric streetcar networks were in decline as coal prices rose. It became cheaper to ride in a jitney, a low-cost, unofficial taxi — think Uber before Uber.  And cars got cheaper, too.
"Even though still relatively few people were driving their own car to work, it didn't take very many of such people to get in the way of the streetcars," said Norton.
Public transit was getting stuck in traffic, and becoming less convenient.
In the 1950s lawmakers subsidized thousands of miles of highway with the National Interstate and Defense Highways Act. Part of the rationale included the ability to move tanks quickly in case of invasion.
But the final victory for cars, Norton said, was a psychological one that started with kids.
By the mid-'20s, the top funder of public-school safety education was the American Automobile Association, commonly known as AAA.
"They took over the safety patrols and helped kids cross the street safely," he said. "And their message to children was streets are for automobiles."
When these kids grew into adults, that was ingrained in them. They simply knew the streets were for cars.
Norton isn't a big fan of cars. You'd expect him to bike to the office — he works in, Charlottesville, Va.,  a sprawling college town. But, no, he backs out of his driveway in a four-wheel, internal-combustion automobile.
"And I think that, quite arguably, makes me a total hypocrite," he said. "But my answer is that, like other people, I have to live in the world."
Cars won, that's the world we live in.
Public investment in cars has come at the detriment of other ways to get around, Norton said.
Millions like him have no train they can walk to, no reliable bus. They can't pedal along a freeway from the suburbs. Even in big cities, public transit is often underfunded and struggling.
But is the automobile victory a permanent one?
Rethinking the roads
Sam Schwartz, also known as "Gridlock Sam," has been studying traffic for decades. He's the New York urban planner who coined the term "gridlock."
"Somewhere around 2003, 2004, I began to notice that people were driving a little less in New York City," he said. "And soon I began to notice they were driving less in cities around the country."
He said driving had dipped before, during the Great Depression or the World Wars, but it always recovered and grew very quickly.
Driving also decreased during the latest recession, which Schwartz said was expected. But then, after the recovery, when you'd expect rates to shoot right back up, they didn't — and that hadn't happened before.
"The drop was in the millennials. Millennials would [be] driving 20 to 25% fewer miles, not just 1 or 2%, very gradual shifts," he said. "This was a quantum jump."
Federal data shows driving rates continued to drop except among the poorest millennials. Schwartz said that tells him younger Americans are rethinking their relationship with cars.  Cars may not be part of the American dream for them.
Cities are also thinking about reducing reliance on cars. And it's not just the usual suspects, like New York and Chicago. Smaller cities are reaching out to Schwartz's design firm for advice, places like Fargo, N.D., and Grand Rapids, Mich.
They want to know how to get by with fewer cars. Schwartz knows a thing or two about that. In the '70s, he tried and almost succeeded in getting cars out of a huge chunk of midtown Manhattan, 37th Street to 57th Street from Third Avenue to Seventh Avenue. It was called the Red Zone.
"All cars were going to be banned from 11 a.m. to 4 p.m.," he said.
He got as far as stamping out the signs. But a new mayor scrapped the idea at the last minute. Hotel owners had pushed back — it was just too radical. Instead, only Madison Avenue closed, and only temporarily, starting on Earth Day.
"And all the Mad Men and Mad Women of the early 1970s came out during lunchtime with sandwiches, picnics, bottles of wine [to] enjoy the fresh air on Madison Avenue that probably hadn't been seen in nearly a century," Schwartz said."
The picnics came and went, but Schwartz said his ideas aren't so radical anymore. It's not a car ban, but in April New York officials announced congestion pricing was coming to Manhattan.
The details aren't hammered out yet, but basically most private cars would end up paying fees — likely to be $10 to $15 — to enter the most congested parts of Manhattan. The tolls would then go to public transit. The idea is less car traffic in urban cores. And it's worked to reduce traffic in Singapore, London and other cities abroad.
American cities are watching New York's experiment, and with good reason: In big downtowns, cars are slowing to a crawl.
The average speed in midtown Manhattan last year was just 4.7 mph. That's slower than your average jogger.
Experts point to the influx of Lyfts and Ubers — more solo car trips.
Schwartz thinks we're at a crossroads. Younger generations aren't as in love with cars as their parents were, and we can't pave our way out of congestion anymore.
"Over almost 50 years, what we've seen is the failure of trying to build more roads," he said. "If we go to Houston, where they kept widening the Katy Freeway to the point where now it has 26 lanes and the traffic is worse, it didn't work."
The Katy Freeway expanded in 2008, and it's likely still the world's widest freeway. Traffic did get better at first, but eventually slowed back down.
Lynn Richards, president of the Congress for New Urbanism, said cities can do better than that.
"Do you get up in the morning and you're like, 'Thank God, I get to go sit in my car for an hour in traffic?' " she asked. "Nobody wants that as an outcome."
The Congress for New Urbanism is a collective of engineers, policy wonks, and scientists. They fret over what cars have done to our cities and, by extension, our health and environment.
But they're not anti-car, exactly. They just oppose prioritizing them over other kinds of transportation, such as putting highways before rail lines, and parking over bike lanes.
"It's like, I'm not asking to give up your car. I have a car.  I like my car, I drive my car," she said. "I also love the fact that I can get to work faster on my bike than any other mode of transportation. So we're talking about creating choices."
Richards said public fear is the biggest obstacle to reclaiming streets from cars. To get around that, she promotes something called "tactical urbanism."
Essentially, that means starting with small car-free spaces and making them temporary — at first.
"If you wanted to narrow a street in a downtown area, instead of, 'Oh my gosh, what happens to the parking, et cetera, et cetera,' you use hay bales and temporary seating and paint to …  transform the street," she said.
And 78th Street in Queens? That started as a temporary thing, too. It was closed for a few days at first, then summers, then years.
"Very quickly, kids are learning to ride bikes here, people were having birthday parties for their kids," said Finn, the urban planner who was part of the push behind the closure.
"People were having picnics on this asphalt. It's not really that inviting, but they were doing it," he said. "People were having soccer matches."
The most encouraging thing to him? The kids on 78th Street that have never thought of it as a street.
"To them, this is just how it is and how it would always be," he said.
They're growing up learning at least one street isn't for cars, it's for them.


WHYY is your source for fact-based, in-depth journalism and information. As a nonprofit organization, we rely on financial support from readers like you. Please give today.