Forging family through adoption
Tara and Alan Atchison couldn't have biological children. Here's how they made a family anyway.
Listen
06:53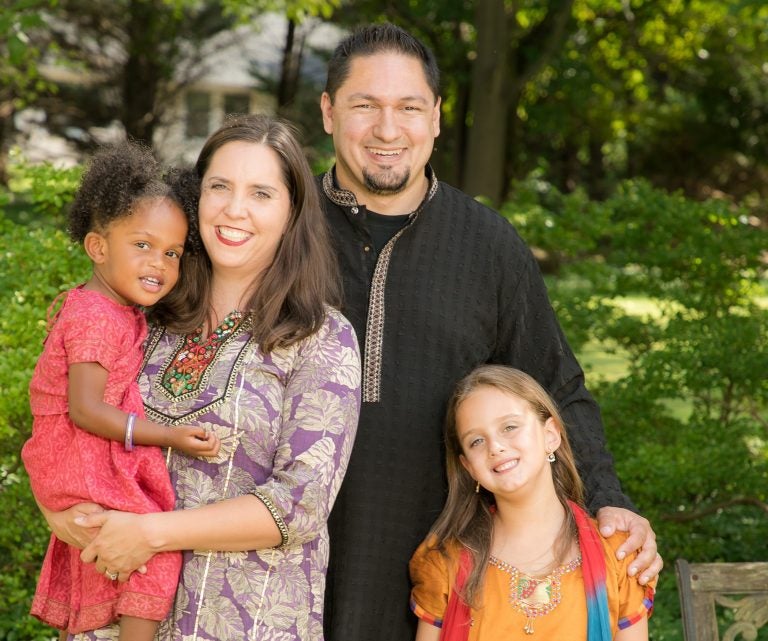 Before they got married, Tara and Alan Atchison knew that Tara couldn't get pregnant. They wanted kids eventually, but decided they'd figure out the "how" later on.
"I mean it's nice to start off knowing that we're not gonna come back from our honeymoon and like, 'oops pregnant,'" Alan remembers.
But, a few years into their marriage, it seemed like everybody they knew was having a baby.
"I was just really sad most of the time," Tara said. She found herself withdrawing, crying in private.
Alan felt angry, more than anything else, a bitterness he was having trouble ignoring.
They kept their feelings to themselves for a while, worried they'd upset each other, until it all bubbled over on a car ride.
"This is not me saying I regret marrying you," Alan told Tara. "It's just, this is hard. This sucks. And I'm grieving this right now."
Tara was relieved that everything was out in the open.
"That was good, to be able just be honest with each other," Tara said.
They were pretty sure that they'd adopt. They started meeting with others who'd become adoptive parents to get a better sense of what it was like.
Alan remembers seeing one dad hold his adopted son, who was fast asleep, and thinking: "You know, he had nothing to do with the bringing of that child into the world at all. But that kid is hanging onto that man because that's his daddy. There's nobody else he wants to cling onto when he's tired and he's feeling at the end of himself."
The Atchisons worked with an adoption agency, jumped through all the necessary hoops, met with expectant mothers. Along the way, they had several potential adoptions fall through — two moms changed their mind and decided to parent — and the process was, at times, pretty painful.
But then they met Kaylin's birth mom. (We aren't including her name for her privacy.)
"Immediately when we walked in the room, there was just this instant, kind of like, affection that was there," Tara said. "It's completely hard to describe."
On the car ride home, they got the call: Kaylin was theirs to adopt, once she was born. The social worker said that her birth mom had felt the baby jumping and kicking during the whole meeting.
Tara and Alan pulled over to the side of the road and cried.
Kaylin was due in a month, but she came three weeks early. When Tara and Alan showed up to the hospital, Kaylin's biological grandmother was waiting for them. She said, "Kaylin's been doing really well, eating and sleeping well. She's just been waiting for her mom and dad. And here you are."
They'd agreed on an open adoption. As Tara and Alan left with Kaylin, they told her birth family, "If you want to, just call us. You don't have to feel like you're intruding."
They went home, now a family of three. Tara says she bonded with Kaylin quickly.
"Watching her sleep and take little tiny baby breaths. All those cutesy baby moments that you dream about, that we were actually getting to live together, as parents those [were] really meaningful to us."
But Tara says one thing was surprisingly hard: she began to feel some of the birth mother's pain and loss.
"We had come to know Kaylin's birth mom a little bit, respect her, feel really honored that she chose us to parent her daughter," she said.
Tara says that, even though Kaylin's birth mom had decided adoption was the best thing for the both of them, giving Kaylin up must have been extraordinarily difficult.
"One thing that the culture at large can miss is that adoption is often born out of grief and loss. That reality crept up in certain moments," Tara said.
Alan loved Kaylin from the beginning, and was ready and eager to take care of her. Still, he says at first, he felt a little bit like it was inappropriate to be bathing or changing this new baby. "We didn't have those nine months to prepare, with pregnancy and going through ultrasound pictures and seeing her delivered from Tara's body. So there was this feeling of, oh, is this right? When of course, as her dad, it's totally appropriate."
A month in, those feelings began to fade. "In those following days, I went from just loving her to really just falling in love with her. Like, this is my baby girl," he says.
The Atchisons eventually paid a visit to Kaylin's extended birth family. They'd met some of them before, and, thanks to Kaylin, they felt a certain connection. But, for the most part, they were strangers. Tara and Alan were nervous.
But, again, when they walked into the room, things immediately softened.
"When we got to see Kaylin being held by her birth mother, it was just beautiful to us," Alan said. "It was a beautiful affirmation of where we were together, as a triad, as a unit. And we didn't feel the jealousy of, that's her 'real mom' (which is a term we really don't like)."
Both Alan's parents and Tara's parents came as well. "It was kind of like, let's just bring everyone together all at one time. Let's make it wild and crazy," Tara remembers.
"And crazily enough, everyone just got along, and it was like this big happy family. Kaylin was the one bringing us all together, essentially, making us a family out of people that wouldn't have been otherwise."
WHYY is your source for fact-based, in-depth journalism and information. As a nonprofit organization, we rely on financial support from readers like you. Please give today.