Emmy nod for '50 Children' film on Philly couple's rescue of Jewish kids on eve of Holocaust
Listen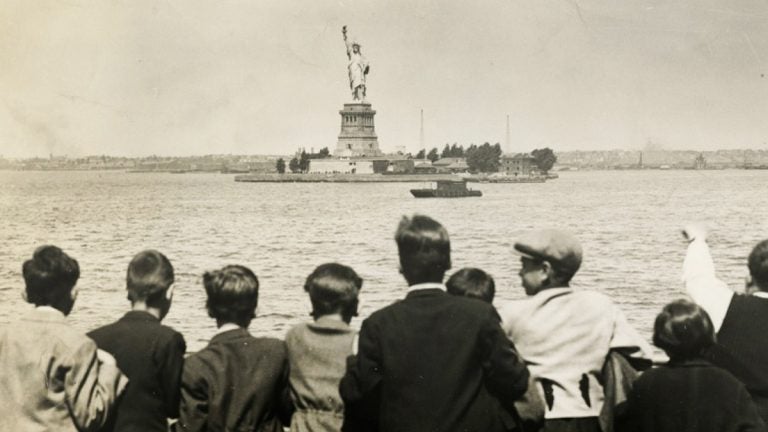 The story of an ordinary Jewish couple, Gil and Eleanor Kraus, who traveled from Philadelphia to the heart of Nazi Germany and rescued 50 Jewish children was told in the HBO documentary "50 Children: The Rescue Mission of Mr. and Mrs. Kraus."
That film was nominated this week for an Emmy in the category of outstanding historical programming.
NewsWorks Tonight host Dave Heller spoke with the filmmaker when his book of the same title was published earlier this year.
"When my wife and I first met several years ago and she shared this with me, I didn't believe it," said Pressman. "You know, an American couple from Fitler Square winding up in Nazi Germany."
Pressman's book details the journey of the Philadelphia lawyer and his wife to Vienna to bring back 50 children on the eve of the Holocaust in 1939.
"Once they got to Vienna, Gil and Eleanor quickly realized that there were hundreds, if not thousands, of families who were desperate to leave Vienna. The parents were hoping against hope to send their children off with Gil and Eleanor," says Pressman. "So Gil has this herculean task of choosing out of all of those children the 50 that he knew he was limited to."
Among the many bureaucratic hurdles was the extensive anti-Semitic sentiment in the U.S. at the time, which appeared even in the ranks of government.
"The U.S. State Department was filled with folks who were quite openly anti-Semitic and had little interest in allowing at least large numbers of Jewish refugees into this country," Pressman said.
There were some helpful officials in the State Department and in Congress who helped the Krauses "back channel" the Jewish children. About half of them are still living today.
"They're all in their mid- to upper 80s, some of them are quite vibrant … children, grandchildren, and, in some cases, great-grandchildren," Pressman said. "So it's been quite a legacy for Gil and Eleanor themselves, in terms of the lives saved from those original group of 50 children."