1968: MLK assassination, riots, and the National Guard occupation of Wilmington
Listen
5:22
April 4 marked the 50th anniversary of the death of civil rights leader Martin Luther King Jr. The disciple of nonviolence was gunned down in Memphis, Tennessee, at the Lorraine Motel. King was in Memphis to support striking sanitation workers.
His death at the hands of James Earl Ray caused outrage and confusion across the country. How could a man who advocated the nonviolence principles of Gandhi become a victim of violence?
The blow was even more detrimental for African-American supporters of the civil rights movement and devotees of King, who too adopted the "turn the other cheek" mindset to accomplish the greater goal of equality.
"When Dr. King was assassinated, I felt that the forces of evil are really winning here," said Canon Lloyd Casson of Wilmington's historic Episcopal Church of Saints Andrew and Matthew.
The anger that raced through the black community sparked riots and looting in many American cities. Delaware's largest city, Wilmington, experienced it too.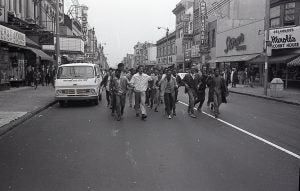 Moments following a memorial service honoring King in Wilmington on April 8, 1968, protesters took to the streets and unleashed their fury.
Casson understood personally why people were so angry. On the way home, said Casson, "There was a building near to where I lived. It was burning that quickly, and I remember thinking to myself, burn it down."
Looting, fires and riots spilled out onto several streets in Wilmington.
Wilmington's  police force, then-Mayor John Babiarz said in a 1998 interview with WHYY-TV, had things pretty much under control after several hours. But Babiarz thought city police could use some backup overnight, so he reached out to Gov. Charles Terry for help.
Terry, a Southern-style Democrat, sent in the National Guard. It was an unimaginable sight for Casson. "I still remember Monday morning seeing National Guard troops … It was almost unbelievable. It was unbelievable."
The National Guardsmen remained in Wilmington for an unprecedented nine months. Their occupation was the longest in any American city since the Civil War.
When the Guard finally rolled out, major issues remained unsolved, such as unequal opportunities in employment, housing and education that helped trigger the unrest.
Community activist Bebe Coker said in a interview this year that longstanding disparities won't be resolved until the root of the problem is diagnosed. "We haven't identified the problem yet, and the problem, quite frankly, is institutionalized racism, whether we like it or not," Coker added.
You can watch more from Coker and other community and political leaders who witnessed the 1968 Wilmington riots in "The Siege of Wilmington: Moving Forward 50 Years Later," which airs on Friday, April 6 at 5:30 and 11 p.m. on WHYY-TV. The program can also be viewed on www.whyy.org.