Include WHYY in your Legacy: Enrich your Community for Generations
WHYY provides an irreplaceable alternative to commercial media, serving five generations of Delaware Valley Residents since its founding in 1954. These are some stories of WHYY supporters who made the incredible decision to include public media in their legacy.
---
Paul and Vickie Marton with their dog Pee-Wee in Glen Gardner, New Jersey
Vickie and Paul's first public media experience was listening to "The Santaland Diaries," David Sedaris' unforgettable account of working as an elf at Macy's on This American Life. "I thought it was funny, delightful and, like nothing we've ever heard. I wanted to know more about the radio station that would have something on it like that.
Since that time, WHYY has become their constant companion. They begin their morning with Jennifer Lynn at 5:00 a.m. and listen to programs like On The Media while taking their dog on a walk or harvesting tomatoes from their garden. "We support WHYY because it has become more important to us every single day that public radio and public television are vital for our country, citizenship and democracy. We can't get a civil informed society that knows what is going on in our community without WHYY. It is the most important thing to us, and this is why we are leaving a significant portion of our estate to WHYY."
---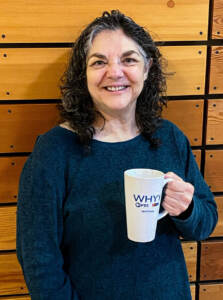 Dr. Josephson Abrams in Portland, Oregon
Some of Dr. Debra Josephson Abrams' earliest memories are listening to Ed Cunningham and watching the Philly Pops on WHYY New Jersey. As an adult, her career as an academic and English language educator took her all over the world–Washington, DC, Russia, South Korea, Colorado–and she always found a connection to home by listening to and watching WHYY. When reflecting on why she decided to include WHYY in her legacy, Dr. Josephson Abrams said: "I decided to support WHYY through a gift in my will because of the service it provided and continues to provide my hometown area. In the next 40 years, I want some other little girl growing up in New Jersey to be captivated by WHYY just as I was. In Judaism, we are committed to passing along traditions from generation to generation. This is what I want to pass on to the next generation. I want WHYY to be that option that my community can always go to as a stable force in the midst of any chaos. "
---
Bruce Wiley and his mother Voleta McNair at Villanova Graduation
"Mom required us to watch Channel 12 as a part of our television viewing. WHYY was telling stories that you couldn't find anywhere else, we watched civil rights speeches from our living room. Mom picked WHYY because it told the truth, and it helped me make the right decisions."
Bruce C. Wiley grew up in the North Philadelphia neighborhood of Brewerytown in the 1960s; his mother, Voleta McNair, a professional seamstress, encouraged him to pursue music, athletics, and volunteerism. Her efforts paid off—Bruce received a community scholarship to Villanova, where he played basketball, participated in the radio station and found his passion for communications. When Bruce decided to honor his mother's memory, he made a tribute gift to WHYY to celebrate the value that his mother placed on education, community, and equity.
---
Steven Alexopoulos in Yardley, Pennsylvania
"I appreciate that WHYY is commercial free and that it benefits the community with its objective reporting. The diversity of content is excellent. When I turn WHYY on, from PBS NewsHour or The New Yorker Radio Hour, I'm always surprised by the topic and learn something new. I like that it's always a different point of view. To be honest, I'd feel guilty if I didn't offer a contribution. I want to support things that matter, that are based on my values. Public radio is like an anchor. It's reliable and I know I'll get quality programming every time I turn it on.
Managing finances in a tax efficient way is important to most people and to that end a Charitable Gift Annuity was a great way for me to champion a worthy cause and realize certain tax advantages at the same time . WHYY and I both benefit and I think it makes a significant impact."