Video of Philly police bashing SUV, driver with batons sparks internal affairs investigation
So far, Philadelphia police have declined to explain what precipitated the incident and why the SUV's passengers, including a small child, were removed from the car.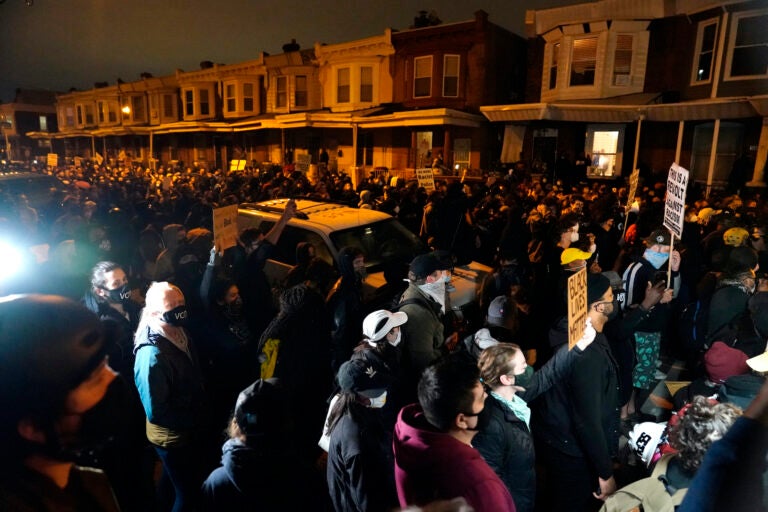 The Internal Affairs unit of the Philadelphia Police Department is investigating an incident in which a group of officers was caught on video swarming an SUV, smashing its windows and removing its driver and passengers from the car.
Video of the chaotic scene, first reported by The Philadelphia Inquirer, was posted to Instagram early Tuesday. It shows more than a dozen officers surrounding the vehicle along the 5200 block of Chestnut Street as a handful of officers can be seen using their batons to strike the car's windows.
An officer can be seen yanking the driver out of the car, then hitting the person with a baton. Another adult is also pulled out of the car. Moments later, another officer is seen going into the backseat of the SUV, then carrying a small child towards the sidewalk.
So far, the department has declined to explain what precipitated the incident, why the SUV's passengers were removed from the car.
The video was shot around 1:45 a.m. Tuesday by nearby resident Aapril Rice, according to the Inquirer. It happened hours after two officers fatally shot 27-year-old Walter Wallace Jr. on Monday afternoon, sparking protests against police brutality. Wallace, who was in the midst of a mental health crisis, was shot after his brother called for an ambulance, but police showed up instead, the family's lawyer said.
A police spokesman said Thursday that the department "is aware of the incident" and that "there is no further comment at this time."
During a news conference on Wednesday, Police Commissioner Danielle Outlaw told reporters she was unfamiliar with the incident, adding that the department will "have to look into it."
News of Wallace's killing in West Philadelphia sent shockwaves throughout the city, leading to large protests and some looting on Monday and Tuesday night. On Wednesday, Mayor Jim Kenney announced a citywide curfew between 9 p.m. and 6 a.m. on Thursday.
"We will not allow others to destroy property and further harm our communities," said Kenney.
Between Monday and Wednesday, police arrested 172 people on misdemeanor and felony charges, according to the city.
During the same span, 53 officers were injured. As of Wednesday, a female officer remained hospitalized.
Pennsylvania National Guard soldiers are expected to be in Philadelphia on Friday to help police quell the civil unrest stemming from the Wallace shooting, as well as protect property from potential looting, city officials said Wednesday.
Fire Commissioner Adam Thiel said more soldiers are expected on Saturday, though it's still unclear how many or how long they will stay.
"This is all dependent on the situation. If at any point, as we would hope to see, this activity stops … It's still very flexible so we can roll it back," said Thiel, who also directs the city's Office of Emergency Management.
WHYY is your source for fact-based, in-depth journalism and information. As a nonprofit organization, we rely on financial support from readers like you. Please give today.