NJ Spotlight's 2016 Best Cocktail bars in New Jersey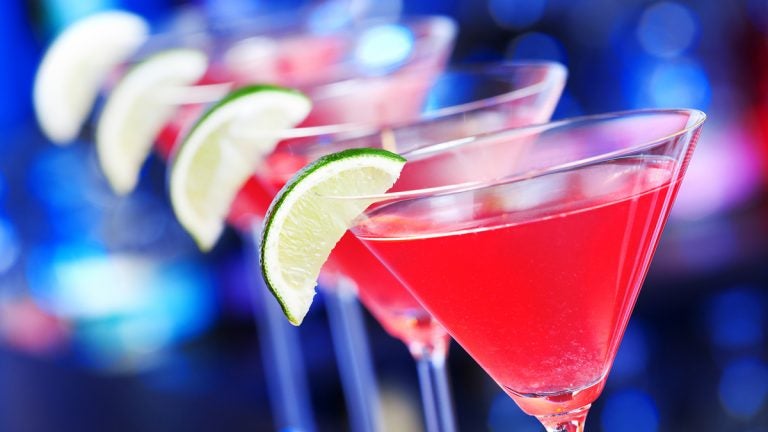 As the Libations columnist for "New Jersey Monthly" magazine, which sponsors one of the state's premier mixology competitions, I'm often asked where to find the most skillfully made cocktails. I'm pleased to report that while trends often take a few years to trickle down from New York and Philadelphia, for the most part our bartenders do better than one might expect when it comes to keeping up with the cool kids.
I've seen contestants spin liquids in centrifuges, serve drinks in lightbulbs, toast snap peas for flavor, and smoke glasses by setting wooden planks on fire. And that doesn't even begin to cover all the nouveau, retro, and sometimes odd ingredients our barkeeps are putting into those glasses.
Unfortunately, the southern part of the state has a lot of work to do to catch up with the central and northern areas, but innovation can be found there, too. All over the state, bartenders/mixologists are embracing the most contemporary techniques and ingredients and eschewing pre-made for fresh. In fact, fresh ingredients are de rigueur; if see your bartender pouring anything non-alcoholic out of a store-bought bottle, you have my permission to leave.
Here are some cocktail bars I believe are doing things in ways that far exceed average expectations. There are many others, of course. If we've missed your favorite, use the comments section to let us know what it is and why.
Southern New Jersey
BarWithNoName, Harrah's Resort, Atlantic City
It may not have a proper name but this year-old bar in the lobby of Harrah's is impressing locals with its nearly 300 spirits (mostly whiskeys) and a $500 shot of Glenmorangie Pride of 1978, which managers claim comes from the only bottle in New Jersey. Imbibers with a taste for heat appreciate the Fire Flight, reportedly made from three different whiskeys and a simple syrup made with toasted Mexican cinnamon and a secret recipe of spices.
The Farm and Fisherman Tavern & Market, Cherry Hill
Dedicated to a locavore ethos, this bar, overseen by acclaimed co-owners Josh Lawler and Todd Fuller, sources its fresh fruits and vegetables primarily from New Jersey and Pennsylvania orchards. The bar spans the family-friendly yet cosmopolitan dining room, the market, and the coffee shop, so patrons can have several different experiences while they sip barrel-aged cocktails and a Springdale Corn Smash made with grains grown on Cherry Hill's Springdale Farms.
The Iron Room, Atlantic City
Founding mixologist Lenny Schafer is arguably the best-known cocktail creator in South Jersey. At the Iron Room he uses of-the-moment spirits like aperol, mescal, and black walnut bitters to craft modern interpretations of classic drinks as well as novel concoctions. The Jumbi, made up of Bastille French whiskey, pilsner, cold-brewed coffee, and simple syrup, is one to try when it's on the menu.
Central New Jersey
90 Acres at Natirar, Peapack
Known for its exacting standards, 90 Acres doesn't slack in the cocktail department. Where else can you find a cocktail made with kombucha, or one made with matcha honey syrup and fresh celery juice? The staff is also revisiting the old standards with a Negroni on the menu and more than one drink made from cynar (artichoke liqueur).
Agricola, Princeton
In keeping with the spirit of the restaurant, multi-award-winning beverage director Carlos Ruiz sources as much as he can from the company farm and those nearby. He's among the few to pioneer the salubrious cocktail, in which he recalls foods like quinoa from his native Peru to stir up drinks that have restorative effects for ailments like colds and upset stomachs.
Avenue Le Club, Long Branch
Pay no attention to the 32-page wine list. International mixologist and director of operations Thierry Carrier brings the latest global cocktail trends to his beachside restaurant, nightclub and deck bar. Craving a sweet, frozen beverage? Rest assured that Carrier's staff spent the early morning dicing and juicing fresh fruits to take the place of syrups.
Barrio Costero, Asbury Park
Jamie Dodge, who made a name for himself by overhauling the bar program at Elements in Princeton, is running the show at this brand-new Mexican dining room. Not only is he ahead of the curve with his enviable mescal list, he also serves the agave-based drink as it should be: neat with an orange slice and sal de gusano (sea salt ground with toasted worms and chili costeno).
Catherine Lombardi's, New Brunswick
Co-owner Francis Schott is a master when it comes to Scotch, and his lengthy cocktail list reflects his fastidiousness and enthusiasm over all things liquor. Food & Wine magazine has rated this elegant bar as one of the 100 best places to drink a cocktail in America, and the menu not only traces the history of each drink but also shows what kind of glass it comes in. The downtown destination is one of the few places in the state (along with neighbor The Dillinger Room) to find the newly fashionable Mexican spirit sotol.
Le Malt, Colonia
Inside this unique lounge, formally attired servers push cocktail carts to patrons who, absent a proper bar, recline on low leather couches and settees. The interior is ornate, as it should be to match one of the state's largest and rarest array of whiskeys, plus cocktails chilled with perfectly spherical ice balls that encase organic orchids. Looking for a splurge? Go for the $175 Billionaire Cocktail, fashioned from cognac, Grand Marnier, champagne, moonshine, and 23k gold flakes.
The Ryland Inn, Whitehouse Station
Coworkers teasingly call beverage director Andrew Johnston "Chef" for his love of incorporating farm ingredients and house-infused organic simple syrups into his drinks at the inn's main bar, the Duck Bar. Johnston barrel-ages some of his cocktails and puts his extensive small-batch bourbon selection to work alongside unique ingredients like de-carbonated stout and chamomile-infused small-batch gin.
Watermark, Asbury Park
Long a bastion of the Asbury renaissance, this urbane seaside lounge may be the only bar in the state to design a special menu of low-alcohol cocktails. But that's not the only surprise. Bartenders make their ginger beer (a trendy ingredient) from scratch; infuse dozens of base spirits with peppers, teas and fruits; and mix up a whole line of alcoholic iced teas. What's more, instead of ordering a drink the usual way, patrons can select an infused spirit and decide whether they want it served neat, shaken with lemon sour, or poured with lemon sour and ginger beer on the rocks.
Verve, Somerville
Self-proclaimed "super beverage geek" Bryan Mack spends his free time studying scientific tricks that he can apply to his bar. Case in point: to prep for an Atlantic City cocktail competition, he and his partner spent days developing a perfectly clear ice cube and "milk washing" their tea and gin cocktail by adding whole milk and lemon to form curds that would suck out the astringency. At the bar itself, Mack is always thinking ahead of most of his peers by throwing black pepper into his creations and infusing rye bourbon with fig and Scotch with thyme.
Northern New Jersey
The Archer, Jersey City
Somewhere along the way, Jersey City seems to have surpassed Hoboken in its caliber of cocktail bar. There are many notable ones, but the new Archer Bar stands out for hitting modern notes like rum punch, bitters, mescal, Campari, and crème de something fruity. It earns bonus points for adding jalapeno to a drink and escalating its hipness by incorporating it into something as unusual as strawberry jam. This makes sense given that bar manager Natalie Jacob has a Manhattan bar pedigree.
dullboy, Jersey City
With its name riffing off "The Shining" and a décor that fetishizes typewriters,dullboy feels welcoming to writers needing to nurture their dark and weary souls. Be prepared to encounter the esoteric and the weird, as words like artichoke amaro, achiote syrup, and Moroccan bitters march across the menu. We can only assume that Ernest Hemmingway, Hunter S. Thompson, and Jack Torrance would feel right at home.
Jockey Hollow Bar & Kitchen, Morristown
Bartender Jonathan Echavarria won the 2015 New Jersey Restaurant and Hospitality Association's Mixologist of the Year award. It's no surprise, considering what perfectionists his bosses at Jockey Hollow are about the food, beverage, and ambiance in all four of their distinct and dramatic drinking and dining areas.
Restaurant Serenade, Chatham
This restaurant's cocktail menu reflects contemporary sensibilities with its herb and hot pepper infusions and additions (thyme simple syrup and a hot pepper shrub) and what's-old-is-new-again herbal aperitifs like aperol. Sommelier and general manager John Jansma knows more than wine, having won the state-wide 2014 Iron Shaker mixology competition that came with a $1,000 purse. He also teaches the restaurant's cocktail classes.
________________________________________________________
NJ Spotlight, an independent online news service on issues critical to New Jersey, makes its in-depth reporting available to NewsWorks.
WHYY is your source for fact-based, in-depth journalism and information. As a nonprofit organization, we rely on financial support from readers like you. Please give today.