Severe storms rip through South Jersey; possible tornado in Stafford Township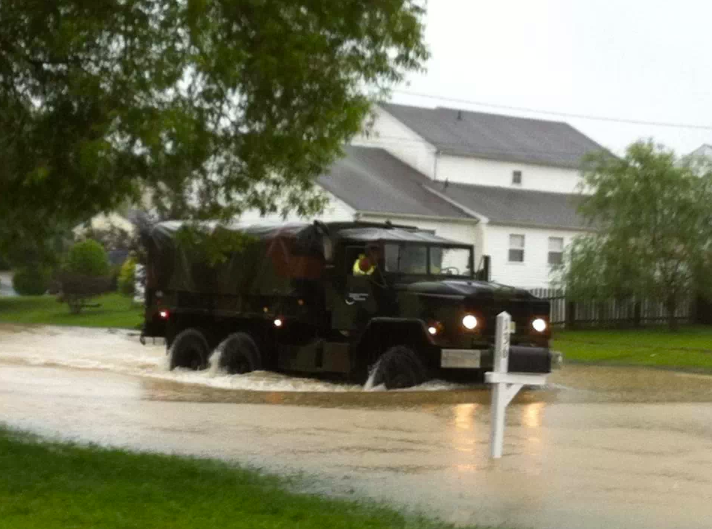 A line of severe storms plowed through South Jersey today, flooding roadways, toppling trees, and possibly spawning a tornado.
Shortly after 9 a.m., the National Weather Service issued bulletins advising of severe thunderstorms moving through portions of the area, including the issuance of a Tornado Warning for east central Ocean County at about 10:15 a.m.
As storms passed through, ending everywhere before noon, reports of wild weather quickly began to flow on Jersey Shore Hurricane News, with contributors saying that the Manahawkin section of Stafford took the worst hit.
This was confirmed by a statement issued by the Stafford Police Department on its Facebook page:
"All of Stafford has been affected by this weather. Traffic lights are out, trees and power lines are down throughout the township and blocking roadways. Residents are strongly encouraged to stay home and OFF the roadways. Thank you for your cooperation. Please share."
The Manahwkin Baptist Church property on Beach Avenue in Manahwkin was particularly hard hit, suffering roof damage, snapped trees, and a downed utility pole and lines.
Across the Barnegat Bay in Long Beach Island, numerous roadways were flooded, Jersey Shore Hurricane News contributors reported.
At its peak, over 13,000 Atlantic City Electric customers were without power, including 7,000 in Manahawkin.
A Flash Flood Warning continues for all of South Jersey until 2:45 p.m. today, according to the National Weather Service.
While damage in Manahawkin may be consistent with a tornado, the National Weather Service has the final call.
Gary Szatkowski, chief meteorologist at the National Weather service field office in Mount Holly, NJ, tweeted that his agency has to conduct a storm survey to confirm a tornado touchdown.
"Pictures of damage or possible tornado always help. Plotting on map where damage occurred [is] helpful too," Szatkowski advised in a tweet.