September 23: Little Pete's saga continues | Lit Brothers facade illumination | Robert Indiana's 'Amor'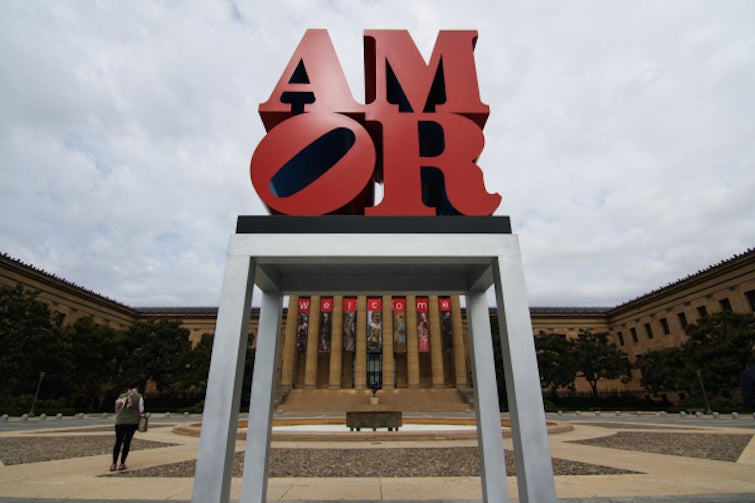 Jacob Adelman has the latest news in the Little Pete's/Hudson Hotel saga. Council's rules committee plans to vote next Wednesday on upzoning the parcel at 17th and Chancellor to CMX-5, which would clear the way for the hotel.
Pier 68, the Delaware River's newest pier park designed by Studio Bryan Hanes, opens next week. It will be the southern trailhead for the Central Delaware trail.
The Philadelphia Museum of Art and the Association for Public Art installed Robert Indiana's "Amor" sculpture–a spin on the iconic "Love" sculpture–on the Museum's East Terrace for the Papal visit, reports Conrad Benner.
Michael Nutter gave Pope Francis a sweet custom Breezer road bike on behalf of the city, in recognition of the Pope's advocacy for low-carbon transportation choices. Breezer is owned and operated by Advanced Sports International, a bicycle company headquartered in northeast Philly.
Naked Philly thinks Penn's Lynch Lab expansion gets the urbanism and architecture right for 38th and Baltimore.
The Lit Brothers building is debuting a new facade illumination, reports Jillian Wilson.
The owner of Passyunk Square restaurants Francoluigi's and High Note floats the idea in the Passyunk Post to create new $300 yearly parking permits so restaurant and retail shift workers driving in from outside the neighborhood can park for more than two hours at a time.
Kenneth Hilario reports Center City hotel rooms were about 90% booked for the Papal visit as of Tuesday afternoon.
Gabe Klein, the food truck entrepreneur who went on to run DDOT in Washington, DC and CDOT in Chicago, has a new book coming out on his adventures in government.